.::. Battle Report - 2400 vs Tomb Kings (uncomped)
My list:
Prince on Barded Steed with Giant Blade, Dawnstone, Dragon Armour, The Other Trickster's Shard = 287
High Archmage lvl 4, Book of Hoeth, Talisman of Endurance, Ironcurse Icon = 310
BSB Noble on Barded Steed with Star Lance, Dragonhelm, Heavy Armour, Shield, Potion of Foolhardiness, Great Weapon, Luckstone = 170
Characters = 767
5 Reavers, Musician = 90
5 Reavers, Bows, Musician = 95
5 Reavers, Bows, Musician = 95
15 Archers, Musician = 160
15 Archers, Musician = 160
Core = 600
8 Dragon Princes of Caledor, Full Command, Banner of the World Dragon, Sword of Anti-Heroes = 347
10 White Lions = 130
Special = 477
3 Repeater Bolt Throwers = 210
7 Sisters of Avelorn = 98
1 Frostheart Phoenix = 240
Rare = 548
Army Total = 2392
His list:
Tomb King with GW, Dragonbane Gem
Hierophant lvl 4 with Earthing Rod
Level 2 Death with Scroll
3x20 Archers
3x5 Horse Archers
Warsphinx
4 Necroknights
3 Necroknights
1 Necrosphinx
1 Casket of Souls
2 Catapults
// Pre-battle thoughts and deployment //
Having faced a very similar list not long ago I was expecting Strange to play a more compact game this time around. His deployment however led me to believe otherwise and indeed I was correct: he was relatively spread out with wide open flanks: while chaff can help with this they are powerless against a phoenix. Magic saw him get extra attacks, killing blow, desiccation and movement, along with Fate of Bjuna and Spirit Leech. I didn't roll a single double so had no choice but to take the 2 best and swap 2 for signatures. I ditched Fiery Convocation and Tempest for Drain and Soul Quench, leaving Hand of Glory and Apotheosis. Not having Walk Between Worlds was something I was sure I would be missing.
I spread out using almost the entire table width, which granted my RBTs a great point to fire from, enabling me to put pressure on his MC should they try and wheel around to my soft corner. Essentially, I was almost playing a refused flank to give my Archmage a safe haven. Near the end of our deployment, Strange did something brilliant: he placed his Scouts 12" away from my Western Reavers. Because he "lost" the vanguard roll-off, I was thus denied the chance to move them. Strange moved his scouts backwards with the last vanguard move.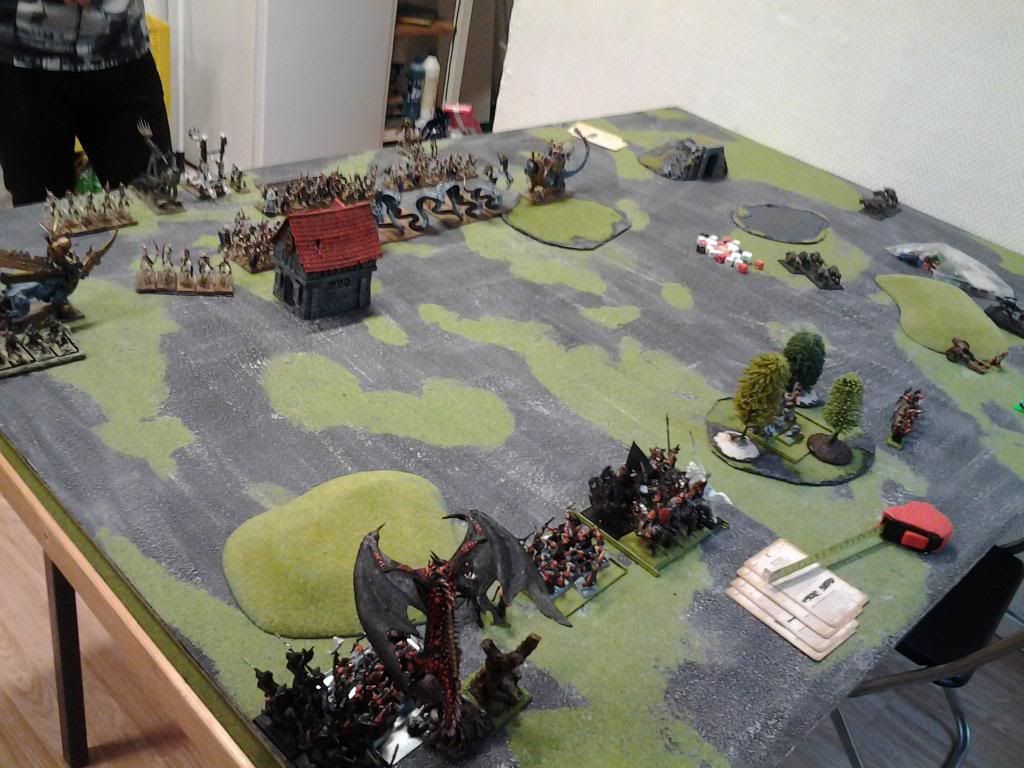 Rolling for first turn I managed a '1' and with his +1 he automatically went first.
// TK T1 //
His Necrosphinx moved up a full 10" to put pressure on my Archmage from the get-go. His Knights moved up as well but were somewhat cautious, fearing my bus. The Warsphinx with its flank-protecting position took aim for the Lions. His Deathmage and accompanying Archers occupied a central house and I knew immediately that shifting them without Fiery Convocation would be very, very hard.
Magic was 11v7 and he started off with double shots on the East Archers which had range to my central Reavers. I figured that stopping Light of Death was more important and let it go, hoping a sole Reaver could survive which would essentially be enough to perform their duty. I contained the rest of his phase.
Shooting started off with the 5 central Reavers dying. He then used the house-Archers to kill an RBT (he rolled three 6's out of 4 hits), which panicked the West Reavers off the table. One catapult then proceeds to land a direct hit, killing 8 Archers from the Archmage's bunker. The other glanced a few Lions but no wounds were dealt. Overall, a terrible start for me: my power to deal with the Sphinx on the West was severely hurt, my Archmage was vulnerable and the Reavers were lost, meaning I had to commit my Phoenix early on.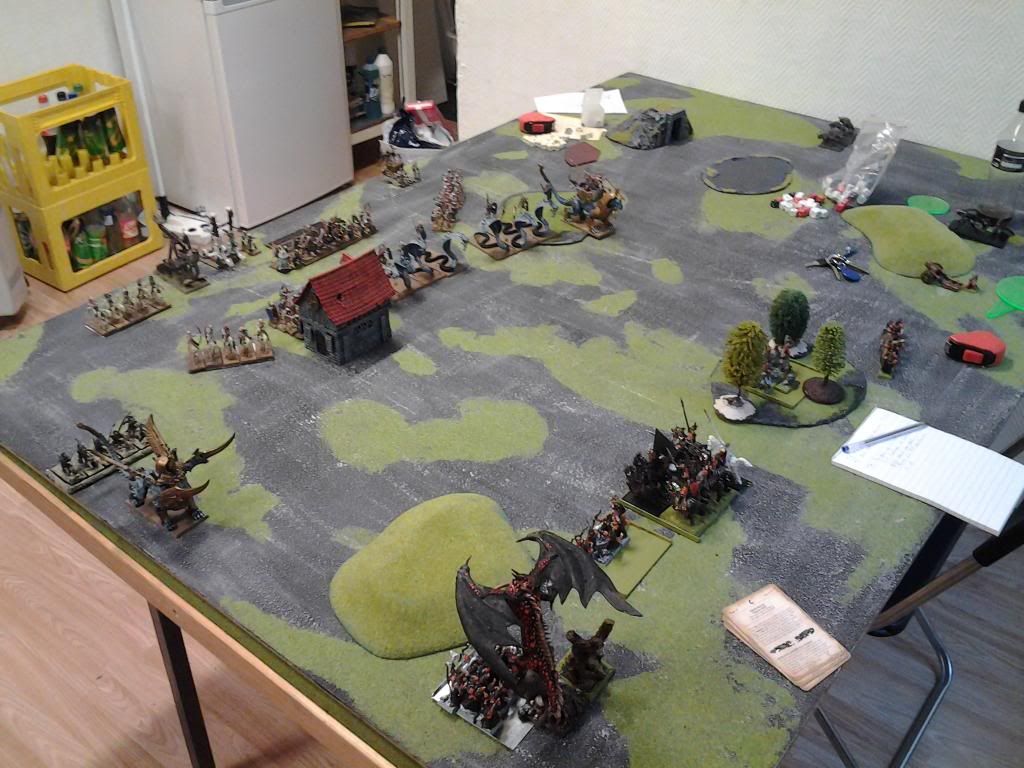 // HE T1 //
I thought for a while about what to do and decided to go for the following: the cavalry would have to play catch-up duty with the Sphinx threatening me so badly. Furthermore, I had to play the Archmage risky to have him survive "safely". The end result was moving the Archmage out of the Archers, staying 1" behind them, with cavalry in counter-charge positions. I had to offer a charge to his Knights, but they would need 11+ to make it. The idea was to blast the Sphinx to kingdom come with missiles of both the mundane and magical sort. The Phoenix meanwhile flew up a full 20" to threaten his artillery and bunker.
Magic came up 11v6. Not only did this give me a lot to play with, the Phoenix also received a 4+ ward. I started off with a Hand of Glory on the 15 Archers, boosting their BS which he let through. I then 6-diced Soul Quench and with the help of the Book, I got an IF result. I now had a 3+ ward up on the Archmage and the miscast result killed a few archers but failed to wound the wizard. After my shooting was all done with, the Sphinx was down to 1W. I had also taken a wound off of one unit of Necroknights, 2 off the other and 1 off the Warsphinx, many thanks to my RBT (who were out of range of the Necrosphinx) and the Sisters of Avelorn.
Now I would just have to see if my gamble would pay off or if my Archmage would have to pay the price, possibly the phoenix as well. Worst comes to worst, the phoenix dies, archmage dies and necrosphinx kill the cavbus...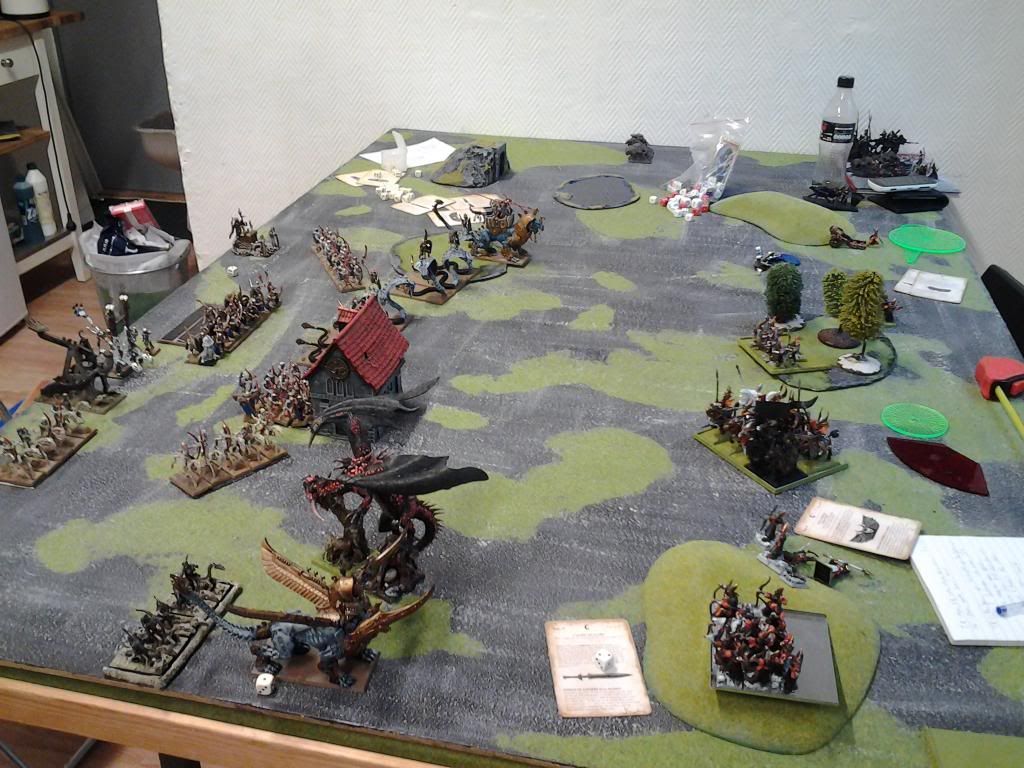 // TK T2 //
Strange noticed exactly what I did and went to town: the Sphinx charged the Archers in front of my Archmage. To my frustration their S&S didn`t manage to land a '6'. The Knights luckily failed to make their 11+ needed to flank my bus. This did however leave a very, very juicy flank shot for my RBTs.
Magic came up 7v3. He tried to Spirit Leech my Archmage but failed to cast, using only 2D6 this was a very risky start in my opinion, the mage only being L2 himself. He then tried Light of Death on my Phoenix, which I failed to dispel. A very lucky LD test of 7 (on 3D6) saw the bird lose no wounds and I breathed a sigh of relief.
Shooting saw his house archers open up on the Archmage. To our amazement he scored 12 hits out of 20 shots, needing 5+!! I'm used to seeing Rusty pull this shit with Daemonic ward saves, but seeing TK shoot like this when it matters is completely new to me. He wounded me 5 times over. I decided to throw one save at a time, hoping the 3++ would be enough. The first two dice failed though, but the next two passed. Alas, the last dice failed as well and as I was about to remove him I remembered that Look out, sir! also works against normal BS-fire when you're not in a unit. I then picked up 3D6 (the unsaved wounds) to roll 4+ with... The first two came up as 3's, but luckily the last dice came up a '5', saving the Archmage just barely! His catapults targeted the Phoenix. One hit and I failed my ward, but the multiple wounds were "just" two. With the second missing, my bird was in perfect shape to cause some major issues.
To wrap the turn up my Archers managed to kill the Sphinx, many thanks to ASF! If he'd have overrun into my mage I could've flanked him with my cavbus but this would've been a hairy situation at best, seeing as I would then waste an entire turn cleaning up in an area where strange had lots of chaff.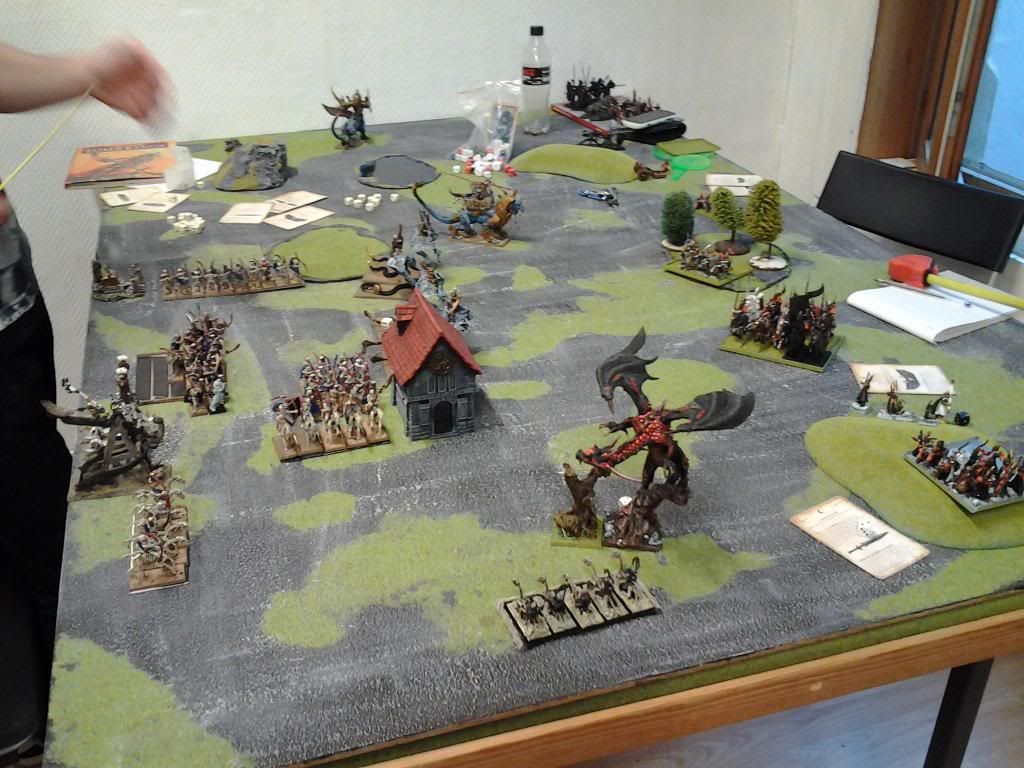 // HE T2 //
My Frostheart Phoenix was just barely in the Hierophant's bunker's flank, meaning I couldn't have a go at him and would have to face the Tomb King. With only 4A and 3W left this was too risky and I decided to go for the catapults instead: they were positioned so that I could overrun given where the bird was placed. The bus shuffled away from a likely charge range of the knights, with Lions moving West and Sisters moving backwards.
Magic came up 6v5 and my Phoenix had +1S. I started off with a boosted Hand of Glory on my bus: if Strange got lucky I might have WS9 on the Prince, leaving his KB attacks hitting me on 5's. If he didn't, I'd have M10 next turn. He let it through and dispelled a boosted magic missile instead. I failed to cast Apotheosis on the Archmage himself with my last D6.
Both RBT manageed to hit flank of the Necro Knights and managed an amazing 7W combined! The glory of flank shots is taking down the MC to 1W left on the model before you shoot, almost ensuring a rank penetration. They were weakened before I started which was half the reason this was possible. The unit was reduced from "very dangerous" to I-don't-even-care-about-you-no-more. The Sisters put another wound on the Sphinx while my Archmage's new-found bunker fluffed against his fast cav.
In combat the Phoenix easily killed the catapult and overran to the next. I was back in the game!
// TK T3 //
His Sphinx went for the bait and charged my Lions. I happily fled away and his Sphinx stumbled fowards 4" - taking it out of the arc of the sisters (he needed double 6's to reach me and didn't want to give me a free S&S). At this point he started reacting in a "bubble-fasion" pulling everything together in an attempt to make a harder bubble to go for.
Magic was a massive 12v5. 3D6 Smiting I let go and his SL goes off agaist my AM with IF! With only one spell through last turn and a single wound left, I fear for the effects. Furthermore I roll a '1' for the LD comparison but so does Strange and my wizard yet lives! His IF result drains his magic levels. He tries Light of Death with his last dice but I dispel it. The last 5 Archers from the Archmage's first bunker die to shooting.
My Phoenix won and reformed to face his center - his "retreated" knights found themselves presenting a juicy flank to the cold bird.
My apologies, I forgot to take a picture after this turn.
// HE T3 //
Bus marched up 20". Lions rallied. Phoenix into remaining Knights' flank. Magic is 10v6: I heal a wound on the Archmage, I add +1 to WS, BS, I and M of the Archers, I get Drain through and he dispels Soul Quench. With a 4++ however I'm confident the unit won't die to his house-archers.
Shooting puts 2W on the sole surviving necroknight from the big unit while the Warsphinx is reduced to a single wound as well.
In combat my Phoenix performs admirably: 4 wounds are caused for none in return - with charge + flank this is enough to crumble the unit (just barely, due to the fact that the RBTs had previously damaged them). I reform to face his center with everything and the game has truly shifted with regards to who has the initiative: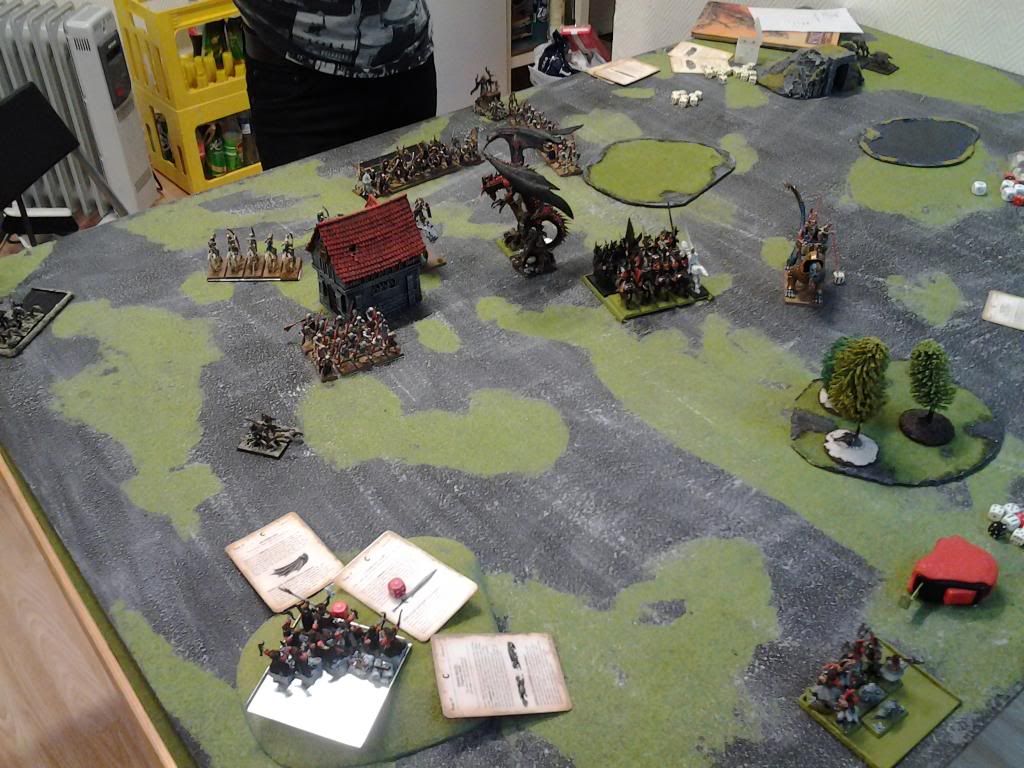 // TK T4 //
Everything moves to chaff me away as much as it can. Magic is 7v5 but he fails to cast a boosted smiting (BoH ensures an IF dispel!). The 70 shots fail to hurt my Phoenix and with this, the game is pretty much over: in my next turn the Phoenix charges his bunker and the Bus goes into the nearest chaff, overrunning into soft Archers. With some luck, his T4 could've turned things around (desiccation on the bus and magic to kill the bird would be a good start) but the lackluster results from magic + shooting left him in a terrible spot.
In the end he had nothing left on the table. These pictures tell the main part of the finishing turns of this game: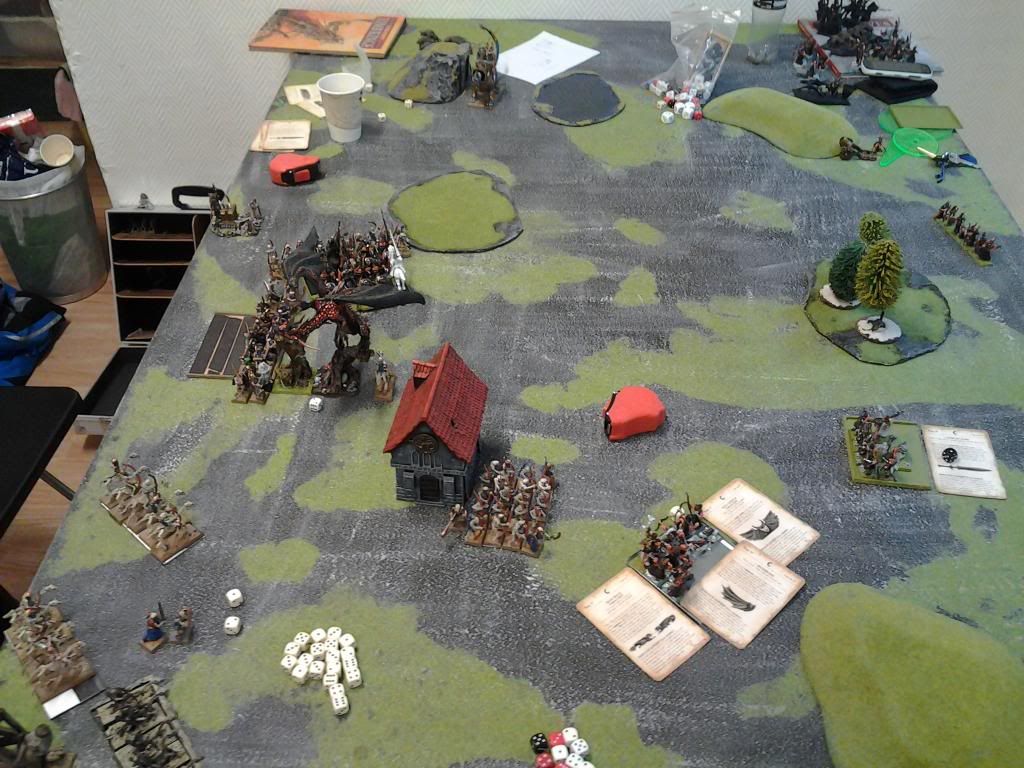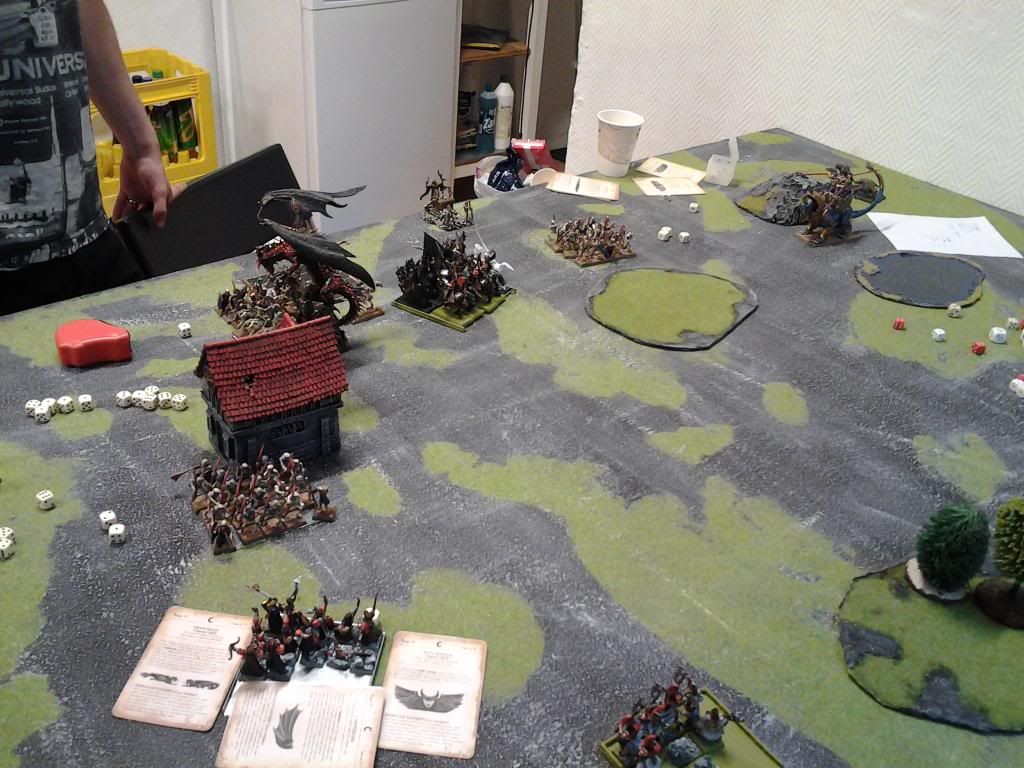 I had lost roughly 400 points, Strange had lost 2500 (2400 + general). A very solid victory to the High Elves!
// Evaluation //
The game started out so well from Strange. Some amazing moves and an extremely hairy T1 for me. However, I think two things cost him the game: first, just good old, pure bad luck. My Archmage could've easily been dead T2, which would've meant so much for the development of the game. The constant ward on the Archers and minor but vital buffs thrown around as well as the MM threat and Book of Hoeth for dispelling were invaluable for me. The second I think is mostly related to his deployment: without playing a very compact game I fail to see how TK can truly protect that which matters most and continue dealing damage. I silenced his artillery after only two turns of shooting. Also, just like our last game his Nehek caster was too far away to make a significant impact on the game. I believe this type of TK army needs to play more compact and take more care to make it hard to reach the vital stuff during deployment. Also, one must not be afraid to use the Necroknights + Nehek buffs for what they are worth.
With regards to the HE side of things, my Lions did nothing in this game. With that being said, they made a Sphinx go out of position and presented a constant threat to any over-zealous knights. I think I can learn how to play this unit even better, but for now I'm happy with their inclusion. I also managed to play the Sisters very well in this game: TK are a terrible matchup for them as there are no optimal targets. Yet they managed to plink away at the Sphinx, one wound at a time. With his Nehek caster being too far away to heal, I could spread my firepower between his 3 hard hitters at will and in the end they did account for either 3 or 4 of the Sphinx' 5 wounds.
The disaster that was TK T1 I don't think I could've avoided. I did forget the Ironcurse Icon, which might've made life a little easier but still, the unit was so depleted that I had to leave it. The Reavers legging it was mostly due to Strange's scout move, which I truly could've done nothing about.
Lore-wise there's no doubt that High Magic saved me here. With that being said, I noticed very quickly that my buffs, while nice, were not game-breaking. Don't know if Heavens would've been better: the S6 bolts sure hurt the Necroknights and the Comet hurts the bunker (especially since it's so slow) but Iceshard Blizzard isn't really effective against TK.
Anyways, hope you enjoyed the read
Feel free to leave a comment!