I got in a game vs DE with my HE, using:
-Level 4 with Book of Hoeth, Talisman of Preservation
-Level 1 with Scroll
-BSB w/ Reaver Bow, Potion of Strength, halberd, heavy armor
-5 Reavers w/ bows
-5 Reavers w/ bows
-5 Reavers w/ bows
-5 Silver Helms w/ musi, shields
-5 Silver Helms w/ musi, shields
-25 Phoenix Guard w/ fc, Razor Standard
-21 White Lions w/ fc, BotWD
-9 Sisters
-RBT
-RBT
-Frost Phoenix
He had:
-Level 4 with Cloak of Twilight, Dark Steed, Dispel Scroll, Shadow
-Level 2 with Tome of Furion, Dark
-BSB w/ Sword of Might, heavy armor, Enchanted Shield, Sea Dragon Cloak
-5 Dark Riders w/ shields, rxbows
-5 Dark Riders w/ shields, rxbows
-5 Dark Riders w/ shields, rxbows
-30 Corsairs w/ fc
-30 Executioners w/ fc
-Hydra
-Hydra
-Kharibdyss
-Kharibdyss
-10 Warlocks
So the points that I've seen a lot of players put into shooting went into more monsters/units in this list. I think DE need that critical board control, but monsters can help achieve it since they potentially soak up missile fire and can help keep movement lanes clear. Similarly, Corsairs aren't the blender that WE are, but with two Strength Augments and two Toughness Hexes, my opponent had a lot of spell redundancy for jacking up their killing power. Also, they can't be controlled via Frenzy, and are far more durable than WE at range, so I found myself actually wishing it was WE on the table instead of Corsairs.
Deployment
For Deployment, I was pretty sure I wanted to present a strong combat front. I didn't know if my opponent would have a lot of firepower or not, so I deployed my Cav slightly back off the front line in order to help insulate them from rxbows and bolt throwers. Simply using infantry regiments as a wall for protecting Reavers is a nice way to help keep them alive for an extra turn or two until they can redirect or apply pressure on enemy warmachines. When I saw my opponent dropping all those monsters though, I opted load up my DZ slightly on the left-hand side, leaving the RBTs as a tempting target that my opponent might go after and thereby waste resources getting rid of.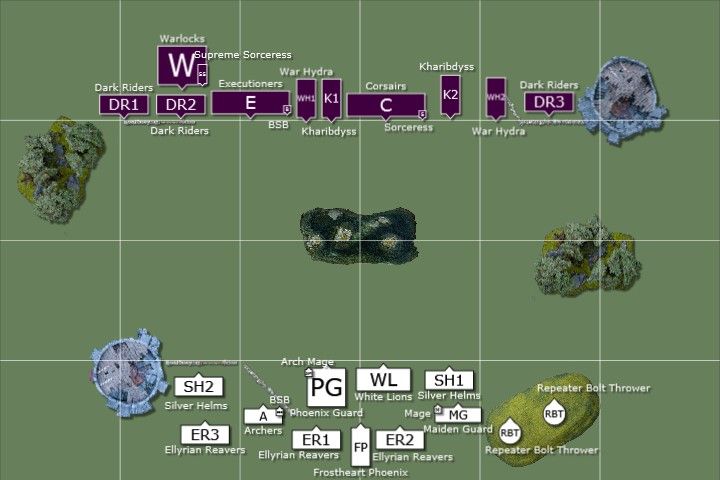 DE Turn 1
My opponent won first turn, and used his Vanguards to get up the table fast with his Cav. I opted not to Vanguard much, preferring to keep my Fast Cav safe until they were needed. He hexed the Silver Helms with Miasma, possibly expecting them to suicide charge into the Warlocks, then his Level 2 IFed Power of the Darkness to blow up a chunk of the Corsairs and Panicking them. Tough opening turn for him. A few scattered rxbow shots but nothing terribly lethal.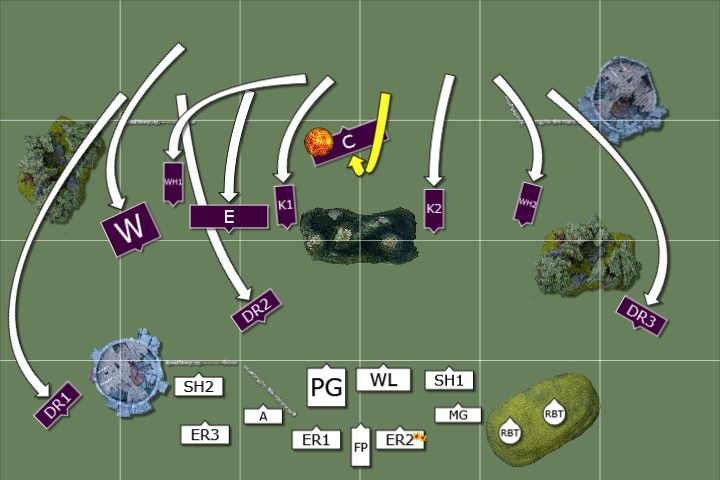 HE Turn 1
My goal this turn was to occupy or kill his Dark Riders, assert control over tabletop movement, and start doing damage to his monsters and blocks if I could manage it. I charged the left Helm unit at his Dark Riders to get them out of the way, running them down and blocking up his charge lane with the Helms. My elite blocks maneuvered slightly closer, giving him a tempting long-distance charge but still leaving probability of a failure. My Cav on the right flank, near the rxbows, kept playing grabass with the Dark Riders. I couldn't afford to allocate RBT shots against them, they weren't a high priority threat, so I just made a wall using the Silver helms and hoped to get a lucky Panic with some Reaver shots.
Magic wasn't much of anything. A 4/2 phase saw him roll hot to Dispel, and me break Concentration even with the Book. There's nothing worse than re-rolling a 1... And getting another 1. Seems to happen a lot.
Shooting was far more profitable though. The Sisters and bolt throwers knocked 4 Wounds off a K-Beast, the Archers and Reaver Bow killed a couple Warlocks, and my Reavers did nothing against the Dark Riders
I was feeling pretty confident this turn. I expected the Silver Helms to die, but the Lions/Phoenix Guard were far enough back that any overrun would be a long one, but any counter-charge by me would be pretty easy to make.
DE Turn 2
My opponent charged in the Executioners against the Phoenix Guard, needing a 9 and making the charge :/. The Silver Helms fled the Kharibdyss since it wasn't close enough to redirect into anything major, but promptly rolled a 3 and were run down. His Fast Cav maneuvered into places to be annoying, while his Corsairs rallied and started getting back into the game. His monsters maneuvered for future charges. Magic phase was 6/4, with my opponent Channeling once for 11 Dice. He threw Miasma at the Phoenix Guard, rolling 10 + 4 from his Level 4. I threw 3 dice at countering it... Rolled 3,1,1... Re-rolled a 1 and got another 1. Sweet... Lucky for me, he only rolled a 1 for the Miasma's D3 so I kept my Initiative high and kept my re-rolls that could have been awful. I scrolled Enfeebling Foe on the Phoenix Guard, had to let through Doombolt on the Phoenix (only did 1 Wound) and got lucky when he failed to hit Soublight on the Phoenix Guard. All things considered, averages pretty much evened out there in terms of casting.
He continued plinking away with repeater crossbows, without much effect. They really need RBTs and magic to back them up...
In combat, I tossed a challenge out with my Level 4 to minimize attacks on her and cut off a file of incoming attacks from the Executioners. He accepted with his master and my Level 4 tanked him for only 1 Wound received. My Phoenix Guard gleefully chopped down 7 Executioners, lost 5 in return and I actually won the combat by 1 point thanks to Rank Bonuses. My opponent flopped his Break Test and started running, and while my Phoenix Guard couldn't catch they easily made it into combat with the Warlocks and Supreme Sorceress parked right behind the Execs. Neither of us saw that one coming...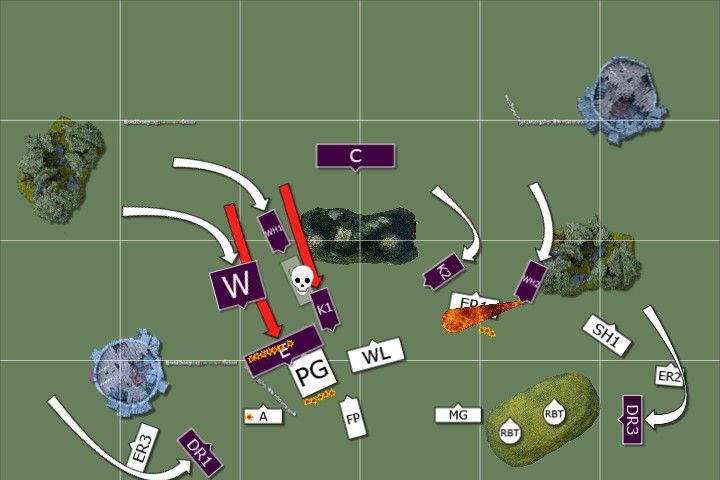 HE Turn 2
This diagram is a mess, but I'll explain what all is going on here. My Phoenix Guard were engaged with the Warlocks, while my Frost Phoenix charged in to help out. The Lions charged the Kharibdyss that had eaten the Silver Helms, who opted to flee the charge. The Lions redirected into the Hydra. All my chaff maneuvered to keep dealing with his chaff. Magic was still pretty inconsequential, I rolled up a 3/2 phase that didn't achieve much of anything. Shooting continued to be much better though, with the Sisters finishing off the wounded Kharibdyss, Panicking his War Hydra buddy and sending him fleeing, while the Archers/Reaver bow shot down the left-flank Dark Riders, an RBT and Reavers shot down the right-flank Dark Riders, and my remaining RBT threaded a shot up the ass of the fleeing Kharibdyss for two Wounds.
In combat, the Phoenix Guard pretty much did what you'd expect them to do against a unit of Fast Cavalry, Ward Saves or no. The Phoenix was just so key here, letting the Phoenix Guard swing before the Warlocks to kill off pretty much all of them before they could retaliate, breaking them, running them down and and parking just behind the Executioners. The White Lions dropped the Hydra with exactly enough Wounds to kill it before it could swing back, reforming to face the Corsairs.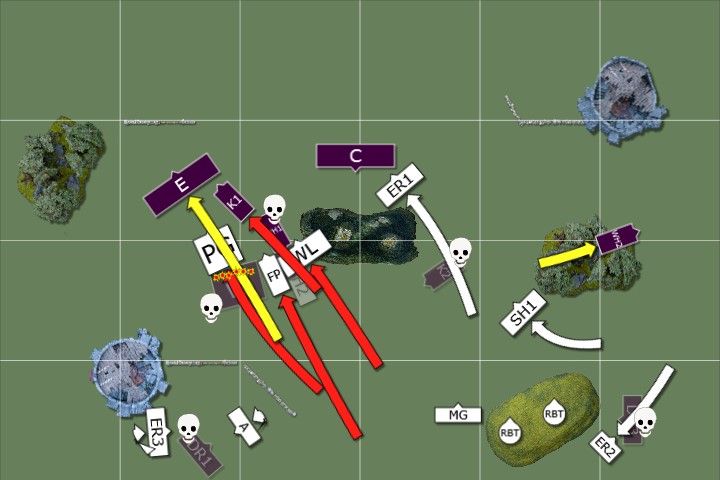 DE Turn 3
At this point, my opponent resigned. He managed to rally his Executioners and the K-Beast, but they were a lot less fearsome without their BSB and staring at charges from 20 Phoenix Guard, a Frost Phoenix and 21 White Lions. The Corsairs knew they were going to be redirected until I was ready to get points from them, and the fleeing War Hydra kept fleeing right off the table. I still had my shooting and magic phase intact also, so there weren't many options left for my opponent.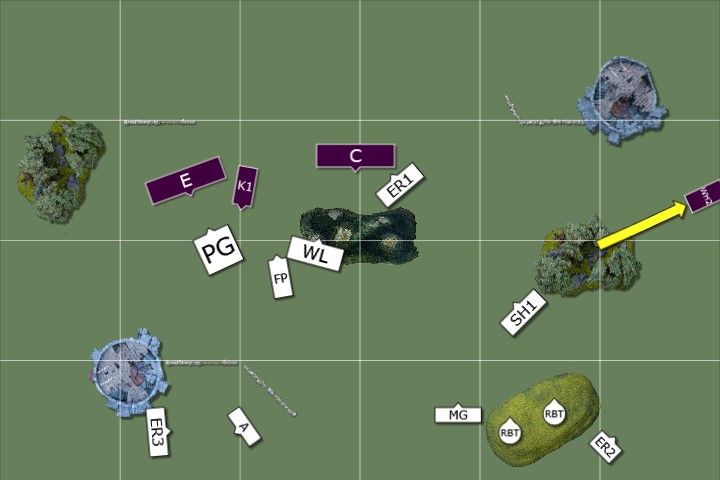 Afterthoughts:
In my mind, this game confirmed the idea that Dark Elves need their shooting phase just as badly as HE do, if not more so. It's critical they get good combats, and be able to deny the enemy shooting phase. That being said, this game hinged more on a mismatch (Execs vs PG) than it did on movement or shooting, but I think my opponent would have felt less rushed to get into combat if he felt his shooting phase could have contested mine. Seeing all four Monsters was intimidating, but their relatively slow speed and extreme fragility makes them more of an asset (a bit like a slow chariot with a lot of Wounds) rather than a face-stomping, damage-absorbing monster (like the Chimera) or a debuff machine like the Frost Phoenix. Speaking of Frosty, he's such a critical asset when swinging ASF vs ASF. With crossbows being inaccurate at extreme ranges, and bolt throwers being far from reliable against monsters (especially T6 monsters with Ward Saves) I'm feeling good about keeping him alive even in shooting-heavy matchups. Even really ranged-intensive Dark Elf lists are going to have to work hard to make dents in 2+ Save Core Cavalry, T6 Frost Phoenixes, 4+ Ward Phoenix Guard or 3+ Armor White Lions. I deliberately keep durability in mind when building my lists, and I think it's going to be critical to maximize that durability component when fighting Dark Elves. It's clear that GW balanced HE vs DE with durability versus offensive power in mind, so maximizing durability will help us.