Here you go, The Silly Dragon:
:: Hold The Line! ::
The lists -
:: High Elves ::
Saerith with GW, AoC, Vambraces, Loec, Star Dragon - 622
BSB Naenor with Sword of Might, HoF, Shield, Dragon Armour, Great Eagle - 208
Olannon with Level 2, Annulian Crystal - 175
Characters - 1005
30 Archers, Full Command, Banner of Eternal Flames - 365
15 Archers, Musician - 170
10 Spearelves - 90
Core - 625
26 White Lions, Full Command, Banner of Swiftness, Amulet of Light - 450
14 Swordmasters, Bladelord w/Skeinsliver, Musician, STD w/Gleaming Pennant - 270
Special - 720
3 Great Eagles - 150
Rare - 150
Total - 2500
Empire
Wizard Lord with scroll, Lofe of Life (went with Swordsmen)
General with good armour save, on Griffon
Warrior Priest with stuff (went with Swordsmen)
Warrior Priest with stuff (went with Greatswords)
Captain BSB with stuff (went with IC Knights)
40 Swordsmen, FC with 10 xbows detachment
24 Greatswords, FC with 10 xbows detachment
10 Inner Circle Knights, FC
3 Demigryph Knights, FC
Cannon
Mortar
Cannon
Total - 2500
:: Pre-battle thoughts and deployment ::
I wasn't overly concerned with his list, which I regarded as relatively soft. I was a bit disappointed that there weren't more toys here, as I was really anxious to see what the book had cooked together. Also, the lack of some flexible elements meant that the synergic effects probably wouln't be maxed out (which I believe will be key to playing this book).
Nevertheless, I was ready to try the Dragonlord against a book I've never faced before (well, not since 6th ed. anyway!). We agreed to play by the rulebook, but elected to have SLoS (which is by far the most common at our LGS) instead of TLoS for determining vision.
Magic saw me get Shield and Fury, while he rolled a perfect Throne, Flesh, Regrowth and Dwellers: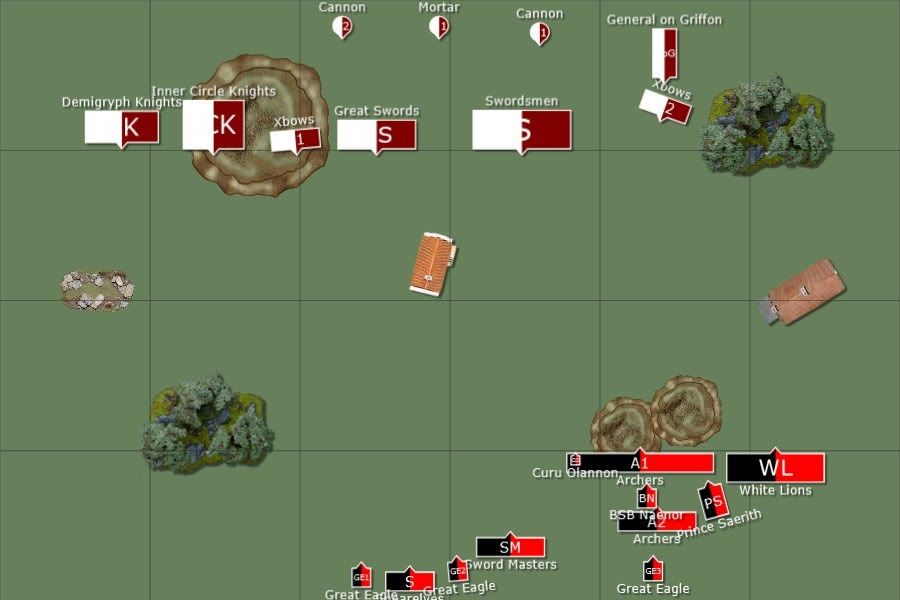 Having +2 to start, I won the roll-off and advanced at once!
:: High Elves T1 ::
Not much to this movement phase really, the West held back while all 5 flyers headed for cover where the cannons couldn't see them. The Lions go up full speed, threatening lots of Griffon advances. Both Archer units occupy the central hill, ready to fire at the big beast from the Imperial Zoo.
Magic gives us an 11v6 split but he rolls well and I only manage to get Shield on the Lions through his defenses.
Shooting does nothing as I fail to roll any 6's to wound.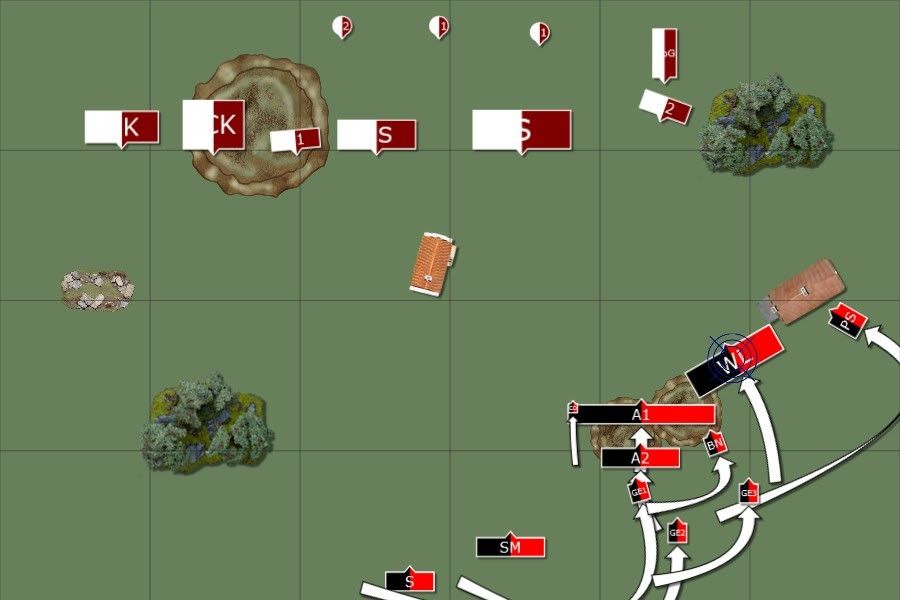 :: Empire T1 ::
His Griffon moves up to a very dangerous spot, and I'm trying to find out whether he's intending to flee me (causing a failed charge) or just what that move's supposed to do. Meanwhile the western cavalry thunder ahead and the infantry is slowly moving up. It's becoming very clear to me that his Greatswords made a big mistake by not entering the building, as they'll now spend several turns getting around it.
Magic is 12v8 and he starts with Throne of Vines on 4D6. I have no intention of dispelling this and let him have it. Flesh follows on 3D6 but he rolls '5', '5', '6', giving me a very hard choice. He's targeting it at the Swordsmen so I let it pass. The attempt at Dwellers fails to meet its casting value and so I discard all my dice.
Shooting sees his artillery kill a handful of Archers and a couple of Lions.
:: High Elves T2 ::
The Lions declare a charge on his General and he... holds! Well, I'm not complaining but this is a pretty terrible move on his part. I make the roll and we're in. The Dragon moves to a central position, the Archers reform to 5x6 and an Eagle blocks his Swordsmen - setting up a juicy chance for me next turn. Olannon moves to the small Archers (diagram error here) and Naenor moves to a safe spot - just in range to give re-rolls to the Lions. The West continue to shuffle, awaiting the Empire strike force.
Magic is 8v5 and he prioritizes dispelling Shield, so I get both Fury on his Xbows (~5 dead) and Drain up. The Archers kill a single Great Sword and with that we go to combat:
The Lions show just how powerful ASF S6 is and kill the Griffon before he has a chance to do anything. The General strikes back but fails to impress me. He loses combat by a mighty 7 or so, but passes his test on Insane Courage!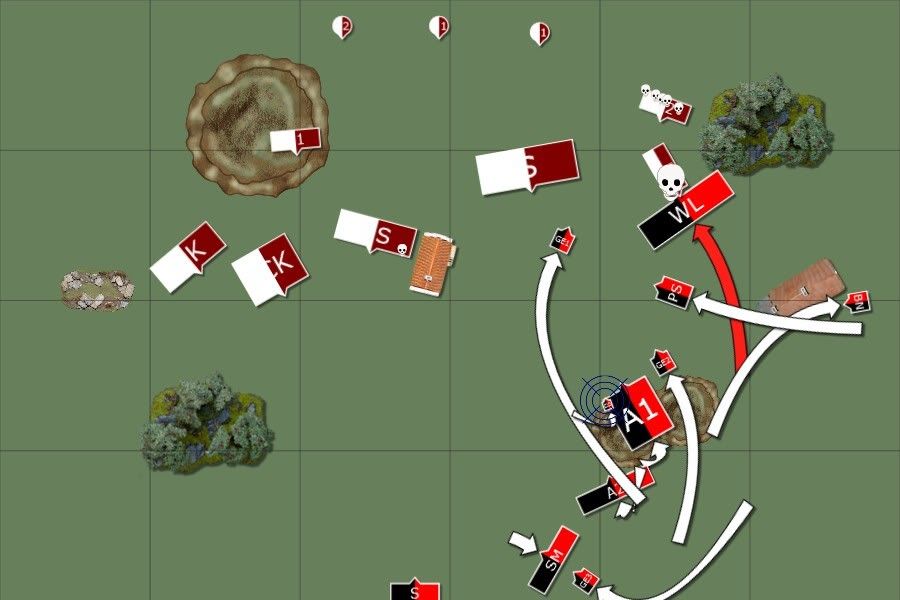 :: Empire T2 ::
He charges the blocking Eagle while the cavalry keep moving up. Magic is 5v5 and he casts Flesh to Stone on his General, which I fail to dispel.
The cannons finally have a clear line of sight to the Dragon, but it's of little help: the first one overshoots (he guessed 8" from the back and rolled a '10') while the other fails to bounce!
Combat sees his General fail his break test and I run him down, making it to the Xbows as well. The Eagle dies a noble death and I'm all but ready to teach him a thing or two about Elven Archers' close combat abilities.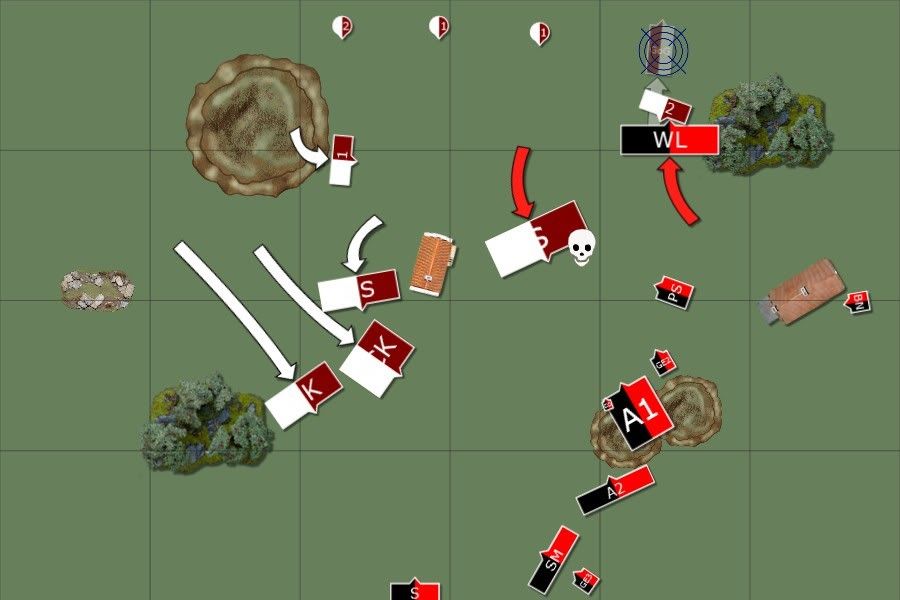 :: High Elves T3 ::
The charges are declared and he holds, obviously (it's a lot closer than it looks like, I think the Archers needed like 3+). The West is chaffed away, taking care to remove any possible overruns into the Swordmasters, who take up a flanking position should he choose to overrun and not reform. Naenor flies to help and the last Eagle makes ready to redirect the cavalry further, if need be.
Magic sees him dispel everything, the scroll coming out to stop Shield of Saphery.
Shooting is close to nothing and we're on to combat:
I breath fire and between all my attacks, he loses nearly half the unit (19 casualties if I remember correctly). In return, he kills a handful of Archers and fails to impress Faeria. Due to the Archers' ranks, he breaks and I run him down (this unit had his Wizard Lord and a Warrior Priest, remember!).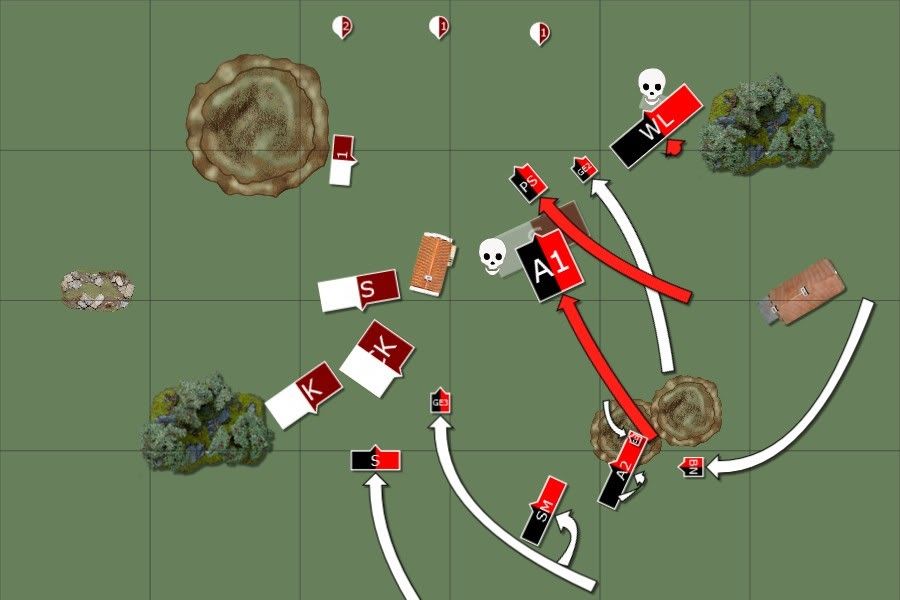 :: Empire T3 ::
The Cavalry charge my Spears and Eagle. Magic is ineffective with his Lord gone, and again the Nuln-duo has a clear shot at Faeria: the first one hits and wounds the Dragon, scoring 3 wounds. Saerith luckily passes his 4+ ward. The second shot however misses again (not sure what happened). So - in 4 shots Saerith is unharmed and Faeria is only down 3W. Not too bad!
Combat sees his cavalry win easily and they both overrun, the distances rolled meaning the Swordmasters have an excellent domino-opportunity!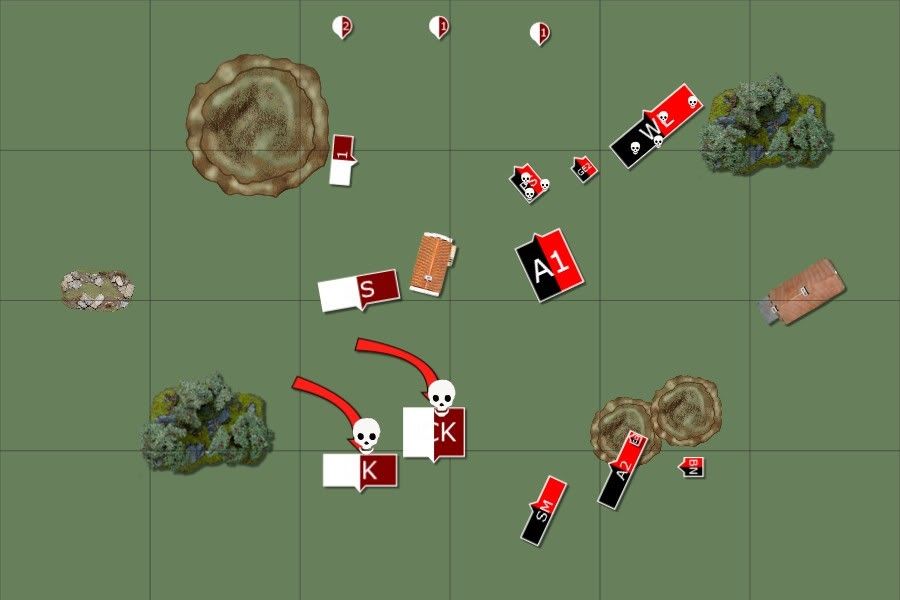 :: High Elves T4 ::
I charge his Cannons and the cavalry while redirecting the Great Swords and setting up for some T5 annihilation.
Magic is low and he dispels my attempt at Fury. Shooting is equally useless and we go to melee: the cannons die easily and I reform Saerith to face center. The Swordmasters do what they do best, even though the captain makes way and they sport a 1+ armour save, I kill the Hero and a couple of Knights. They fail their break test, roll low and I pursue them down, overrunning into the Demigryph Knights.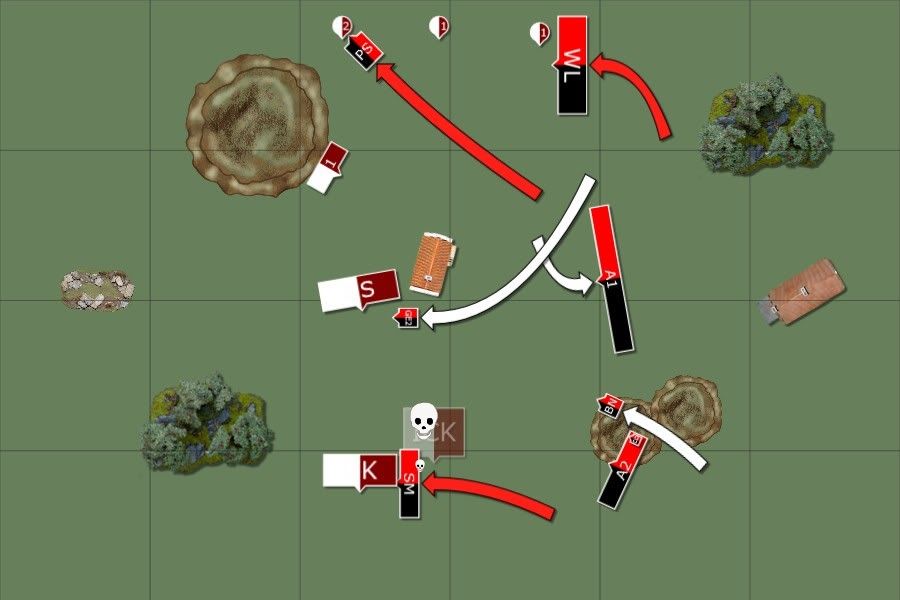 :: Empire T4 ::
He charges the blocking Eagle (my guess is he's getting tired of this!) and that's about it. He kills it but is now in a very poor spot... The Demigryph Knights suffer the same fate as the Inner Circle Knights, and Hoeth's Finest are now ~9 Elves strong.
:: High Elves T5 ::
Saerith + Naenor + Archers engage his Greatswords and kill them all. With that, he has a handful of crossbowmen left and I have only lost 3 Eagles.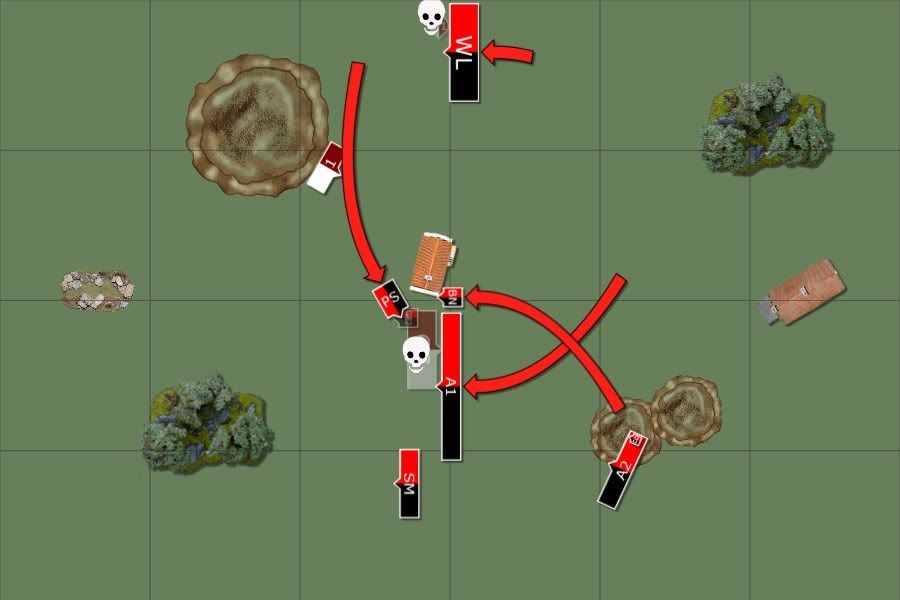 :: Victory Points ::
This game was a clear
massacre to the High Elves! :: Evaluation and Conclusion ::
My opponent was rather inexperienced and made lots of mistakes which I capitalized on with ease. When his artillery failed him as well his fate was utterly sealed. I was hoping for a stronger list and more skilled opponent, but at the same time it can be nice to have a slow start the first time you meet a new army. He plays High Elves as well, but I don't know how well he wields them relative to Empire.
As always, C&C very welcome
~Olannon