So, I fought rusty's Wood Elves again - this time with actual Wood Elves in the list - this time at 2500 points! Since he's preparing for a tournament, we played with ETC rules. To all intents and purposes, this hardly affected the game save for LoS purposes in a few situations and my Banner of Sorcery being limited to +2 Power Dice.
:: Smoke and Mirrors ::
For this game, I swapped out the usual Seerstaff with Silver Wand as suggested by several members previously in this thread. This allowed me to add a Bladelord with 6+ Ward Save against War Machines. '
His list:
1 lvl 4 mage, 5+ ward save for entire unit, +1 Dispel Dice against spells cast with 4+ dice
1 BSB, Hail of Doom arrow
28 Archers (both characters went here)
17 Archers
12 Dryads
6 Treekin
6 Treekin
1 Treeman
1 Treeman
:: Pre-battle thoughts & deployment::
Magic: I roll 2,3,4,5,6 and swap Penumbral for Miasma. He has Life and rolls 2,3,4,5.
He won the roll-off and chose the side where he could have his small archers in a house and the big archers on a hill. I knew my infantry would take a beating from his shooting if I got too close. I also knew I couldn't keep the cavalry in the open, either. Apart from this, I wanted to have my Prince against Treemen and the Dragon Princes against his Treekin. I was pretty sure he'd deploy in a tight manner and that I'd have to advance. As such, there was no need or opportunity for my normal deployment strategy. Regardless, I was pretty happy with the matchups.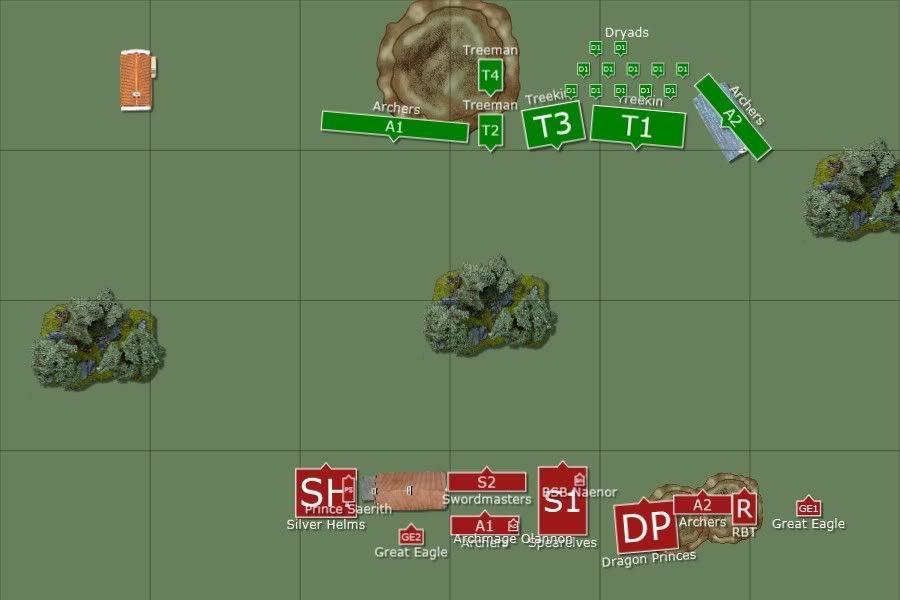 He won the roll-off and went first.
:: Wood Elves Turn 1 ::
He moves up, his Treemen blocking my Prince's approach and his Treekin taking up a central position.
Magic is weak and I dispel Throne, which is really all that matters.
Shooting sees Hail of Doom being released upon Swordmasters along with the rest of his Archers (both units). However, the BSB along with a lot of his other Archers don't see the Swordmasters very clearly and they get Hard Cover. Because of this, 'only' 8 of them die.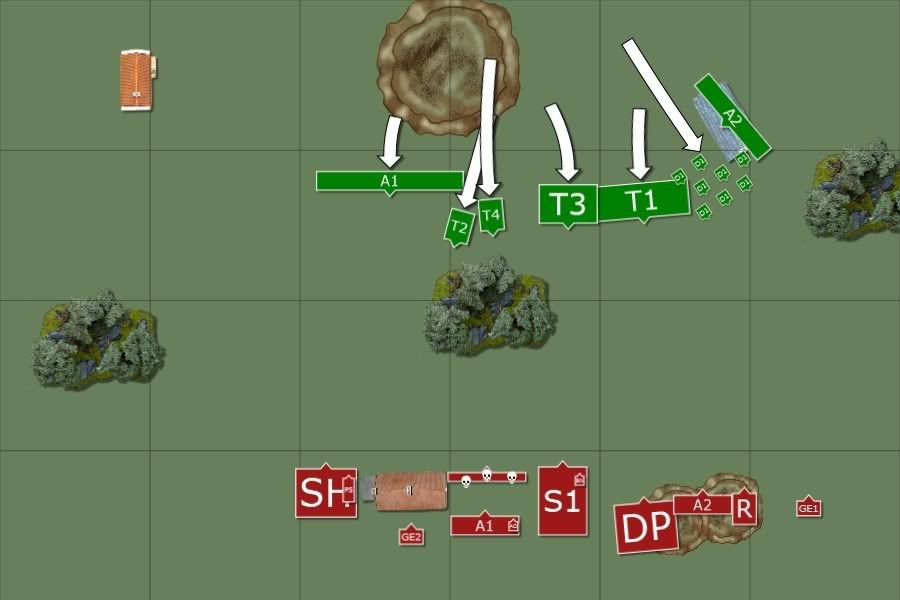 :: High Elves Turn 1 ::
I advance every melee unit, making sure to keep a distance which make charges possible but unlikely. The Swordmasters however go into the nearby house, afraid to lose their Banner too soon. Olannon moves into range for Pit on his Treekin.
So, magic and I roll up 9 vs 5 dice, the Banner being capped at 2. I start off with a 2-dice Miasma to reduce his big unit's BS and what do you know: 2 6's come up for Irresistible Force. Unbelievable! I fear rolling 2-4 however the dice are co-operative: I roll a 7 and nothing major happens. The rest of my Dice are drained though and his Archers are at -2BS.
Shooting kills 3 Dryads. Because of the central woods I couldn't really target his Archers and the other unit was in hard cover.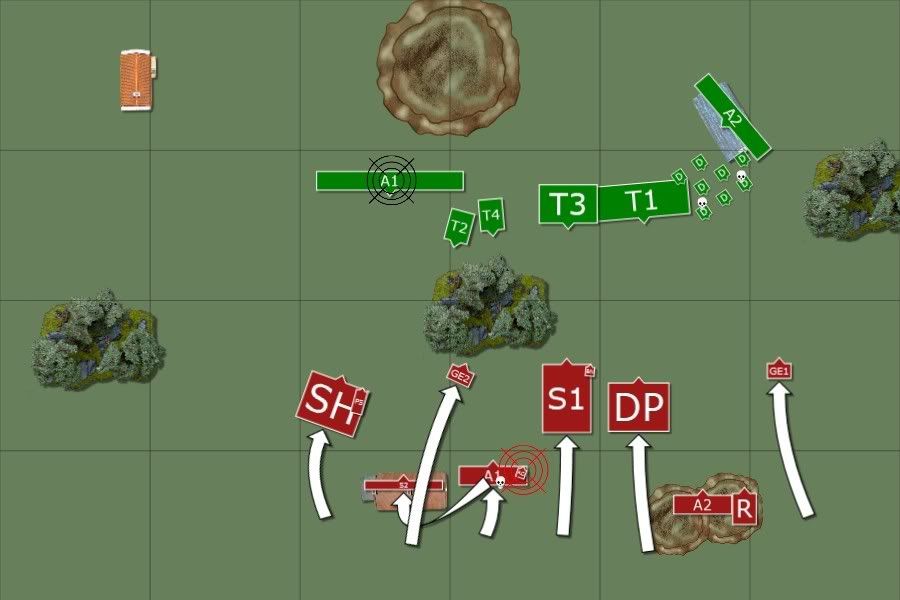 :: Wood Elves Turn 2 ::
He mostly moves backwards but his Treemen move forward to block and shoot my Helms. His Eastern Archers move out to get in short range of the Dragon Princes.
Magic is 5v5 dice after I channel 1 and nothing happens.
He again shoots my Swordmasters, but with hard cover and miasma, only 1 dies. The other Archers kill 3 Dragon Princes and the Treemen combine to kill 3 Silver Helms (I rolled rather poor for my 3+ saves here).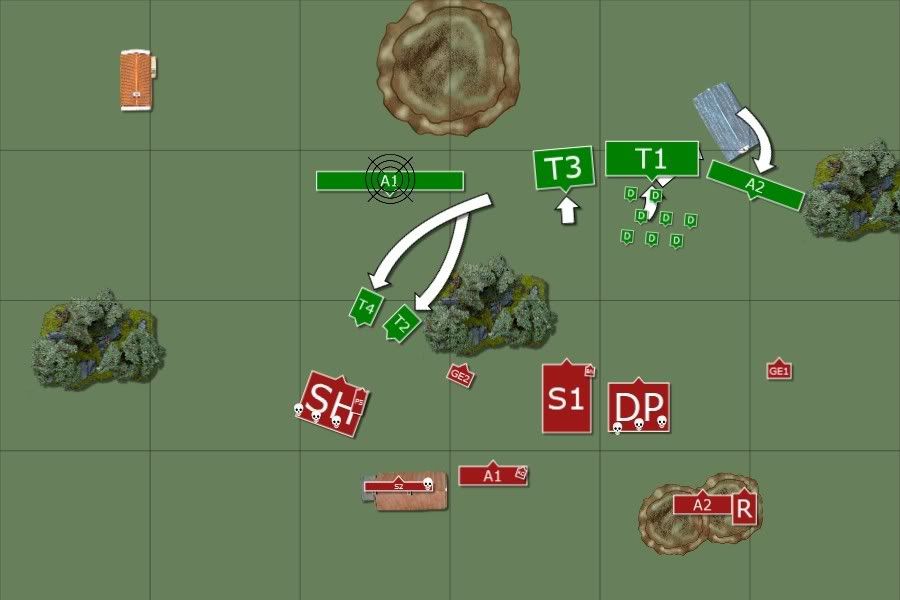 :: High Elves Turn 2 ::
I'm tired of losing models and I'm tired of Shadow Magic eluding me. I declare 2 charges, both from my cavalry units: the Dragon Princes against the Dryads and the Silver Helms against the Western Treeman. This meant Saerith would likely be the only one his other Treeman could attack in the event of a counter-attack.
My Eagle moved up to block his Western unit of Treekin. In his last turn, he was confident that if I broke his Dryads and overran, his counter-charge would murder me.
Magic is 9 vs 5 dice. I channeled a die but lost it because my Banner rolled a 4 and I'm capped at +2. I plan to throw out either Okkam's or Pit, depending upon what he'd rather face. 5-dice Okkam's at Dragon Princes go first, he picks up his 5, adds his extra from the item and successfully dispels it. A boosted Pit of Shades is successfully cast on 4 dice and kills no less than 5 (!!) Treekin from his Western unit!
In melee, the Treeman loses 4 wounds and kills a couple of Helms. He holds due to stubborn and BSB nearby. Dragon Princes barely break dryads (he rolled a 4 and needed 3-) and overrun into Treekin. They're now only 5 remaining though.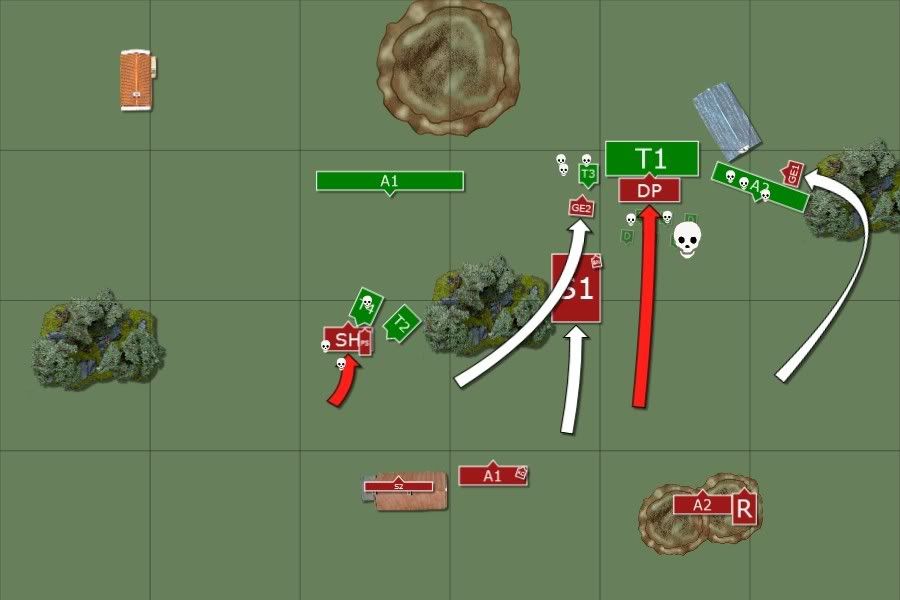 :: Wood Elves Turn 3 ::
I declare Potion of Strength on Drakemaster.
Since he lost so many Treekin, there's room for his remaining, single model to charge through by like 1 millimeter. Careless placing on my part, sigh. His second Treeman charges my Prince and his Helms. His big unit of Archers wheel to target my Spearelves.
In his magic phase I dispel Flesh to Stone as I can't have my Dragon Princes face T7 Treekin. He gets Throne and Regrowth through, and I now have 3 Treekin at full health in my flank. Sigh.
Shooting kills no less than 14 Spearelves. I'm glad he's at -2BS!
Combat sees me suffer what Bretonnian players refer to as the rubber lance syndrom. I inflict a single wound between my 11 attacks, of which 3 are S8 (he made an insane amount of saves) which is doubled to 2 due to flaming. In return, I'm wiped out. His Treeman with only 2 wounds left dies to my Prince, however the other puts 2(!!) wounds past his 1+ re-rollable save after I fail my rolls badly.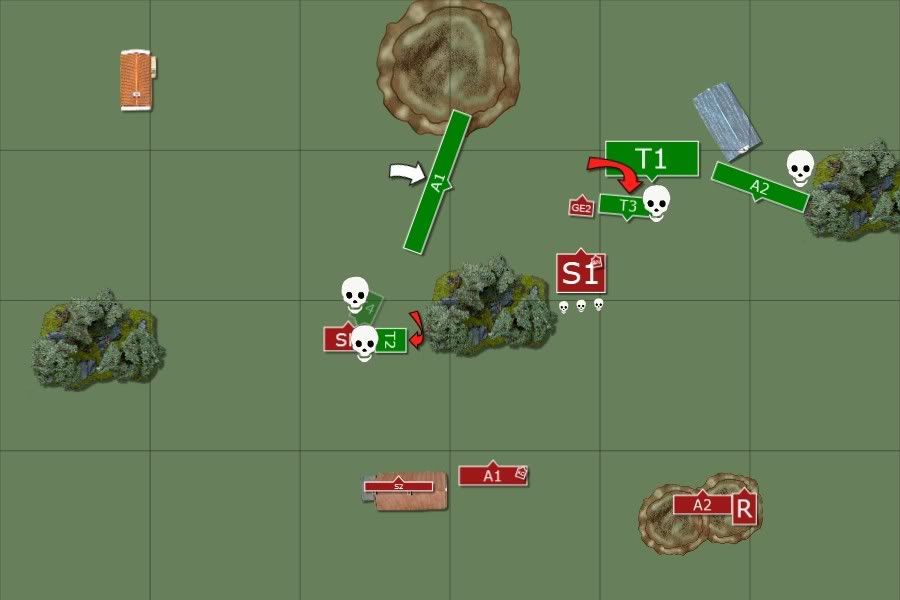 :: High Elves Turn 3 ::
My Spearelves charge his reformed Treekin, the Great Eagle charges the ones behind. I'm hoping to get off Okkam's here and break them in dual-combat as it's my only hope pretty much at this game right now, unless I roll obscenely well with my Prince.
Magic is 8 v 5 and I start off with a 2-die Miasma on his Archers. He lets it through and they're -2BS again. I 6-dice Okkam's and get IF! The miscast result wounds me on a S6 hit.
Shooting kills a couple of Archers.
In combat, I plow through his Treekin like there's no tomorrow, his 5+ ward save this time failing to save 90% of the wounds caused. I overrun into his second unit and kill a lot here as well. In return, a couple of Spearelves die but he breaks badly. I choose to reform my Spears - intending to face his Archers - while the Great Eagle pursues with Swiftstride. He rolls 7 for his distance but I roll 6 with the Great Eagle. Wow. To add insult to injury, Saerith dies to the Treeman, having inflicted 4 wounds on him.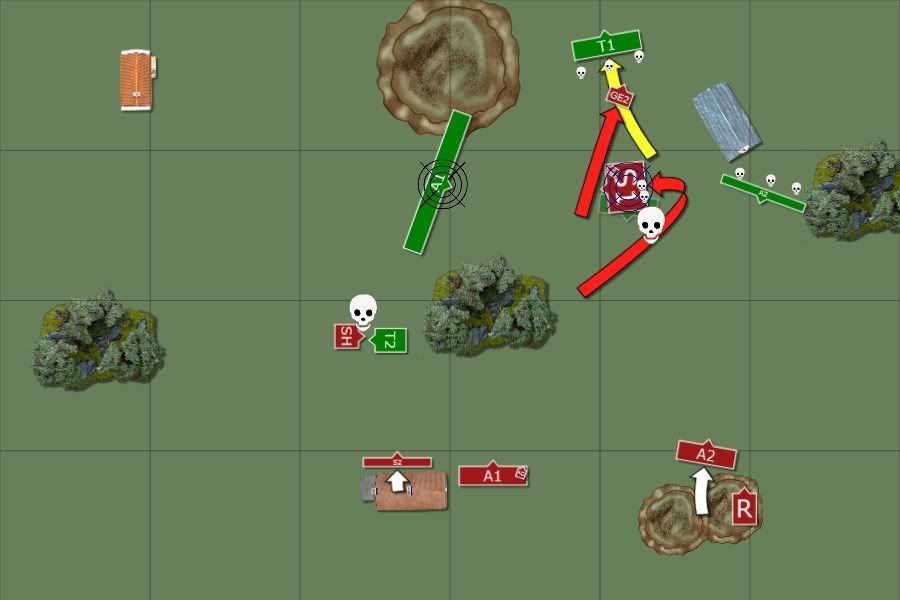 :: Wood Elves Turn 4 ::
His Treekin rally and the big Archers shuffle 3 inches back, fearing my Spearelves. Magic regrows a lot of Treekin, I dispel Flesh to Stone on his Archers along with Throne of Vines.
Combat sees his Treeman kill my remaining 2 Helms.
:: High Elves Turn 4 ::
My Spearelves charge his Archers who Stand and Shoot to kill 2. They're now only 9 models left, including Naenor. The Swordmasters, down to 6-7 models, charge his Treeman. I fear his random amount of hits, but for no reason: only 1 dies after 2 hits only.
Magic is big as I roll 12 for Winds. I start off with The Enfeebling Foe on his Archers, reducing their Strength by 2. I follow up with The Withering on his Treeman, reducing his Toughness by only 1. He saved his dice for Okkam's, which I cast on my Swordmasters with 6 dice. A fairly poor roll, and he picks up 6+1 dice, however he rolls 5(!!!) ones and fails to dispel it.
The Treeman is cut down with ease, however I can't roll the 8+ needed to get into the Archers' flank.The Spearelves make a mess of his Archers' unit. Naenor finds himself in a challenge against his mage (which he issued due to me having more Spears in contact with him otherwise) and wounds him twice, the last wound being saved on his 5+ Ward Save from the Harp.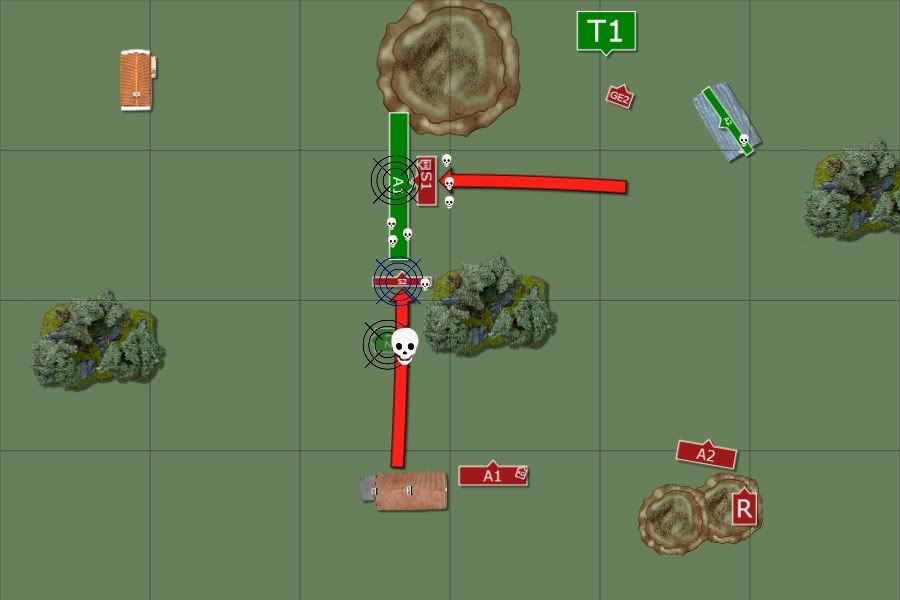 :: Wood Elves Turn 5 ::
His Treekin charge my blocking Eagle. Magic is 8 v 4 and he gets Flesh to Stone through while I dispel the rest. Lifebloom heals his mage back to 2 wounds. In combat Naenor kills him regardless of T5 with good rolls on his Great Weapon. The rest of the Spearelves kill a couple of Archers, losing only 1 in return due to -2S.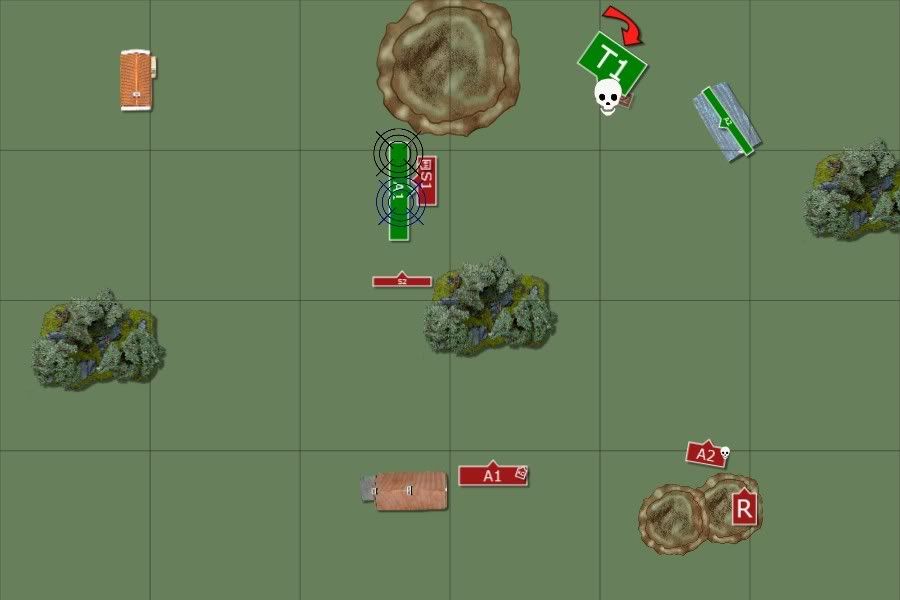 :: High Elves Turn 5 ::
I forget to charge my Swordmasters into the Archers, however it doesn't matter: the Spearelves and Naenor kill a lot of them and since he forgot to combat reform last turn, he doesn't have steadfast any longer. He fails to roll the required 3- and is run down.
At this point, nothing else is really going to happen. He's out of range of anything and I won't charge him with anything. We call it a game!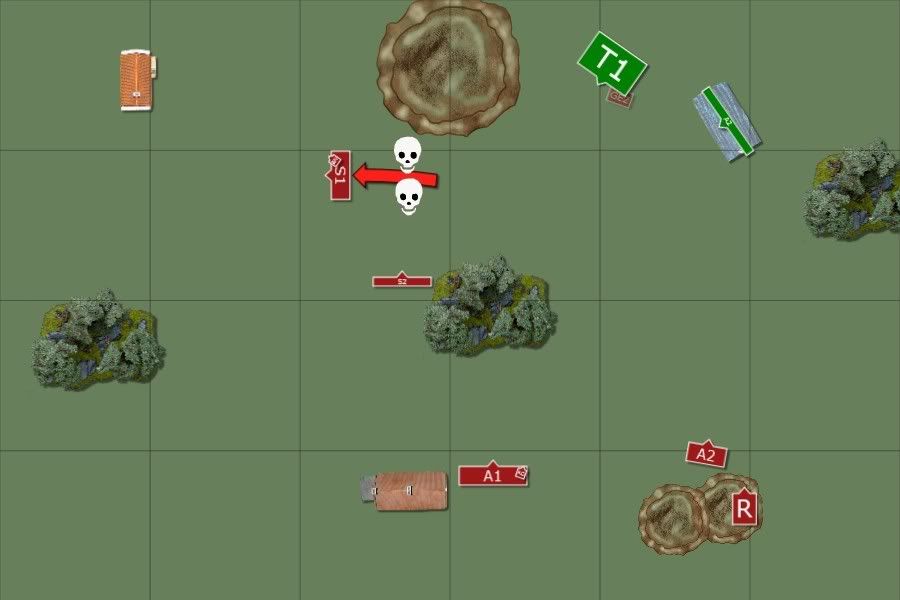 :: Victory Points ::
Counting up, he has one unit of Treekin and the 17 Archers unit. I have the Spearelves, Swordmasters, both Archer units, the Repeater, Olannon and Naenor. A clear
massacre to the High Elves! :: Evaluation ::
For once, Shadow Magic really impressed me. My opponent, rusty, remarked upon how effective it plays with my units as I'm able to reach combat fairly quickly which is where the spells really hurt the most. Many people claim Okkam's is more of a broken spell than Dwellers. I'm not sure I agree, but having seen my 20 Spearelves plow through 9 Treekin in a single turn as if they weren't even there, I can definitely see the potential.
If I want to go with Shadow though, I believe Swordmasters are sub-optimal. Basically, Phoenix Guard will suit the list better: I will lack tough units and damage output will be covered by Shadow Magic. Granted, Swordmasters can fight well against most units without the aid of Shadow, but so can Dragon Princes and Silver Helms, not to mention Saerith and Naenor!
Playing against Life Magic, I encountered exactly the reason why I decided to try out Shadow: it's so easy to prioritize your defense against! Granted, he didn't roll Dwellers but there was hardly a turn where I would've needed to decide between Dwellers and Flesh to Stone as most units were either engaged or not simultaneously. Quite the opposite, rusty commented on a couple of my magic phases saying "prioritizing against your spells is like choosing to get either AIDS or uncurable cancer..."
Luck-wise I think we both had our shares of good and poor luck. Without analyzing every roll I'd say it was probably pretty even. In hindsight, I don't believe luck played a very big part in this game, though some rolls were incredibly frustrating (most importantly failing 2/3 saves on a 4+ re-roll with Saerith - meaning he'd surely die against the Treeman).
So, overall: I was very pleased with Shadow, but I believe that my list can make better use of it through including Phoenix Guard. I will continue trying this list as it stands, with Shadow, for 3 more games at the very least before I make a decision.
I hope you enjoyed the report and I'd love to hear your thoughts