A friend was looking for a challenge for his nasty Daemons, and since neither of us has any real time to meet, we played online. With model restrictions thus removed, I stole the army list from
Curu Olannon
.
There are a few pictures in here, but I did not remember to take many screenshots.
HE army list
Prince, Star Dragon, great weapon
Armour of Caledor, Vambraces of Defense, Talisman of Loec
BSB, Eagle, dragon armour, shield, great weapon
Helm of Fortune, Other Trickster's Shard
Mage, level 2, High Magic, Annulian Crystal
30 archers, full command, flame banner
13 archers, musician
10 archers, musician
14 Swordmasters, champion, Skeinsliver
30 White Lions, FC, +1 move banner, Amulet of Light
2 Eagles
Daemon army list
Tzeentch Herald, all Death, scroll
Tzeentch Herald, all Death, scroll (yes, two of them)
Khorne Herald, BSB, Banner of Sundering
Slaanesh Herald, Siren Song
~20 Horrors, musician, banner
10 Daemonettes, FC, stubborn banner
~60 Bloodletters, FC, +d6 on first charge
5 Furies
5 Furies
5 Furies
1 Fiend of Slaanesh
1 Fiend of Slaanesh
6 Flamers, champion
6 Flamers, champion
Setup
I rolled 3 and 5 for spells, took Shield and Flames.
He has more drops and more chaff, so deployment is not going to do much for me. But I get my White Lions away from his massive unit, which I wanted.
Rolled a 1 for first turn, but he rolled a 2, so I still go first. Thank you Skeinsliver!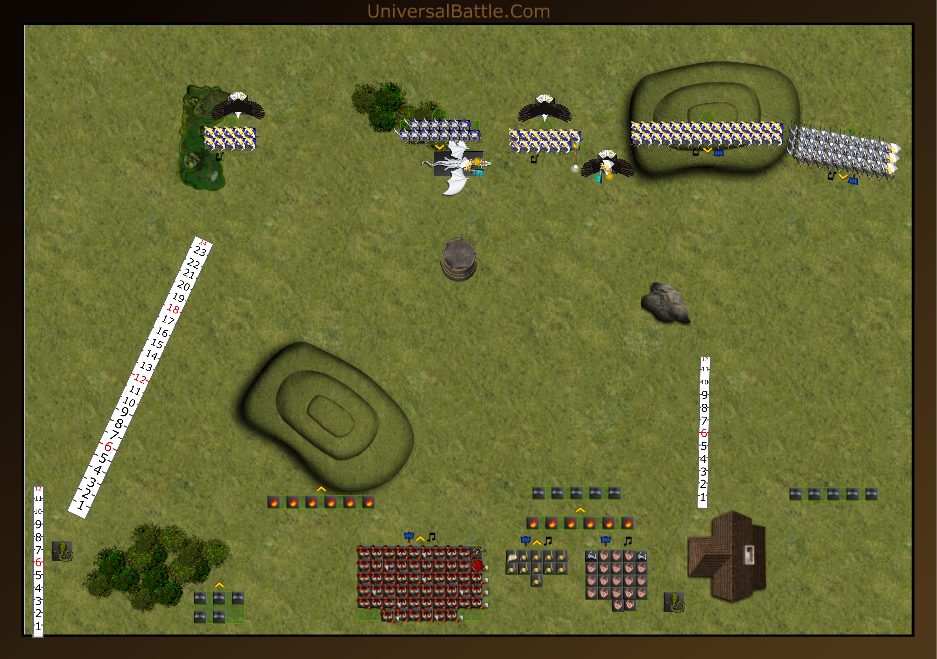 Turn 1
HE 1
White Lions advance, fliers into the middle. I forget to move the Swordmasters, although staying the woods is roughly okay.
Double 1s for magic, Daemons channel, so 2 vs 2.
Cast Drain Magic, but he dispels with double 6s.
All archers kill only 3 Furies.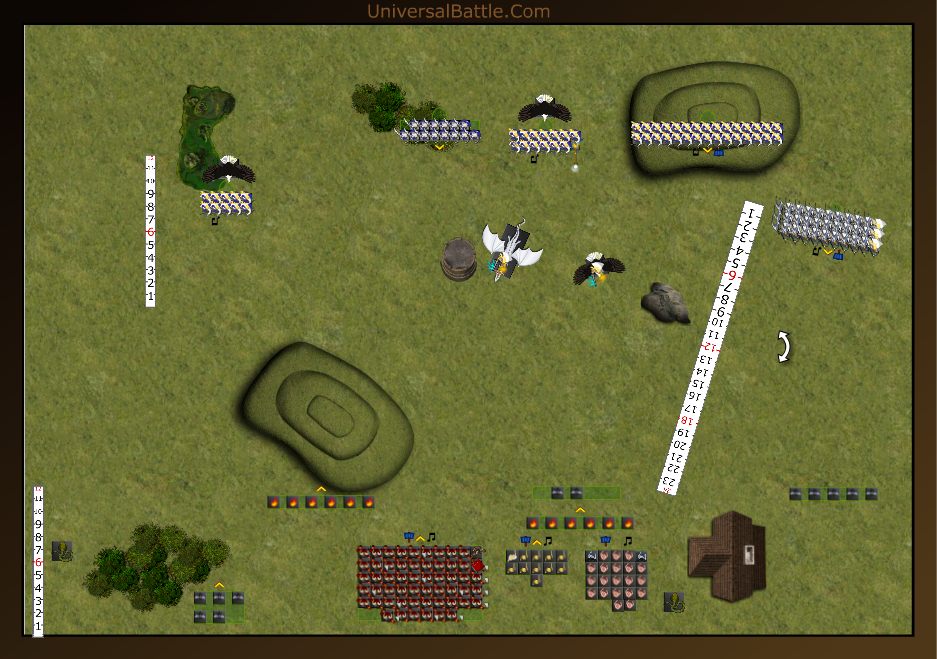 Daemons 1
I wish I had a picture after this one, because this is the one you most want to see.
Bloodletters advance in parallel with the Daemonettes. Flamers stand in front to block my BSB from charging the Daemonettes. There is no way to get both fliers onto the Daemonettes.
4+6 for magic, plus Daemon channel. net is 10 to 7
Managed to dispel strength snipe twice, then leadership snipe failed to cast
Turn 2
HE 2
Siren in Dragon. BSB charges Flamers.
After some measuring, my western Eagle can just barely get close enough to block the Bloodletter charge on the Star Dragon. The reality is I screwed up big time on the first turn, and should have lost the Prince right here, and probably the Dragon (and then BSB). But the Eagle could get about 1" past the argument point, so the Bloodletters were definitely blocked.
Magic 3+5 for 8 to 5. Flames is scrolled, Shield is IF on Swordmasters for a wound on the Mage.
Archers kill 3 Horrors
BSB overkills Flamer champion, to win combat by 5, but they roll 5 and lose just an extra Flamer.
Prince fails to kill champion (ward save), and Dragon does 3 wounds. I win by 1, kill another.
Daemons 2
Western Archers flee Fiend, but roll 6 vs 10 and barely die.
Double 1s for magic, both channel, for 2 to 3. Soulblight is dispelled.
6 Swordmasters killed by Flamers (2 ward saves made).
Fiend whiffs, but Flamers get a wound past my BSB. 2 wounds on fiend, drawn combat.
Barely kill Slaanesh Herald, unit passes -1 test.
Bloodletters kill Eagle and reform to face east.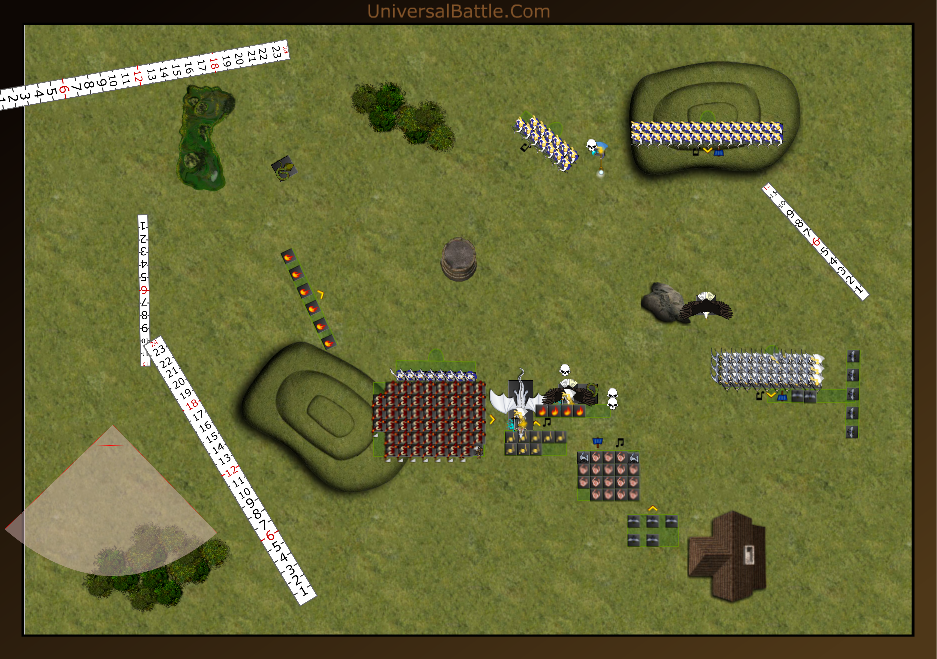 above picture is in the middle of HE turn 3
Turn 3
HE 3
White Lions clean up some chaff.
Swordmasters flank charge Bloodletters.
Magic is 4+5 for 9 to 5. Flames scrolled, Shield dispelled.
HE archers do literally nothing. Are we surprised?
BSB finishes Fiend, Eagle kills a Flamer, but Daemons get double 1s on test.
Swordmasters netted 10 wounds, lost 4. Steadfast means no CR damage. 40 bloodletters still alive. Bloodletters reform to face Swordmasters.
Prince and Dragon combine for 1 total kill. Dragon hits once and thunderstomp once for no damage. 5 Deamonettes remain.
Daemon 3
Magic is 6+1 for 6 to 7.
Strength snipe dispelled, leadership fails to cast.
Flamers kill 6 archers.
Swordmasters kill 4 Bloodletters, but champion passes ward save. 3 Swordmasters die, last passes break test!
Dragon finishes Daemonettes.
BSB does 3 wounds to flamers, they pop on poor leadership tests.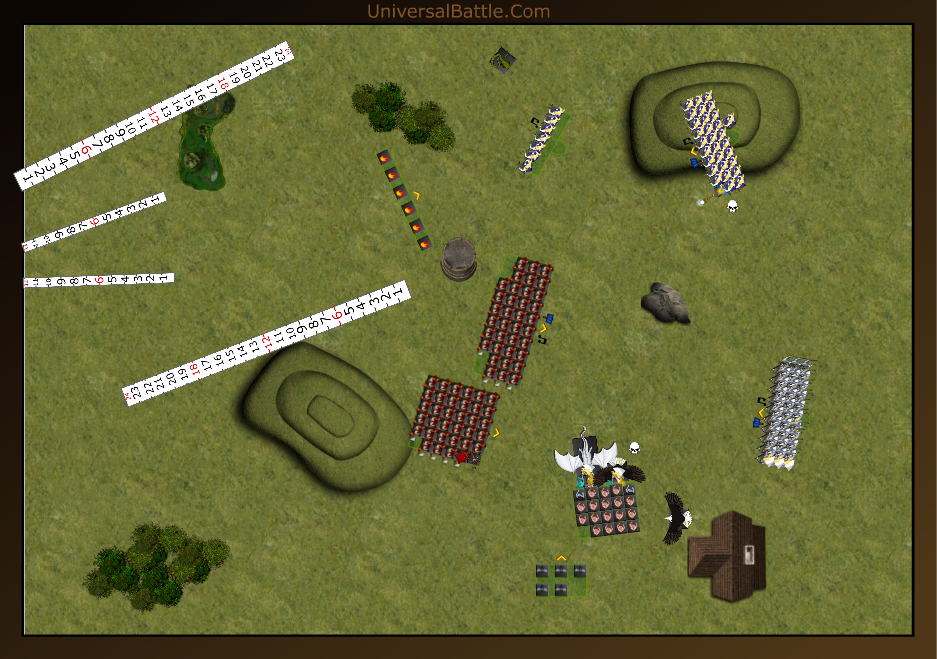 above picture is actually during HE turn 4
the bloodletters are being reformed, so show up twice
Turn 4
HE 4
BSB and Dragon charge Horrors.
White Lions clean up some chaff.
Archer horde fails swift reform.
Magic is double 2s for 4 to 2. Flames dispelled.
Archers do nothing.
Last Swordmaster took 2 Bloodletters with him (38 left)!
BSB killed general Herald in challenge, Dragon killed 7 total, they pass Steadfast. Dragon reforms to put flank to Horrors, front to Bloodletters.
Daemon 4
Bloodletters finally charge the Dragon.
Magic is 2+5 for 6 to 6. Soulblight on the Dragon IF, caster loses all levels.
BSB kills Herald. Prince kills 2 Bloodletters.
Dragon takes 2 wounds from Bloodletters.
Dragon kills 5 Bloodletters, Breath kills 3.
End Game
HE 5
White Lions and BSB kill 8 Horrors.
Prince kills 2 Bloodletters.
Dragon takes 3 wounds, and kills 3. As the White Lion ranks prevent the Daemons being Steadfast, Bloodletters take serious damage from combat resolution, leaving under 15. Horrors pop.
We roll out the next combat round between Bloodletters and Dragon. They don't kill the Dragon, Dragon does more damage. With the BSB or White Lions charging in on the top of 6, we just call the game.
High Elves win!!!!
Except, I didn't really win. On turn 2, when the Daemons shot the Swordmasters, I rolled an 11 for their panic test. We felt that would effectively kill the Prince, Dragon and BSB, so we agreed the Swordmasters would just pass and we would play on. The Swordmasters would kill 16 Bloodletters and pin them for a Daemon turn, allowing my fliers to finish off their targets, so I think that was a valid conclusion.
Generally I used the fliers terribly, but he didn't focus enough on the Swordmasters. Daemons also had bad luck with Magic, and twice I dispelled something exactly, saved by the extra HE +1.