Hi all, I haven't been posting but worked hard on my new project.
A quick introduction before I go in more details. The project turned out to be a completely GW-free (except fro paints... but I am not there yet). So I decided to test my skills with a non GW model close to my target. And here is the result, the model is a female paladin out of a set of 3, from Fenryll.
Being satisfied with the results I decided to move on so let me introduce you to Project Mystara. For those of you that know the name, this project is related to D&D. The idea is to give form to the most important characters of my last two decades of gaming. At the moment I am focusing on the PCs, later on I might include some villains and a diorama (so a rebased all the models according to a precise theme, ruined evil temple).
I'll begin with the group of heroes that flourished under my Mastering guide.
In alphabetical order, the first is
Abner
, a rogue/ranger from Oceansend. The original model is Hawk, from Dark Swords:
I adjusted a few details with the equipment and here is the current version of Abner:
Then there is
Asc'Ling
, a Glantrian necromancer (actually, he's a lich...). I picked the model from Avatars of War:
Here is my take after some minor changes, my plan is to give most of the flavor with colors:
Next is
Diadra
, an Hinterlander cleric of Valerias. Valerias is the goddess of love and passion (much like Aphrodite) and her clerics usually solve problems using social skills rather then weapons or spells. This model from Guild of Harmony is pretty close to the concept (without being too slutty).
I added a sword (no hero goes completely disarmed, golems apparently are immune to feminine charme...) and a rose (Valerias' symbol). I rotated the forearm so that the pose doesn't look silly.
Lucrezia Elengaer
is an elven druid (rather uncommon for the Minrothaddan elves). The model is from Reaper Miniatures:
Lucrezia has an animal companion, an old stoat named Erminio. Since I could not find any suitable model I sculpted one, it's been probably my first sculpting besides some minor conversions.
Olaf
is a paladin from the Northern Reaches. I could not find any convincing model equipped with a two-handed sword so I chose a classic cool model from Reapers:
No conversions, here, just a demon's head you should know pretty well...
And finally
Phelonius
, mage from Alfheim. One more model from Reaper
Usually Phelonius wears a magic pot over his head. That was impossible to do with the hood, so the pot is momentarily on the ground (probably just magically refilled with food).
That's it for the main group. Then there is my wife's character, she crossed ways with some of the heroes. She's
Elahna
, a young paladin. The model is from Dark Sword:
No conversions in this case, only a new base.
Finally, my PC (from a different campaing and setting, but I want to include him in this project). Here's
Eurk
, a violent half-ork barbarian. Model from Russian Alternative (by the way, they make great models for Warhammer Fantasy):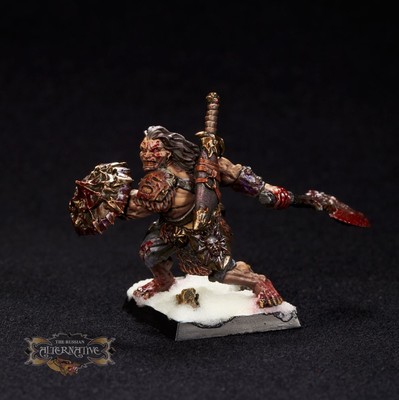 He wears his step-brother's hand (he cut it off because the brother didn't want to lend him some money..), I added it. I am still thinking if I want to remove some of the Warhammer Chaos symbols, after all Eurk hates demons.
Eurk is not a nice guy and, while raiding a village with a band of thugs, he kidnapped
Naidra
, now his slave. He's teaching her how to fight so that one day she can get her revenge (trying to kill him... Eurk is not that smart...). Model from Dark Sword:
No conversions, just a new base:
That's all for now, soon I'll start painting, stay tuned.
For future reference, the GIMP tools to remove the background are rather coarse and remove also some of the image if you don't pay attention, That's why some of the pics are missing bits... I'll be more careful next time.