Had my 1st game of new book and 2021 yesterday
I ran the above list and he had:
Blades of Khorne
Exhaulted Tyrants - The bloodlords
Bloodthrister of insensate rage: general, thirst of carnage - 270
Bloodthrister of insensate rage: Halo of Blood - 270
Exalted Greater Daemon of Khorne: armour of scorn - 520
Skarbrand: 380
Slaughterpriest: Blood Sacrifice - 100
3 x 10 Bloodreavers
Tyrants of blood
Wrath-axe
Extra command point
We played Focal Points. He had 5 drops to my 7, so he took 1st turn.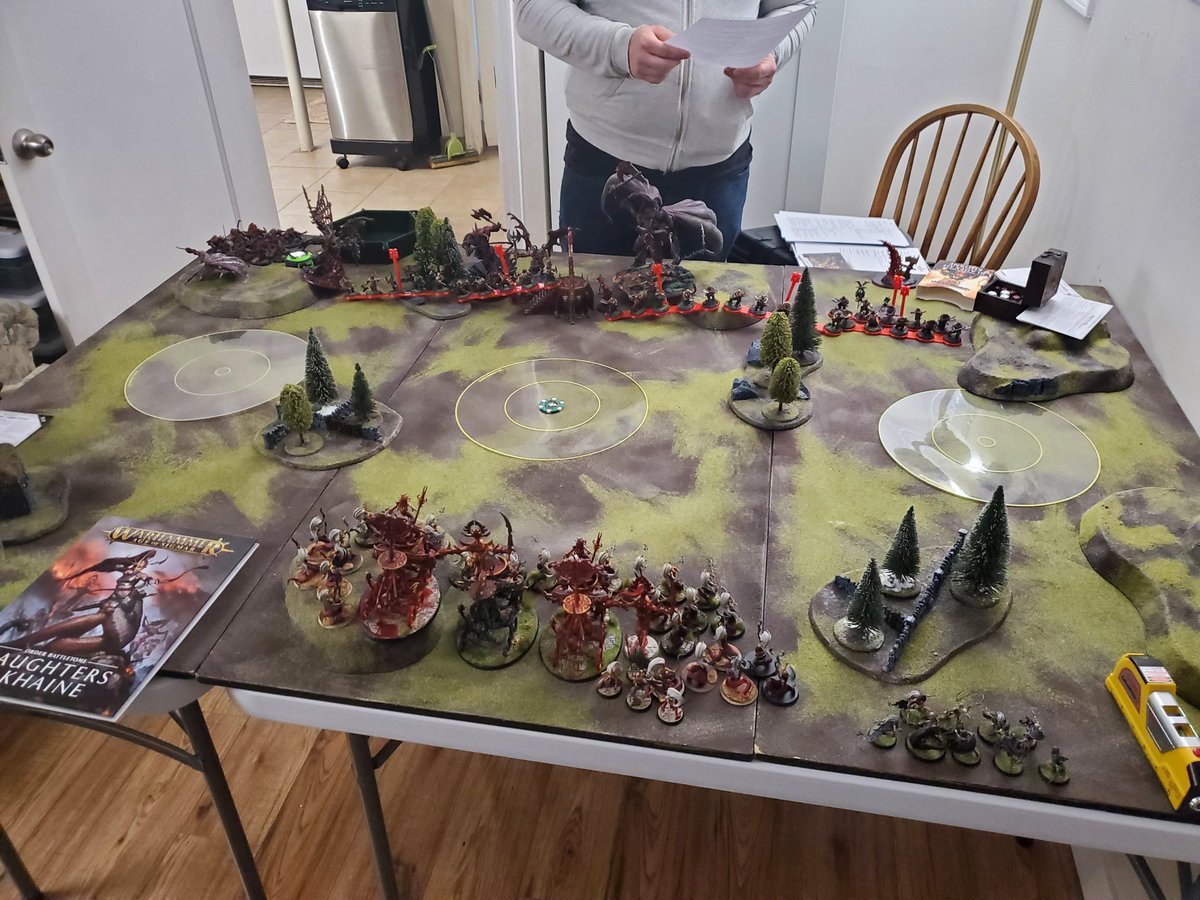 BOK turn 1. (Middle primary obj)
So I knew he would be trying to Alpha as much as possible as he can run and charge, so I set back off the 12inch line (I think i was around 8.5 on). He didnt check this, so ran forwards as far as possible and didnt screen this thirsters as he thought he could charge them. It was in the charge phase he realized his mistake as they were min 13 away. He did cap 6pts.
DOK turn 1:
Tried to cast mirror dance but failed, though I got mindrazor off on the sisters. I also got my avatars going ok and put blessing of khaine on the sisters. I did make a mistake and forgot the changes in witchbrew (now wholly within) and got the heart off so it was going to cover half the obj and combat with Blood thirsters.
I moved up my force with some khinari coming down onto left flank to block up Skarbarn a little and the shadowstalkers heading to contest the right obj.
Shooting took some wounds off the middle left Bloodthrister of insensate rage, while the rest killed off some of the reavers to allow me to cap the points uncontested. (the blade covern blood stalker got double 6's both times she shot, so going to need a name for her lol)
Combat saw me wipe the center out with the loss off 4 snakes total (He had the ability that allows him to attack as if no wounds. He made a mistake though and his exalted greater daemon was actually killed before he could attack as is miss calculated by 10 wounds but we didnt know till after the game)
I capped 4pts and rolled for obj which moved to the left flank. He won the roll off and took it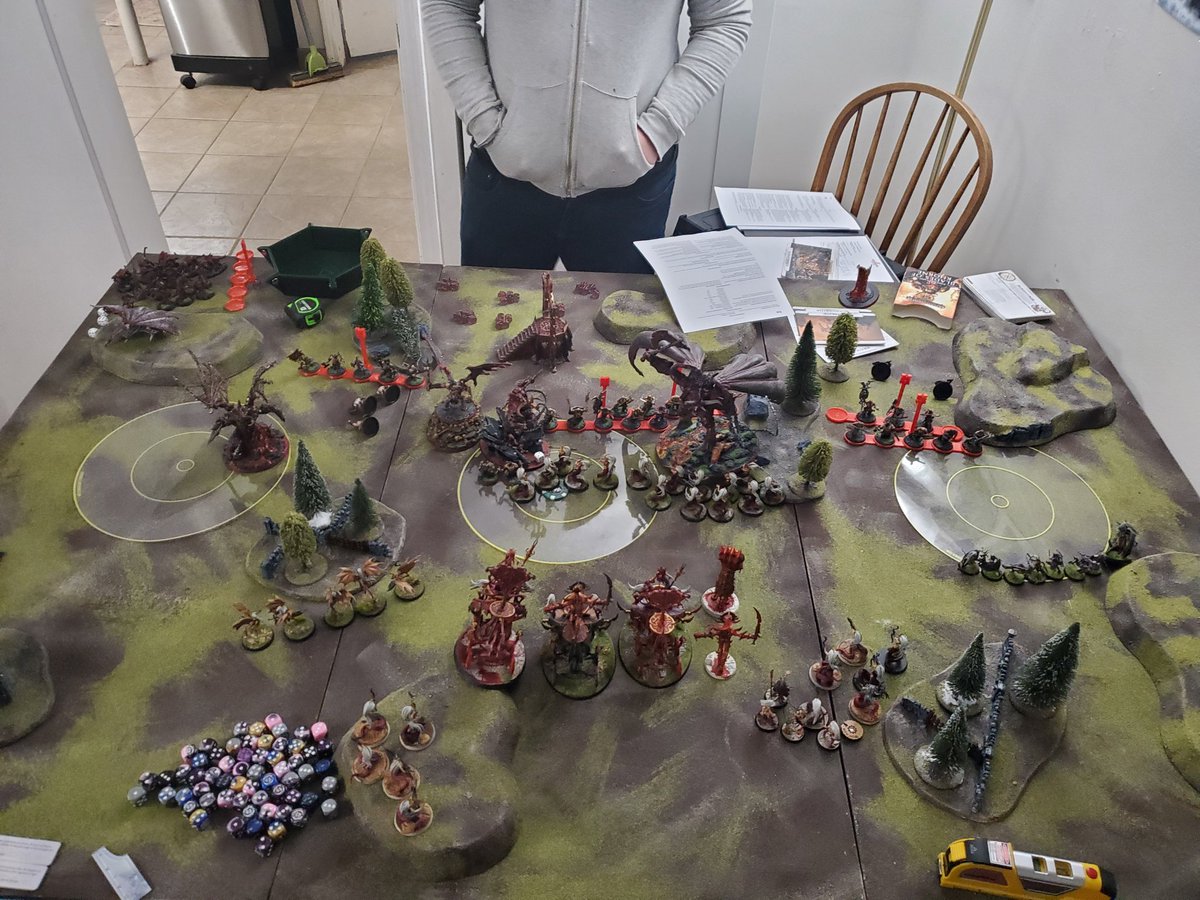 BOK turn 2:
SKarbrand moved to charge in and he failed to cast wrathaxe. The exalted retreated and went back a bit. His 2nd insensate rage BT charged into the snakes flank. And Skarbrand hit the khianri (3 of which dead from his shooting attack) and moved to clip the non general shrine, which he did 7 wounds to. The insensate rage BT killed 2 snakes, and died to fight back (as Crystal touch just can do so many mortal wounds)
He capped 1pt
DOK turn 2:
Mindrazor and Bloodsnake both failed to cast but I got witchbrew onto the Avatar and blessing on the sisters again. 2nd unit of Khinari flew onto left obj with the 2 remaining Khinari retreating to it also. sisters moved up on both flanks with the Shadowstalkers moving to take the right reavers.
Shooting saw 4 reavers die, and the Exalted finished off. Also chipped some wounds off Skarbrand.
Charges saw the sisters and Khinari charge forwards and the shadowstalkers engaged the reavers. Avatar charged Skarbrand
Combat saw the slaughter priest and all remainind reavers die and Skarbrand fell also. We called the game there really