Sat 24th was our local 1 day 3 game event. Sadly as TO I had to drop out after Round 2 as a player had to go.
Game 1: total Conquest
Night Haunt list: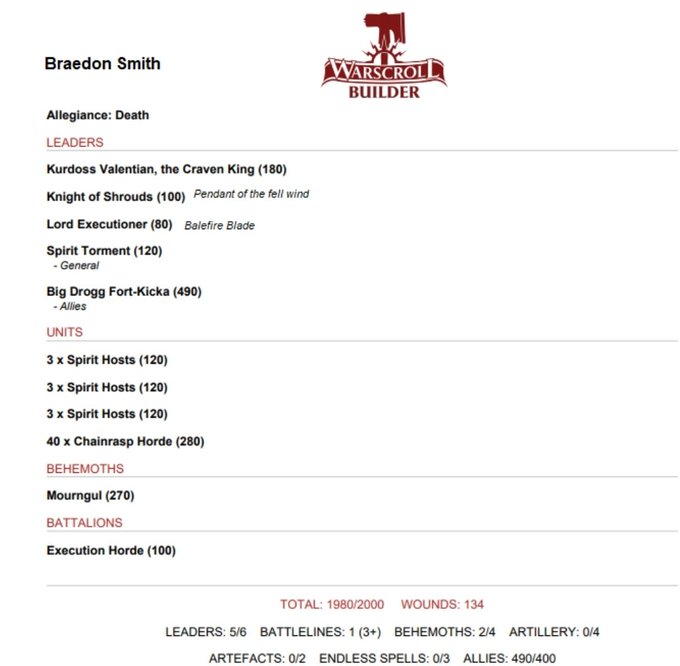 I use my nights to run up 1st and take the top right obj while my army pushed up the middle. I kinda wished I had an extra hero to leave on an obj but oh well. I was out of range for most of my spells and shooting due to odd deployment (bar hitting some Chainrasps)
He got the double turn 1, but couldn't really capitalize on it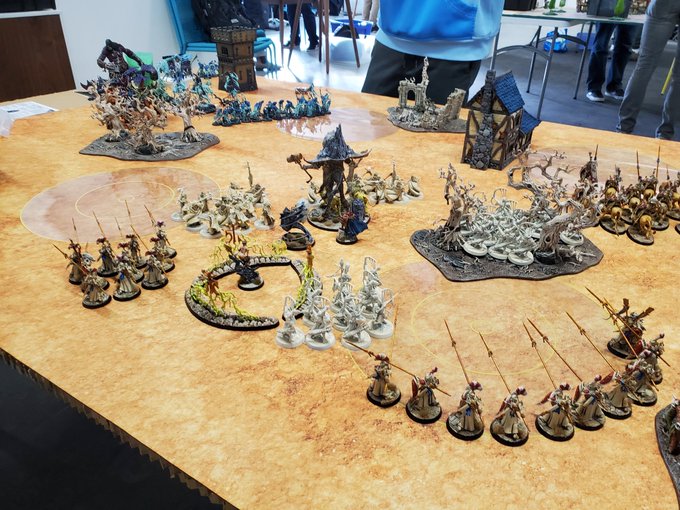 Turn 2 I shot off his Knight of Shrouds and turn 3 his Mourngul
By around turn 3 all was stuck in. Avalenor and 10 Stoneguard were in combat with Big Drogg and Kurdoss while the 10 knights who held up the big block of Chainrasps got some support from the other 10 stoneguard.
Avalenor made short work of the Giant and the King and the game was over bottom of 4. I had lost my Dawnriders, 10 Wardens and my stone guard were down to 6 and 4, but he had lost his army and
Game 2 was vs Seraphon (Thunderlizards) Focal points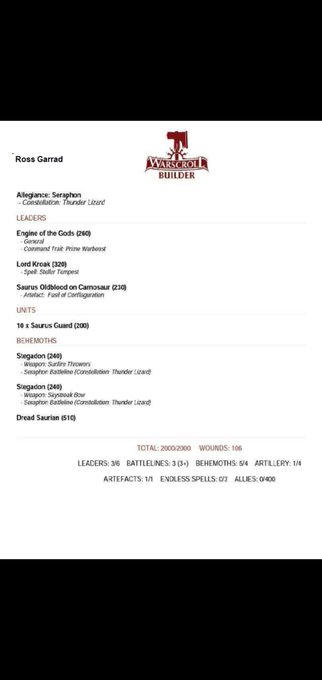 So I went first, Moving the Dawnriders forward on the right to just touch the Obj, and then moving the bulk of the army up the middle and some 10 wardens up the left. Shooting saw some wounds on the Oldblood (should of shot the Engine but never faced Seraphon)
magic was hit and miss. He played Kroak wrong (found out the day after) as he said he could dispel attempt for every cast I had, when its actually only 4.
In his turn he got some wounds on the Cathallar and dispelled her endless spell (as a 5th spell cast cause again he got his rules wrong)
He got a long charge on the dawnriders (who were Etheral), and with a rule I didn't know, called Roar of Ruin, halfed the units bravery. With the -1 they already get from terror, I rolled Double 5 on my test. With the 4 wounds I got (I fluffed a lot of my 4+ saves) the rest of the unit ran. Sucks to lost them all but oh well, should have played them differently or 2x5 which I am doing now)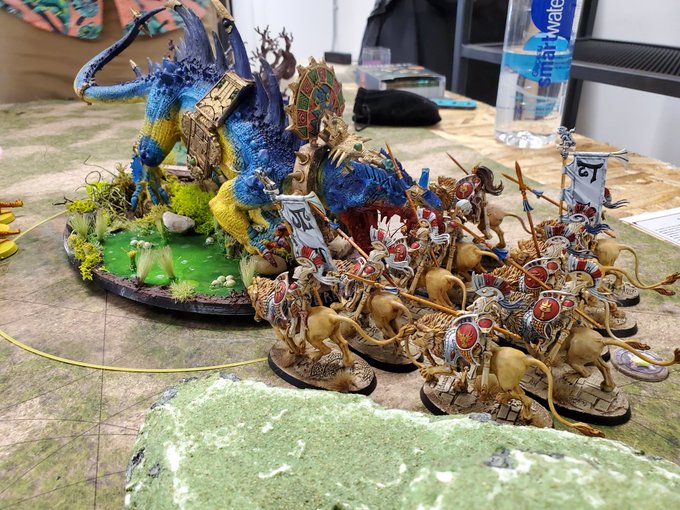 nom noms
He then got the double, which saw him use the engine multiple times and take out my Cathallar and some Sentinels. A steg charged my left Wardens and killed them (so many MW impacts) and the center had the oldblood charge 10 wardens and kill half.
The middle became a melee of combat, with the DreadSaurian joining below, catching the remaining wardens and sentinals, but my Avelenor and Stoneguard got in and started smashing heads.
It was a bloodbath, with the game only being decided bottom of 5.
Id lost my whole army and he had Kroak (3w left) Steg (2W left) and Steg (3W left) left to cap the remaining obj to win 17vs14
Thoughts:
So two games and some interesting learning points. I made some mistakes both games but that's learning the army. I am going to split my dawnriders into 2x5, as they can be more useful that way I feel in my list. I didn't have enough units with Protection of Hysh, so losing the Cathallar and enough Sentinels to not be able to cast hurt, so I need to add some in. Id love to add a 2nd Cathallar but not sure I want to trim a unit for it. Its like I could drop 5 Dawnriders for a 3rd Sentinel unit, but I don't trust just shooting as it can be hit and miss