So, after losing 4 times in a row with that list vs Skaven and Slaanesh (prob top armies bar Flesh eater court) I decided to switch it up a bit and look at preparing for the tournament at the end of Oct (different than LVO as thats gonna be tough)
4 of the 5 objectives are shifting ones, so I wanted a mobile army that can grab the objectives early, hold them as long as I can while Morathi just holds up the biggest scariest unit
idea:
Morathi (Mirror Dance)
SQ on Cauldron (General) with Crimson Rejuvenation (Not sure what item to take. Hag brew, Croneblade, Scales and Thermalrider all good options)
HagQueen (Catechism)
Bloodwrack Medusa with Shadow Stone and Mindrazor
3 x 10 Witch Aelves (knives)
30 Sisters of slaughter (Knives)
2 x 5 Lifetakers
Cauldron Guard
6 drops
Idea is to get msu Witch Aelves everywhere, Morathi being a constant threat turn 1, and Using lifetakers as support or for capping objectives they they move to a position I can capitalize
Turn 1 is basically Khaileborn Shadow thehag somewhere, making sure Morathi is out of range of dispel and in the 24" mirror bubble. Transform her and switch her out with the hag.
Hag buff supports Sisters of slaughter. Army runs up but spread out (within 18 of cauldron). Maybe MR Morathi before she goes if worth it.
Morathi moves around, free to do so and heads for deadlist unit to hold up or great targets to smash up (A local guy is terrorizing the scene with 12 jezzails)
Turn 2, teleport some WE near Morathi but 9 from Enemy. If places right I can use the command ability to reroll charge, and with +1 for cauldron that can work well. Also, could drop down Lifetakers, try and put MR and Catachism on them for some tasty damage
SOS are the big block to support and do combat damage
Basically the army is pretty fast(why I was looking at thermal rider on SQ so she can run up and smash face)
I wont be able to cast my 1 witch brew turn 1, as the mirror dance units have to be 6 inch away from another unit, but thats ok as Morathi will hopefully take the attention away and I can command point the battleshock test if needs be
Anyway, just an idea I might try. it can be very tactical and if against some I cant chip off I can just jump on Objectives turn 1 and hold them for as long as I can while slowing the enemy with msu
So, with this, I tested it out last night at a local GW vs a blade of khorne list. Game was starstrike
roughly he had:
2 blood thirsters
2 Slaughter priests
Blood Secretor
30 Blood letters
10 Marauders
5 Flesh hounds
5 Blood warriors
5 Wrath Mongers
Warshrine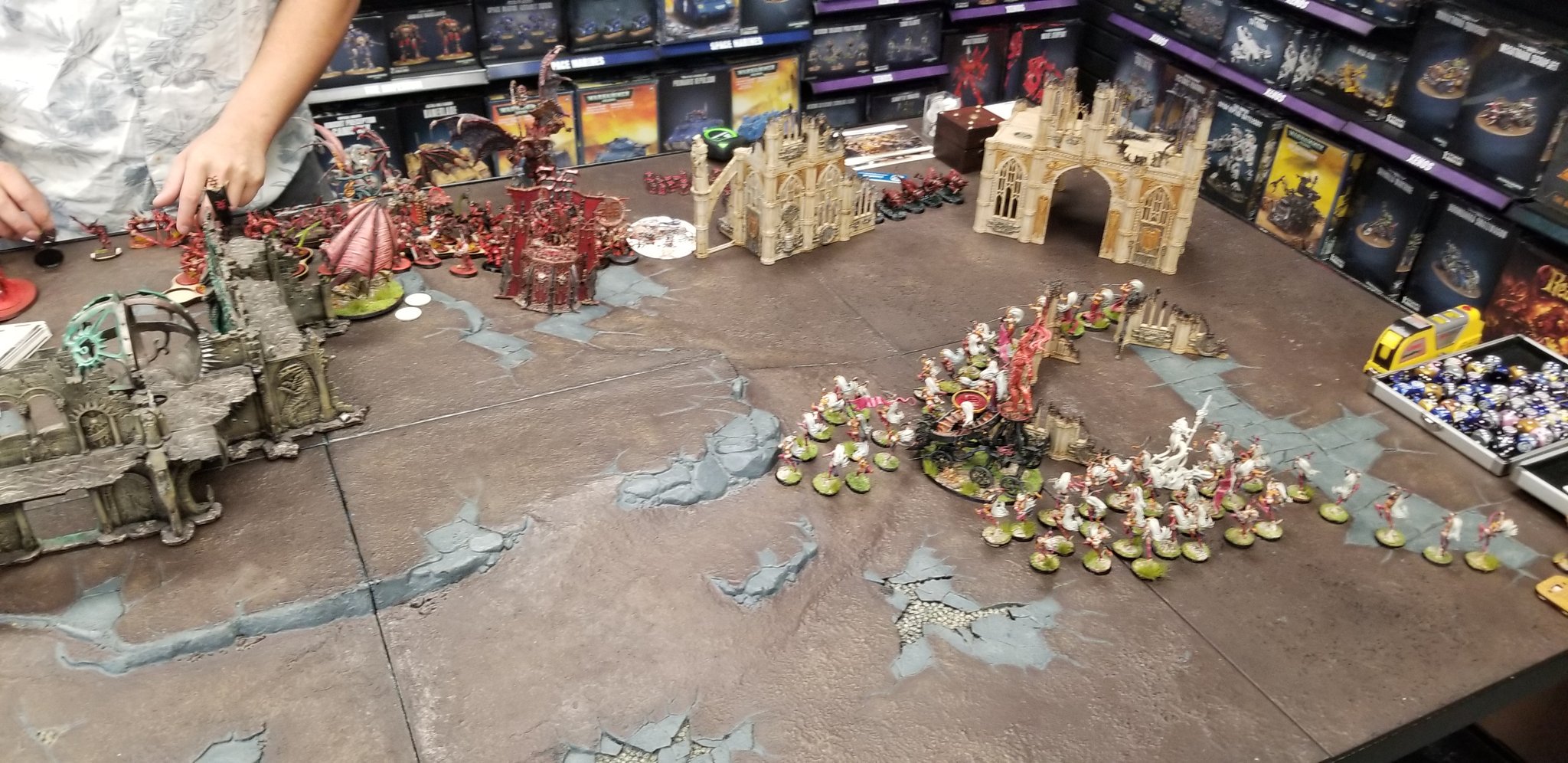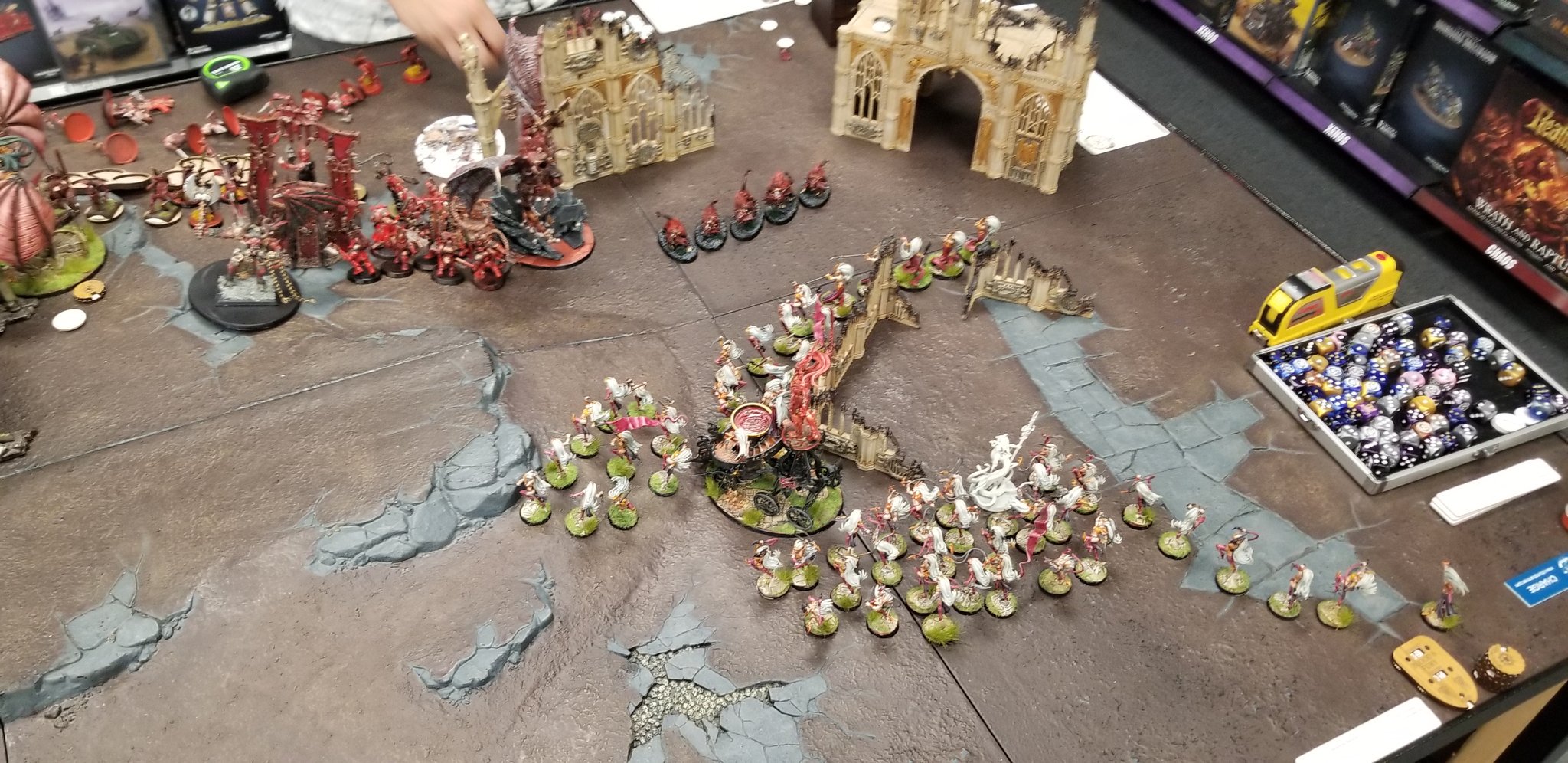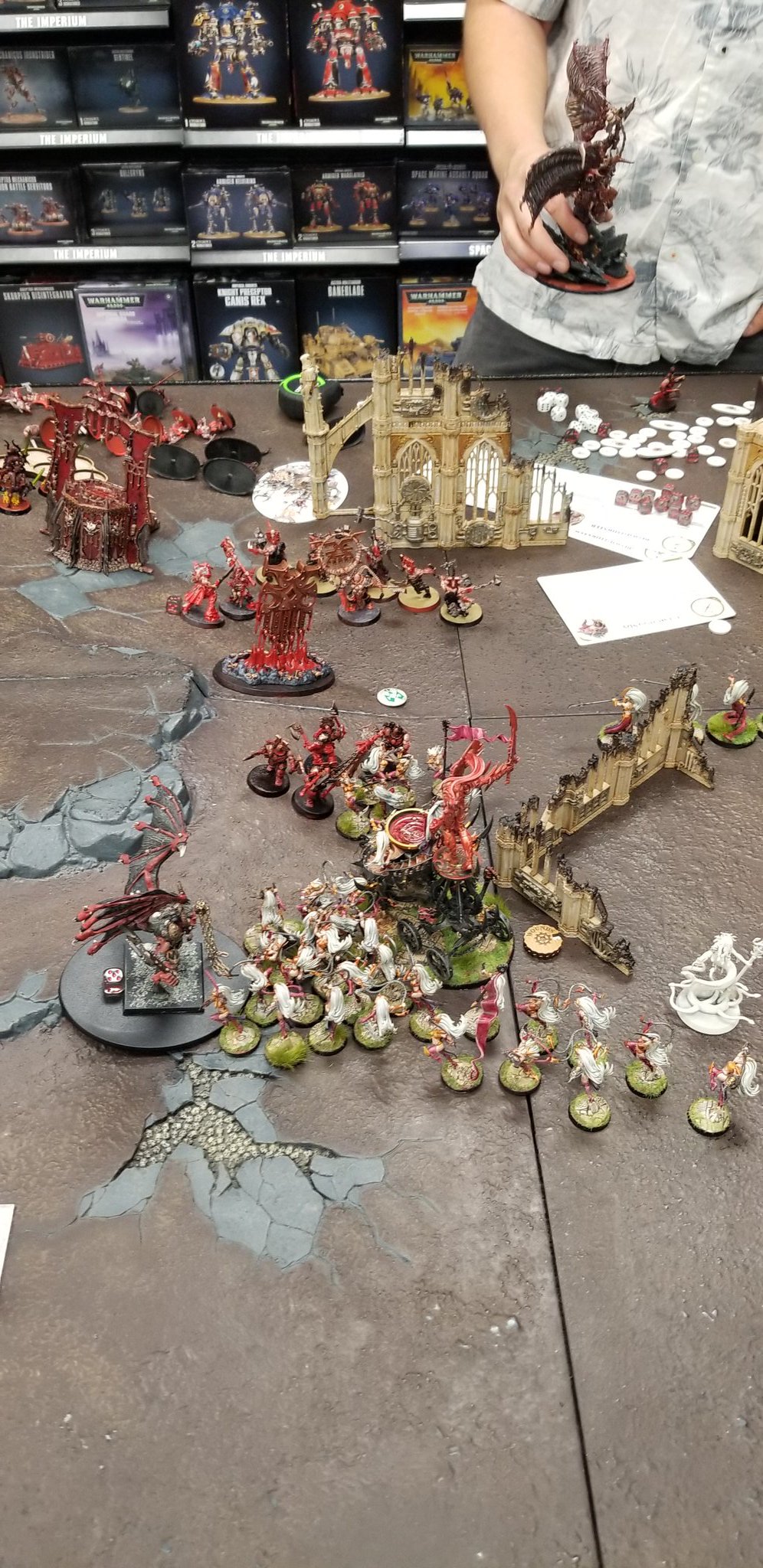 Morathi got the turn 1 charge due to the trick as above, with mind razor and catachcism and totaled 17 blood letters and a few marauders and she took her 3 wounds.
He pushes forwards to be right in my face. No other combat bar Morathi who went down to 6 wounds. My plan was to back off but he got the double turn. Objective dropped down right in the center of the about to be fight.
he smashed into my army, Flesh hounds into snakes, BT 1 into WE infront of cauldron, BT2 next to him. Blood warriors into right WE. He used some daemon shinninigans to be able to pile in 6 inches, and attack again, so the blood thirster 1 killed the witch aelves and then piled into the cauldron doing 7 wounds. luckily, I managed to pile in my sisters of slaughter into TH2 to shield the cauldren from both attacking it. This allowed the SQ to take off BT1 in return. The flesh hounds did 3 wounds to the snakes at the cost of his unit, and the Witch aleves took 3 wounds for 1 of his guys. Morathi wiped out the last of the stuff she was with, remaining on 3 wounds.
At the start of my turn 2 he dropped a blood comet thing on me with blood points, doing 2 wounds to the cauldron, 3 to the medusa and 2 to the sisters. Morathi managed to black horror off a wounded slaughter priest and flew for the other, with the snakes mindrazoring up and heading for the blood secrator. I healed the cauldron for 1 and all the other prayers failed to cast.
Shooting saw Morathi take off a wrathmonger
Combat saw the snakes take out the secreator
Wrath mongers kill 2 more snakes and wound Morathi
the now witch brewed up sos surrounded the remaining Blood thirster (on 8 wounds) and kill him
Morathi takes the priest to 2 wounds (he saved with the shrine)
We finish off the Blood warriors.
We drop down 2 more objectives
He gets turn 3, Using blood comet again but has little impact. At that point we call game, as he would take the middle objective for 3, but then next turn I wipe out his army, cap the middle objective for 3 and drop the Khanari on each other objective
So, it was interesting. The -1 to hit didnt come into play, but the teleport shinnanigans to get Morathi in his face from the get go was good. Being able to do that to Slaanesh (the big block of deamonettes) or Fec (the lord) or skaven (jezzails/plague bearers) would be great, and holding up armies while capping obj could just work