Chaps,
Many apologies for being stuck away so long! Solicitor shiz takes a looot of time and my new computer setup isn't very convenient (girl friendly flat = awkward positioning for the pc).
The bad news is that this is pretty much par for the course now. The
good
news is that every now and then I have an attack of being non-diligent at work and I secretly type away on battle reports and army articles. Law work and High Elf talk pretty much looks the same at a distance.
So I've typed quite a lot on the office PC and finally got home with enough time to upload it. Below are the battle reports and musings that review the fate of the phoenix guard list (2.4 version) at South Coast GT, the design list changes that followed and how the new army fared at Milton Keynes.
Milton Keynes isn't finished yet but there's plenty to chew on in the meantime.
Thanks,
Seredain.
Back in the game!
SOUTH COAST GT
My first tournament with phoenix guard was go. By way of a reminder, I fielded:
Prince- Heavy Armour, Shield, Barded Steed, Giant Blade, Dragon Helm, Dawnstone, Ironcurse Icon - 276
High Archmage - Level 4, Dispel Scroll, Talisman of Endurance, Ring of Khaine's Fury - 300
Battle Standard Bearer - Dragon Armour, Barded Steed, Ogre Blade, Enchanted Shield, Luckstone - 170
Noble - Dragon Armour, Barded Steed, Lance 6, Reaver Bow, Charmed Shield, Potion of Strength - 151.
24 Archers – Full Command - 270
9 Silver Helms - Standard, Musician, Shields - 227
5 Ellyrian Reavers - Musician, Bows - 105
21 Phoenix Guard - Full Command, Razor Standard - 390.
5 Dragon Princes - Standard Bearer, Banner of Eternal Flame - 165
6 Sisters of Avelorn - 84
3 Repeater Bolt Throwers - 210
1 Great Eagle - 50
Army Total – 2398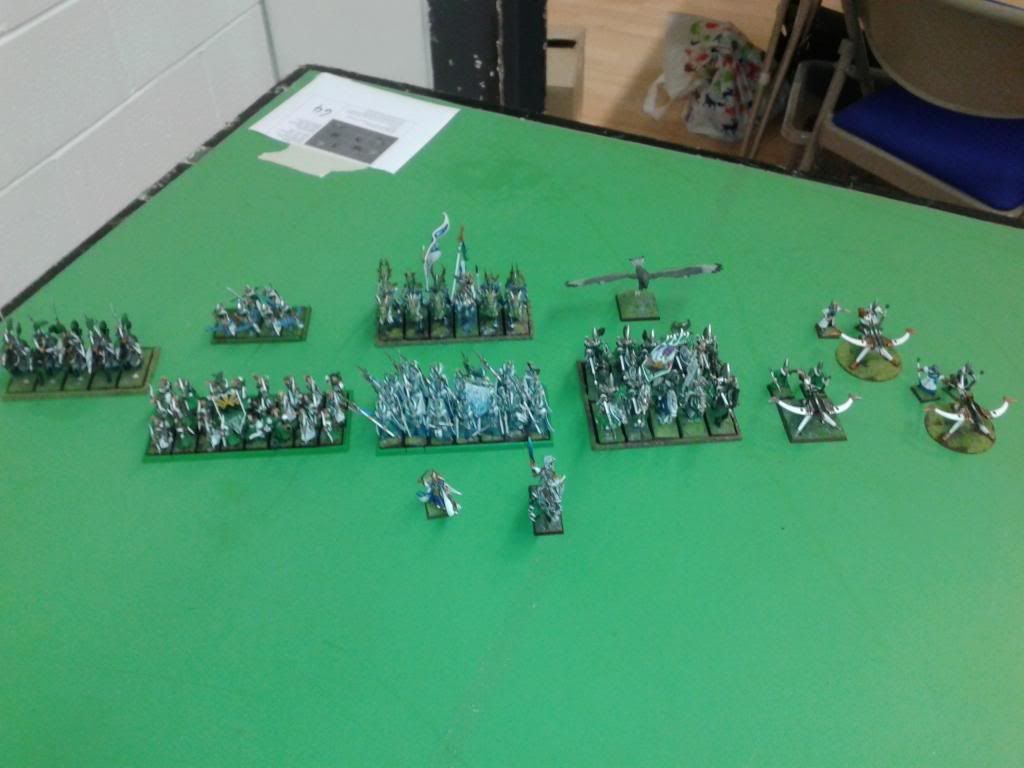 Power Pool choices – 3
Soft Pool choices – 0
Comp Score = 5-2+0 = 3
Game 1 – Ogres - Battle for the Pass
My opponent was fielding a very interesting shooty ogre list. The only characters were two level 1 firebellies as mobile missile turrets. The rest comprised three units of 3 ironguts, three units of 4 (I think) leadbelchers, one unit of 5 maneaters with pistols, poison and character snipe, another 4 maneaters with scout and pistols, two ambushing gorgers, two ironblasters (HATE them) and a couple of sabretusks. My opponent won the scenario roll and chose Battle for the Pass (a fun SCGT mechanic to promote fluffy lists was that you got to pick a scenario – the roll off being determined by your comp score, as for deployment and winning first turn).
We then had to choose secret missions, and I took "kill more special units than you lose", since I was playing an MSU ogre list and was, myself, fielding relatively large blocks (except for the bolt throwers, sisters, eagle, dragon princes… ok it was a bit of a snap decision).
Deployment was decided pretty quickly for me. First, I reckoned I couldn't get any points from sitting back, not least because those cannons would be banging away all game. To clean up those leadbelchers (who can get lucky and rip elves to pieces) and get safely into combat, I'd have to get my knights and infantry forward in force and start running things over pronto. As for my MSU shooters – bolt throwers and sisters, I had to decide whether to park them behind my force for safe keeping, or set up on the other side of my zone to draw off attention from ogre units who might otherwise mob my main force into immobility. I chose the latter – not least because, if I deployed everything together, cannonballs could bounce through my main units to clean out a repeater anyway. I couldn't, in good conscience, have elite elven units hovering around waiting for gorgers to come on in order to protect the machines, and I figured I needed the archers and dragon princes supporting the main attack. In the end, this meant that my right side had archers, phoenix guard and silver helms facing leadbelchers, maneaters and an ironblaster, and my left side saw bolt throwers in a corner opposite the ironguts with (CRAP!) some scouting maneaters parked horribly close by. My dragon princes hovered behind a helpful central building – they had the Bow noble with them so I didn't want them taking unnecessary shots from the other ironblaster, stood opposite, until I committed them forward.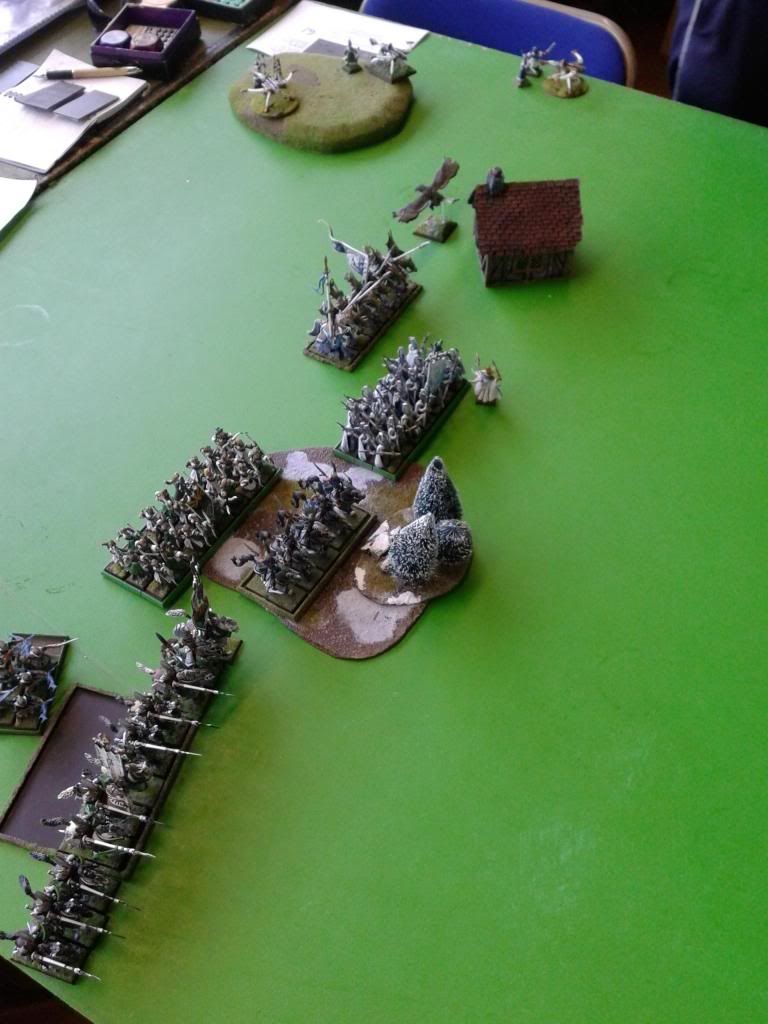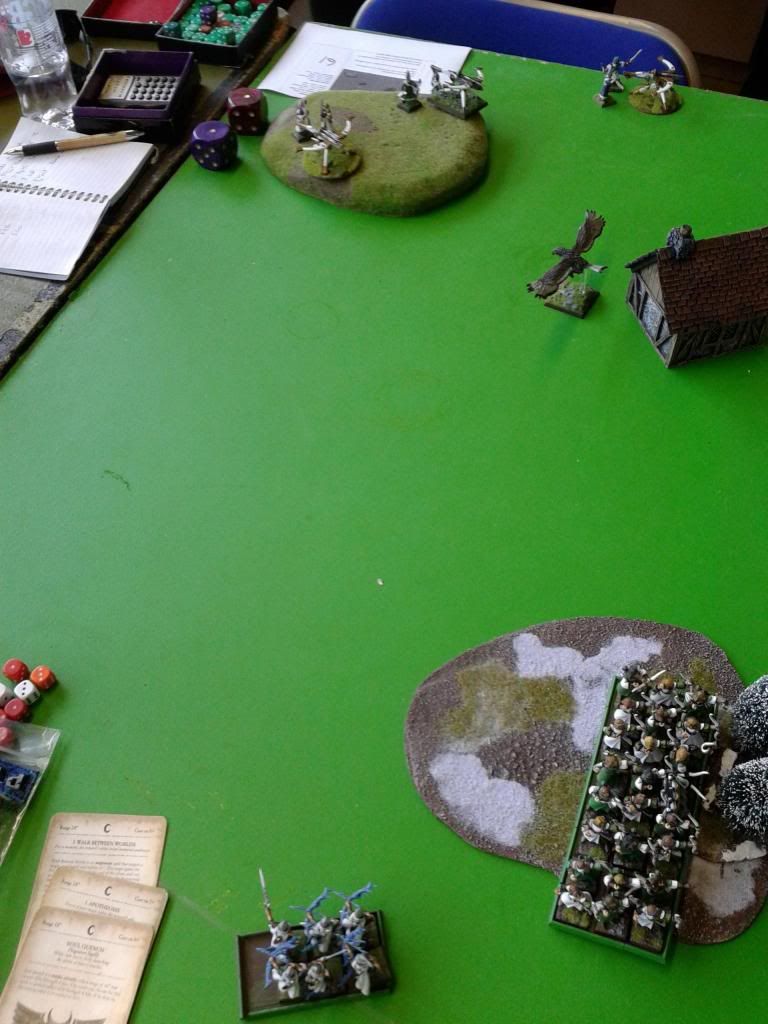 Winning Turn 1 was great. My main force leapt forward, the dragon princes rushing straight out of hiding, and with a combination of Hand of Glorified arrows and two magic missiles, I destroyed a unit of leadbelchers and blasted about 7 wounds off the maneaters. At the back, my bolt throwers and sisters calmly swivelled around at the scouting maneaters and wiped them out completely. This was an excellent start.
Pew pew
Fireballs about to happen.
Unfortunately, things soon started to unravel. My dragon princes were shot down to two by the third unit of leadbelchers and had to spend the rest of the game hiding where they'd started. My bolt throwers then lost their eagle-eyes and started underperforming. Their combined efforts were enough to force repeated panic tests on the irongut units slogging across the field, but my opponent didn't fail any of his tests and the guts closed in inexorably. In the end, these units (and the emerging gorgers) swamped my shooting base. Where dice were unhelpful, my own errors were fatal. The first was to assume that Luck maintains balance some kind of balance, like Karma. It doesn't. Thinking that I was
owed
a failed ogre leadership test, I charged my 3++ phoenix guard into a building where the damaged maneaters had bolted (on my right in the ogre deployment zone). I won combat, but they held, and my best infantry unit (which should have been pushing into the open ground where leadbelchers and ironblasters were free to move about), was stuck doing nothing. I'd clean up on my right eventually, but this was a critical delay and, frankly, stupid. My second mistake was that, when my helms were forced to run over a last leadbelcher from a unit facing my far left, instead of reforming to allow more charges next turn, I overran off the board to stay safe from the ironblasters. This was self-defeating. Without the threat of a charge next turn, my opponent could just fill up the evacuated space with chaff units and mess me around for the rest of the game. My shooting and magic kept up a decent barrage, but my opponent continued to pass all his panic tests and, with my best infantry unit stuck and my dwindling bus chasing cheap units all game, it was only a matter of time (specifically a 3d6 fireball which annihilated 4 knights in one round), before the ironblasters were plinking my characters off the board. A beautifully set up double-charge caught and destroyed the remaining DPs on the far flank, my repeaters got eaten and it was very much game over.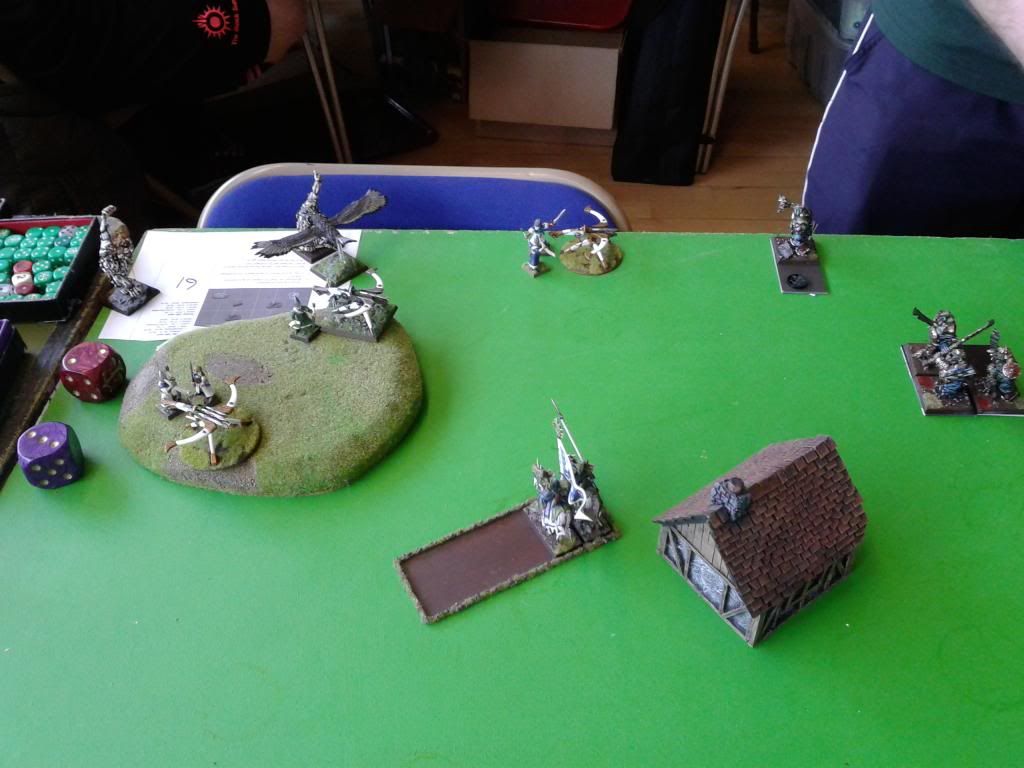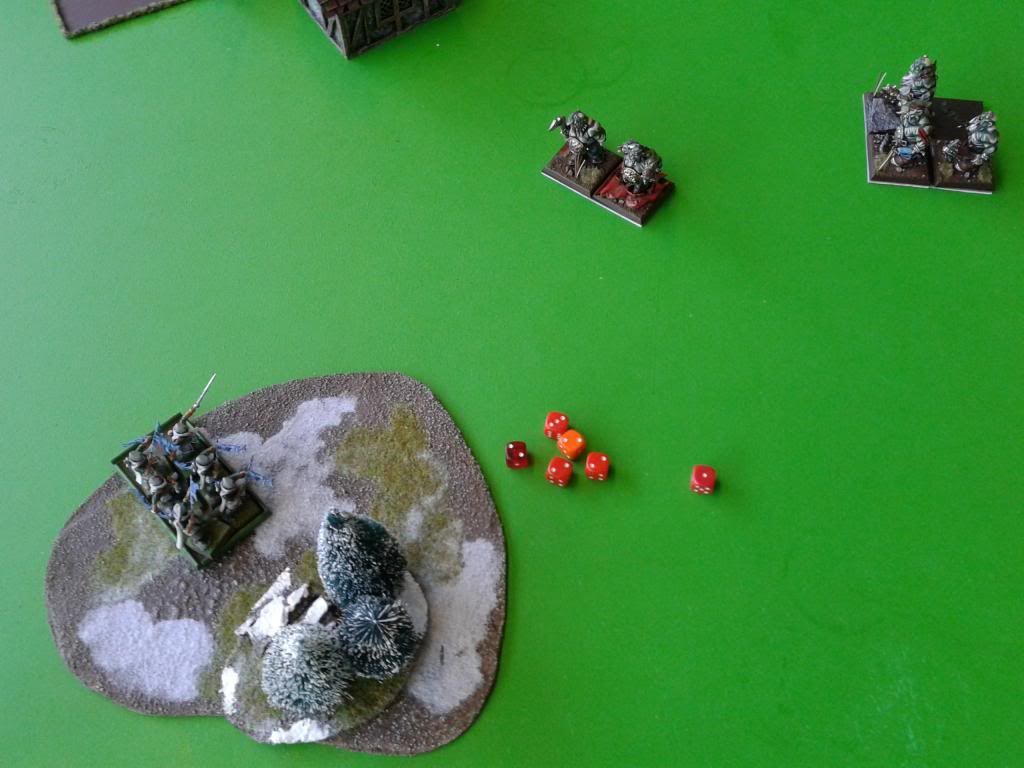 For a while things were in the balance in the backfield...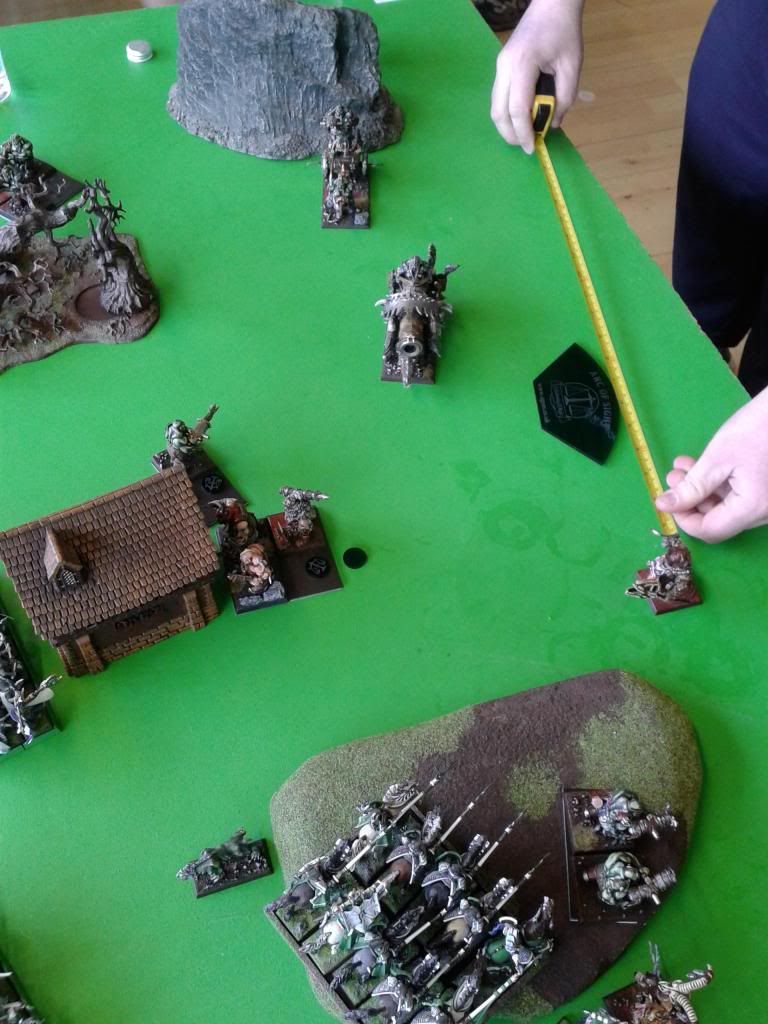 "This is going to be bad..."
Even though I got my secret mission, it was a big loss – about 800 points.
LossDebrief1-
I got way too clever (ie dumb) about the secret mission here. Even in a scenario, you should be aiming to beat your opponent's army. I resolved, from this moment, to more or less forget about the secret missions unless opportunity allowed. This would cost me many tournament places in the end but at least left me concentrating, first and foremost, on winning games. Once I'd picked up more tournament experience, and experience with my evolving list, I'd get more comfortable multi-tasking.
2 -
If a powerful unit hides in a building, take advantage of the evacuated battle space and, unless you have a very good reason otherwise, pass them by with your combat units. Spending all game stuck next to a house is not a good use of 3++ phoenix guard.
3 -
Albeit the Ironcurse Icon did nothing, the helms in this form were not an effective bodyguard against two ironblasters fielded by a very decent opponent with multiple MSU units (and sabretusks) acting as chaff. With hard cover around it's much, much harder to kill these things than conventional war machines and, over 6 rounds, those cannonballs are so dangerous to our characters. Another couple of defeats to another excellent ogres player (after this tournament) hammered the lesson home and saw some permanent changes in my list. For now, I would have to husband my knights much more carefully, and hope to avoid any more shooty ogre lists.
4 -
MSU ogres passing all their Ld 7 panic tests is a massive ballache.
Game 2 – Orcs & Goblins – Battleline
Now I was playing the guy who would end up as Top Greenskin. In essence it was a typical list except (thankfully) it only had one mangler. Apart from that all the usual suspects were there – Savage Big Un ward horde loaded with Shrunken Head Level 4, BSB and (I think) a fighting lord, 2 doom divers, 2 rock lobbas, 1 bolt thrower, 6 trolls and then some other stuff including a block of 20-25 black orcs, 10 savage arrer boyz, 10-15 squig hoppers and a massive unit of night goblins with Level 2 and a couple or handful of GW big bosses. There was possibly some fast cav about too but, if so, elven arrows disposed of them so quickly that I've forgotten. The mangler, deployed opposite the helms and died on Turn 1 without incident.
The most prominent terrain was the wood in the centre of the board and a tower in the left-hand of my deployment zone. I chose the 'garrison buildings' mission and resolved to sit in the tower with the sisters (my opponent had no units small enough to garrison buildings). Savage orcs went in the centre, with black orcs facing my right and night goblins my left with the trolls staying close, between the gobbos and orc horde.
Having drawn out the black orc deployment by placing the dragon princes on my right flank, I dropped my helm bus (with all three fighting characters) left, to run over the doom divers – fortunately quite close together – and a bolt thrower, all of which were sat on the goblins' flank. I wasn't afraid of the latter's counter charge and was happy to grind away at them assassinating characters and forcing leadership checks: getting the doom divers dead was the priority. With the gobbos stuck in their own deployment zone, the savage horde would have to leave them behind and risk them breaking if it wanted to come on and eat my infantry. This should, I thought, buy my own shooting and magic time to do some work on the horde's numbers before I tackled it. Reavers and eagle stood close by the helms in support, to eat war machines and/or block a counter by the orcs. The job of tackling the savages themselves went to the phoenix guard, with Fiery Convocation, Arcane Unforging, Hand of Glory and Walk Between Worlds, bolt throwers, archers and sisters as backup. The PGs sat on the central side of the tower, with the archers to their right. Hopefully, the dragon princes on my far flank would be enough of a distraction, and threat to the rock lobbas (deployed behind the orcs), that the black orcs wouldn't rush out. If they did, my archers and dragon princes combined (front and flank) could make a fight of it whilst I engaged on the left with cavalry and the elites.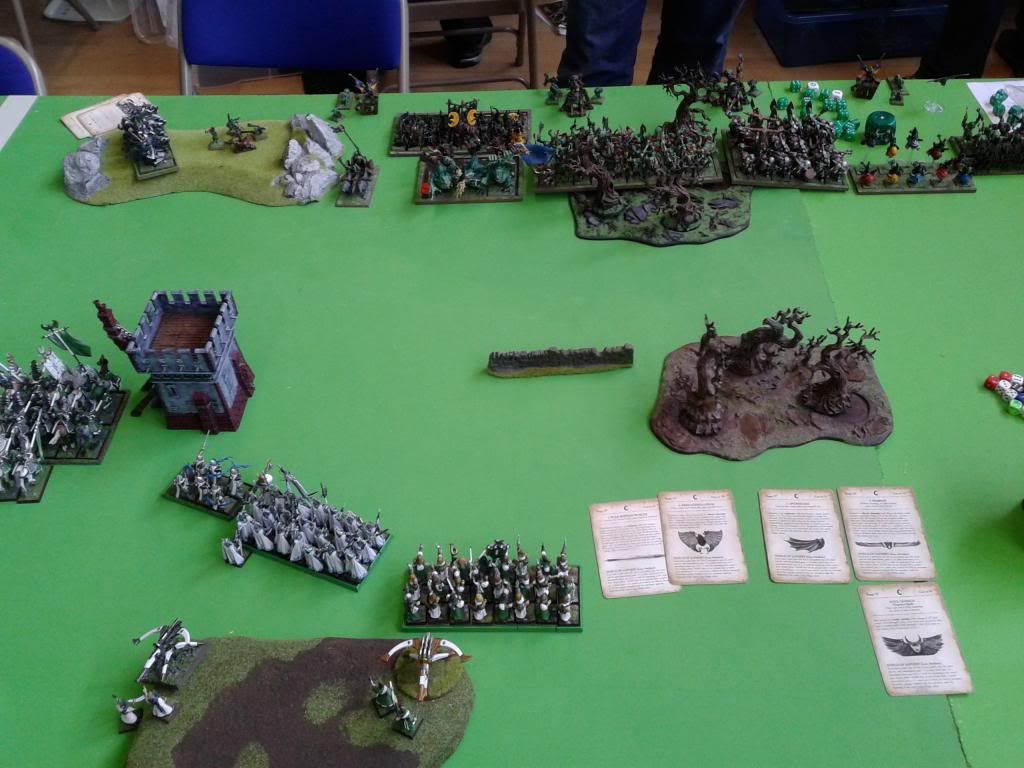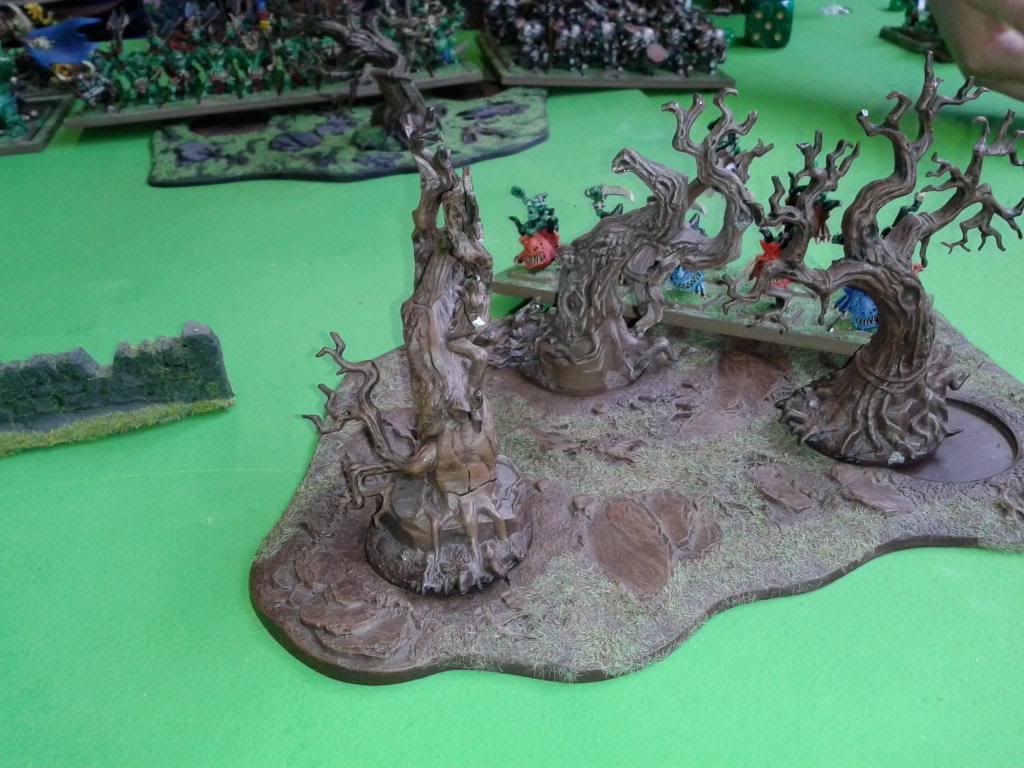 As the game went on it occurred to me that the greenskin gunline, when things don't go very well, can be tricky to play. The infantry is powerful but slow – if you want to pick up lots of points with it, you need to come out early unless your shooting phase forces the whole enemy army into your spiky embrace. For that your war machines need to perform or, at least, to survive as an ongoing threat. These war machines did not survive long enough for that. Using elven trickery (in particular a timely Walk Between Worlds to move a ghost eagle past the night goblins to release their fanatics early and open up a clear advance), my eagles, reavers and helms swamped the doom divers and bolt thrower before they had a chance to do much damage.
While this was going on, I brought the phoenix guard up so that any countermove made by the trolls or savages against the helms would expose a flank charge from the elites. The trolls, on the receiving end of sister + bolter fire, decided to take their chances in a straight fight with the guard rather than be shot to death, but got their asses kicked very badly against the 3+ ward and massed attacks of the elves. My shooting and magic, having wiped out the squig hoppers (pretty nasty), turned their attention now to chipping away at the savages which, frankly, they did pretty unsuccessfully. My knights, however, carved on through doom divers before reforming to take and hold a charge from the massive unit of goblins. With the centre ground covered by my infantry, I was happy to sit the knights safely in combat, killing characters and forcing breaktests. Aware of the goblins' leadership issues, and unwilling to risk being flanked, the savage orcs stayed put at first. But when the rampant phoenix guard charged, pursued, missed, then charged, beat (again) and caught the trolls, the horde had no choice but to react.
The savage horde charged the guard and a desperate battle ensued. There was only stalemate at first, so both my opponent worked quickly at turning the tables. The free infantry units on both sides scrambled to join in – the black orcs abandoned post to prevent a flanking move from my archers (the dragon princes had evacuated, ran around my backline and were catapulted round the far side of the savage orcs to find another route to the last rock lobba). They weren't quick enough. Walk Between Worlds catapulted the archers 20" past the black orcs and into the savage orcs' flank zone. The black orcs could do nothing about a charge from the archers next turn and this finally saw the horde collapse under the sheer weight of the elven assault. I took all the points for the big units and, with their general and BSB dead, the goblins finally broke and were destroyed by the helms. End of game; I'd lost my chaff units and the sisters, who fled out of the tower for some reason and then never rallied (so much for the secret mission). My opponent had lost everything except the black orcs and 10 archers.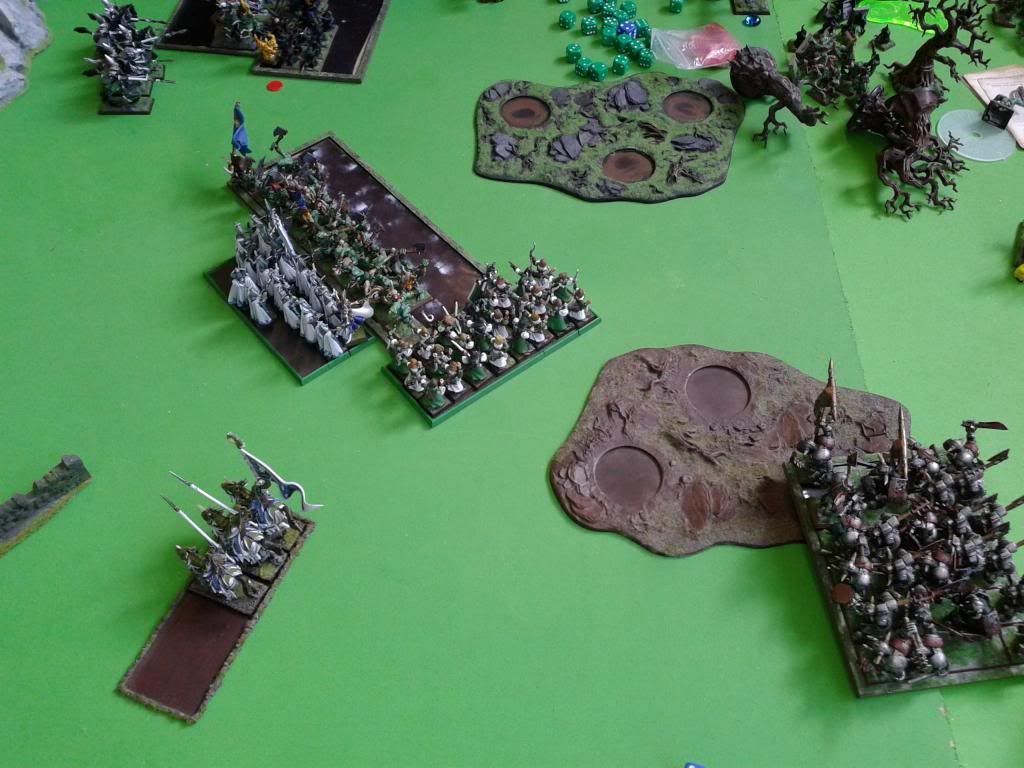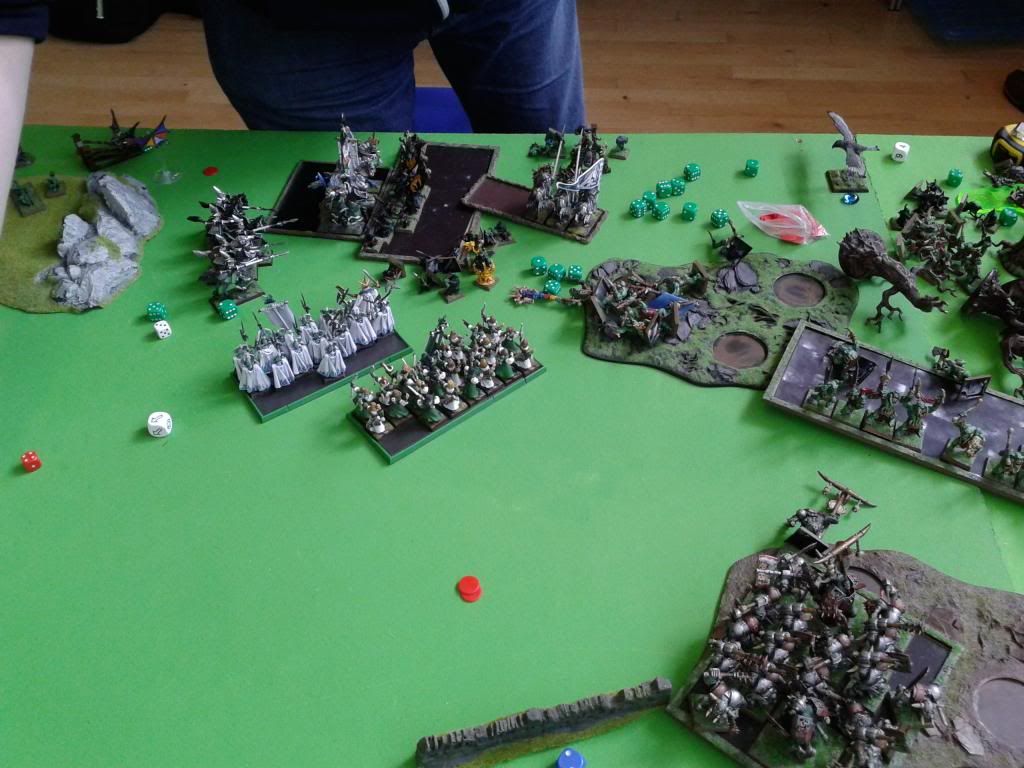 Oof
WinDebrief1 -
I played the scenario just fine this time, but my sisters ran away. Like girls.
2 -
Fiery Convocation scares big greenskin units. Walk Between Worlds is also amazing – commandoing the archers into the flank zone of the savage orcs was a Warhammer highlight.
3 -
Hand of Glory is a wonderful equalizer when your archers have to spend most of the game shooting through a wood.
4 -
The big version of Foot of Gork is tremendously cheap for the fear it inspires. I had to save my scroll in this game for something which might turn the phoenix guard combat, so on one occasion I had to let this spell go against the helms. With the rock lobbas still alive, I did not forget the dicey nature of that decision (as against other armies recently where I've had to suffer powerful DD spells for similar reasons – especially vs Kairos), and made a note to remedy the situation. Fortunately my helms rolled well on their armour saves and then Gork decided to stomp on the savage horde before wandering off. Phew.
5 -
With a 3+ ward, phoenix guard can take on very powerful units. Absolute stars.
6 -
This was the second game in a row that my main combat unit had its game dictated by the presence of enemy war machines. It was dawning on me that this had to be remedied too.
Game 3 – High Elves – Battleline
Ugh, I was not looking forward to this. My opponent was friendly and awesome, but fielding an intimidating gunline. Alarielle toting Dwellers, a High Level 2 and Seahelm BSB sat in a unit of 25-ish white lions with Banner of the World Dragon. Then there were (you guessed it) the 4 bolt throwers, one unit of sisters, 3 units of 15 archers, 1 unit of reavers (so at least not
all
archer core), and a unit of shadow warriors.
Dwellers notwithstanding, I was much more afraid of my opponent's shooting than I was of his white lions albeit, with the Banner and mass ward saves up from Alarielle, I didn't fancy having a go at them until strictly necessary. So, I had to run some deployment shenanigans. The first trick was to make sure I had more units focussing down his bolt throwers than he had focussing down mine. In my bottom right-hand corner was a tower, so this was pretty easy, as I used that to provide hard cover for a couple of my machines against a couple of his, whilst leaving line of sight open so that two of my repeaters were able to shoot one of his. Dragon princes deployed on the far right flank to provide cover to my right-most repeaters whilst my infantry did the same on the left – archers next to the tower and phoenix guard closer to the centre on their left.
Before deploying the phoenix guard – which was the real giveaway that I was loading my army on one flank against half of his – I dropped my helms down centre-left. Assuming (with good reason) that I was drawing his drops to my right flank only to sucker-punch him with my bus around the left, my opponent countered with his white lions. Cracking – the reavers deployed in the wood opposite them and would keep them chasing air whilst I shot and rushed the shooting units deployed opposite my right flank – 2 x 15 archers, the sisters, shadow warriors and all the bolt throwers. My BSB went in the archers, my prince and archmage in the phoenix guard and my Bow noble in the dragon princes. Fantastically, I won first turn.
Charge!
All the initiative was mine. The phoenix guard and dragon princes leapt forward - the latter getting a charge on the shadow warriors deployed on the far side of the tower, who had no choice but to hold or else be caught (sloppy deployment costing my opponent there). The phoenix guard went full gung-ho toward the archers opposite, moving another 10" with WBW and easily coming within range of a bolt thrower, which I blasted to death with a Soul Quench once my opponent's dice had gone on Arcane Unforging (to protect the Banner). My archers, with Hand of Glory, took out another machine and my own bolt throwers destroyed a third. Wow. My archers (and BSB) soon paid with a failed panic test, but this was quickly recovered by a successful rally and Walk. With only one chaff unit left – the reavers (stuck on the far flank with their hands full), my opponent was powerless to stop the phoenix guard and dragon princes rolling into, and over, his archers and sisters. The prince leapt out and got stuck into another block of archers which, eventually, he killed by himself.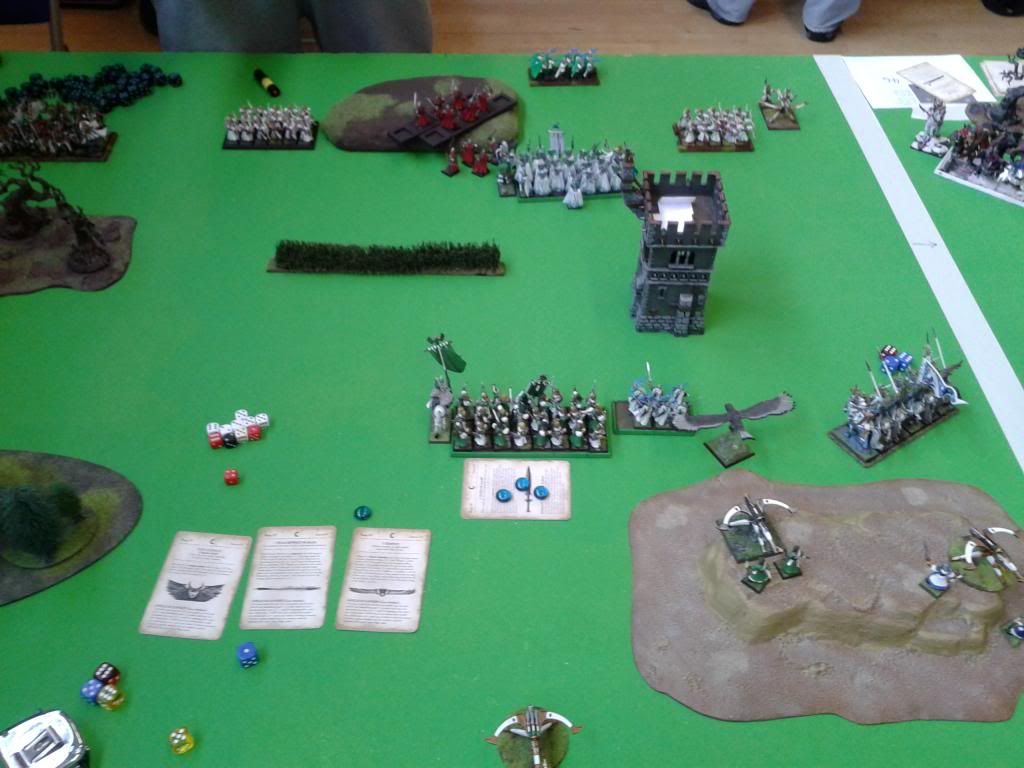 A slight hiccup..
The white lion star reacted sluggishly to all this. They weren't willing to throw themselves out alone against my whole army, or perhaps they were unwilling to expose their rear to the silver helms loitering around on their right flank (I guess because magic phases fail sometimes? Who knows). Albeit I couldn't ever get Arcane Unforging off against the Banner (my magic phases stopped working after Turn 1), I easily avoided them by chaffing them up and, in the final turns, scattering my units. Having killed their targets, my army turned around and retreated to base before they could be caught. Finally, on Turn 6, Dwellers broke through my defences and buried my archmage in a cave along with half his guard. But by then it was too late – everything in my opponent's army was dead except his lions – a good win.
Win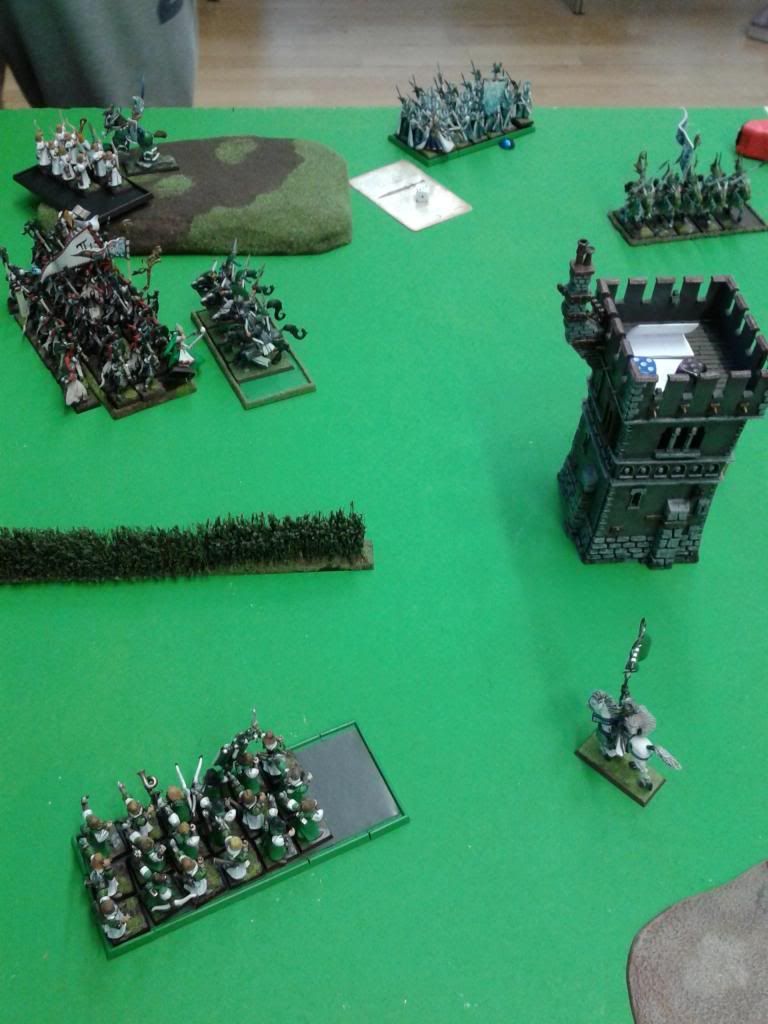 Debrief1 -
If you want to take out a lion star, I reckon you need to start early. And throw as many dice at Arcane Unforging as you need to get through your opponent's defence.
2 -
High magic is amazing against elves.
3 -
Heavy cavalry is excellent at running over archers, even without re-rolls.
4 -
In an elf-off especially, review your typical methods of deployment in order to win the support/shooting war. It looked like my opponent employed his usual army formation here and it cost him big.
5 -
My opponent could see it was game over by about Turn 2, but he took it like a gentlemen. Even gave me a couple of his club dice to say 'thanks for the game'. Legend.
Game 4 – Lizardmen – Meeting Engagement
(but without random deployment)
A really weird list, this (in a good way). Life Slann (Dwellers) sat in a big block of saurus warriors with oldblood on a cold one, deployed front and centre with a pair of stegadons either side: one ancient with an engine, two with blow pipes (one of those with a skink chief) and a final baby steg toting the bow. Apart from that there were the assorted skirmishing skink units hovering behind: they weren't there to do much with all my missiles – the tactic was all about the reptilian steam train rolling forward and punching me in the face.
Once again I turned to deployment and magic-assisted movement to sucker my opponent into defeat. I dropped my silver helms, archers and phoenix guard central, the latter behind a building on my centre-right and the former two units out in the open in the centre of the field. These drops persuaded my opponent to set up his army (again, apparently quite rigid in formation) in the middle of the board. Out on my far left – just out of sight of the stegs, went the dragon princes – perfect for running round the flank and back of the enemy eating up skinks. In my bottom-right corner went the bolt throwers and sisters, ready to receive the lizardman onrush.
Turn 1 and my central units all evacuated: the knights cut forward and right infront of the building, the phoenix guard swift reformed and started to move round the building further to my right, and the archers did likewise before I WBW them in a sweeping loop that brought them next to the building but with line of site on the enemy army. So far so good.
Choo choo!
Except it wasn't. The plan, of course, was to leave the lizardman army twisting in the wind. They couldn't catch my helms beginning to loop around the open ground on their left flank, and they couldn't stop my dragon princes doing the same on their right (my left). I would collect skinks, pick away at the big dinos with missiles and then close in for some charges with the bus in the mid-late game from an awkward angle. If my opponent tried to close with my infantry, which he could catch, I'd hop my chaff over the house and simply continue to travel around the other side of it, or else force my opponent to split his forces. This could be fatal – I hadn't charged out on Turn 1 with the Bus because, if I failed the roll or got stuck against one stegadon, I could be charged by 3 more. If this formation split up, however, it was much, much weaker. Tactics b1tches!
But it all went so, so wrong. To get out of line of site of the nearest dinosaurs, my dragon princes had to deploy behind a hedge. I declared a charge against the nearest skink unit anyway (who had to hold or else run off the board), and promptly lost two knights. They then failed their panic test and ran off the board. Turn 2, my helm bus got irresistibly Dwellered and I lost the prince, my dispel scroll clutched uselessly in the archmage's hand – and so lost the only model in my army which allowed my units to quickly dispatch stegadons.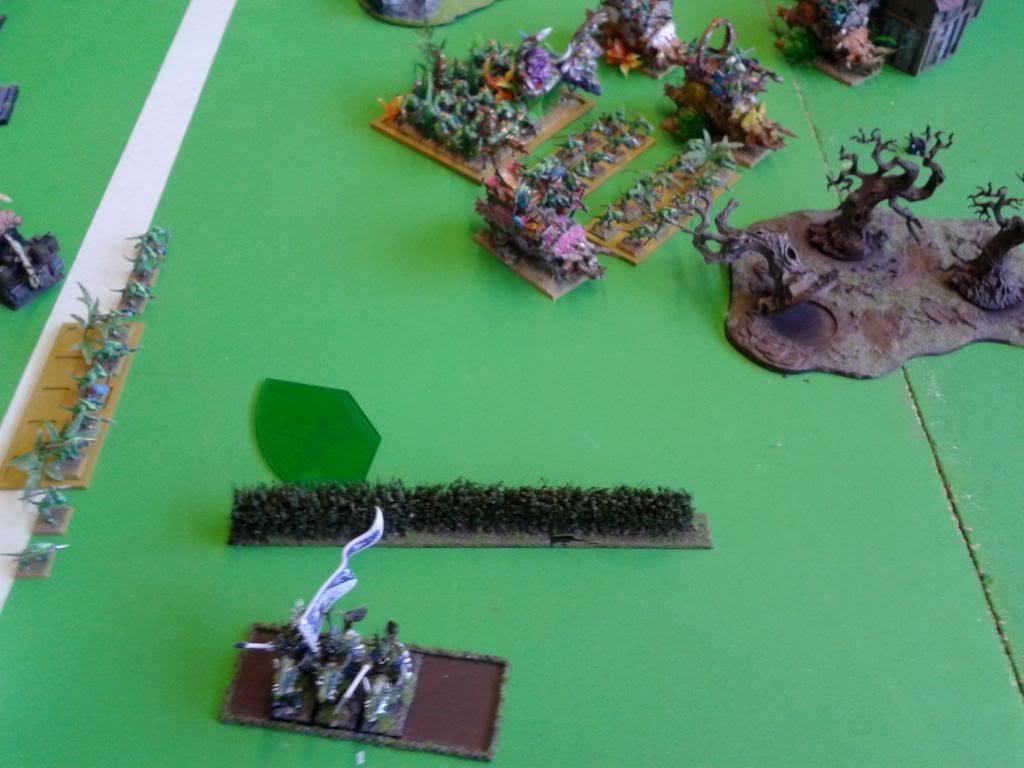 A bad start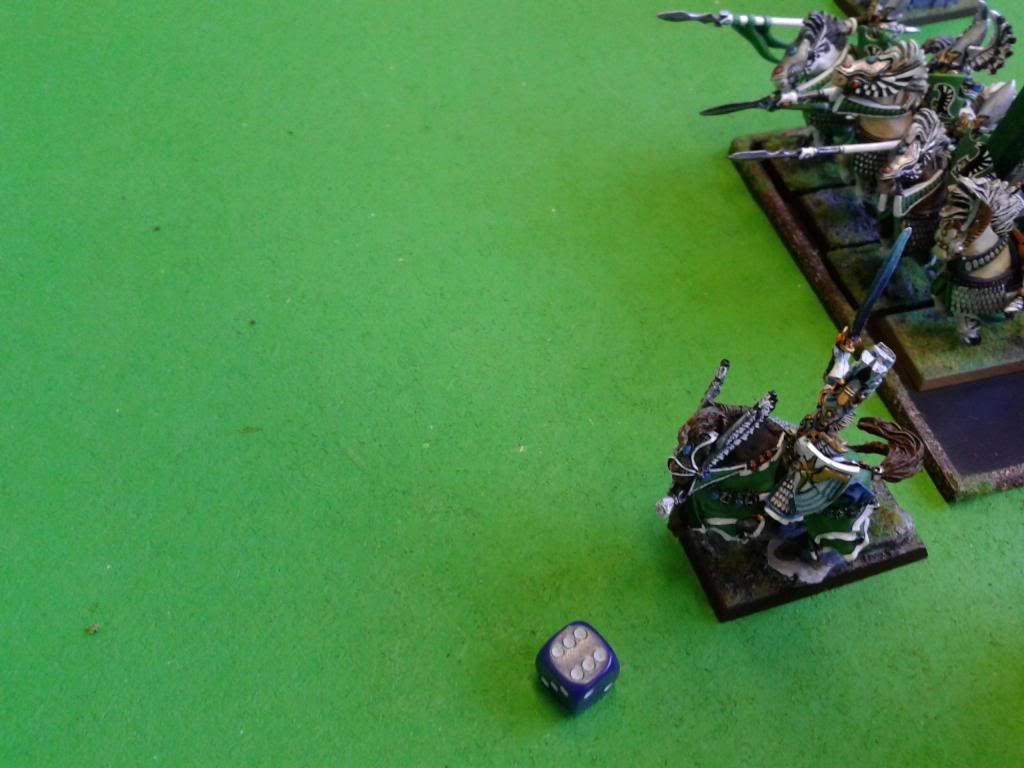 "Shit!"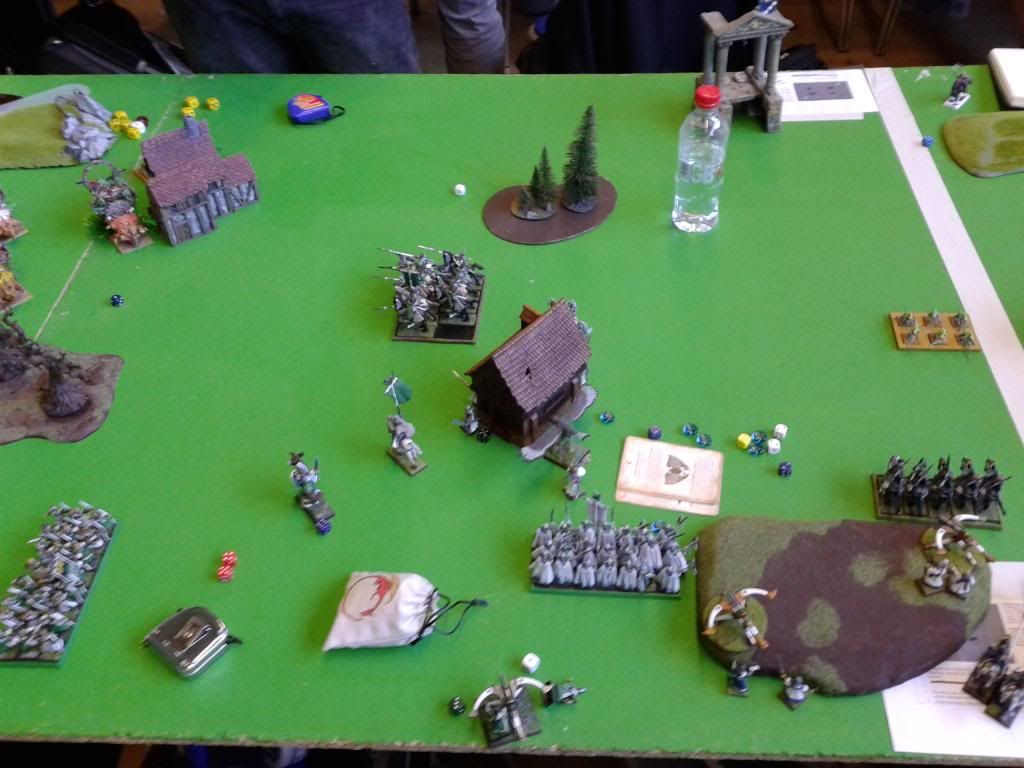 Bolts and arrows couldn't do it – 5 rounds of shooting and magic combined killed one – a useless performce. Albeit my opponent couldn't kill much else besides repeaters (blow pipes are extremely good at this), I was looking to minimise losses rather than win. Somehow, however, I'd begun clawing the game back to evens by killing a steg and downing some skinks when the oldblood uselessly charged out of the saurus against my sisters, hiding in the building. A chance at victory: I pumped him with close range bolt shots and… failed to do anything, in spite of Arcane Unforging wounding him and nailing his ward save a moment before. Still, although now I wasn't going to get enough points to win the game, at least I was looking at only a small loss. Until my remaining 3 silver helms, getting out the oldblood's way on my Turn 6, ran into a wood and were all killed by branches. A cool 270-ish points to my opponent. The reavers then panicked and ran off the board, adding another 105. Game over bro!
My opponent (great guy) looked down at the table, shaking his head. "What a nightmare." He pointed at my helms in the wood. "Take a photo of that – no-one will believe you."
Loss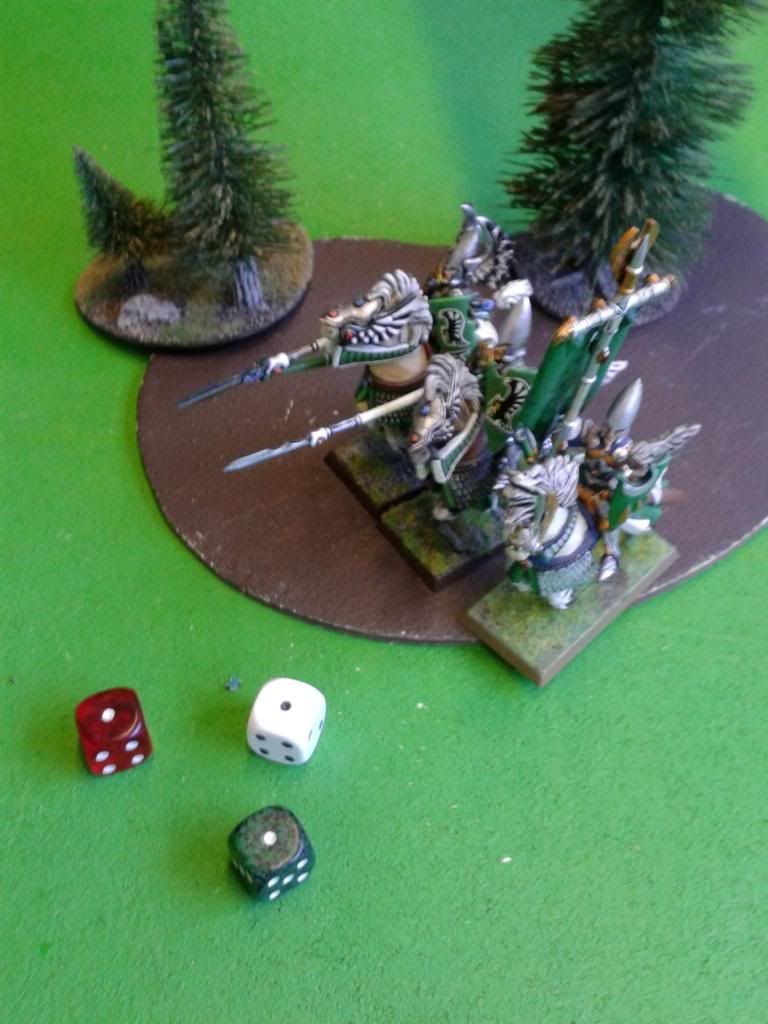 That's that then.
Debrief1 -
Ugh, what a catastrophe.
2 -
Bolt throwers are more influential in a match-up like this, as in most matchups where range or strength matters, than the equivalent points in sisters. The 4th bolter was starting to look more attractive.
3 -
Heavy cavalry is excellent at running over skinks, but doesn't like fences.
4 -
My opponent thought I should have just smashed into a steg with my bus on Turn 1, gone for the overrun into the one behind and just taken them out quickly whilst staying safe in combat. In this instance I didn't agree – a failed charge would leave the bus in deep trouble with very little room for a safe flee move against 3-4 dinos. Even 2 would pin me long enough for the whole lizzie army to come rolling in. Charging in and failing to kill a steg would bring the same result. In any case, by that stage the rest of my army, in particular my chaff units, were deployed around the building and therefore were too far away to put up a safety net to prevent counter-charges in a situation like this. Against that opponent, on that board, I think I made the right choice, but it was worth noting, at least, that your opponent can be more afraid of the helm bus than you might think. Something I could bear in mind more when I deploy in future.
Game 5 – Bretonnians – Battleline
What lay before me was much as you'd expect from a Bret list – mutli-hero big bus led by an HKB lord (hiding from my bolt throwers behind a tower on my far right), 11 KotR with paladin, 8 questing knights with paladin, 4 pegasi, two trebs, a unit of 10-15 flaming longbows, some fast cav, a level 2 beasts with scroll and… the Fey Enchantress, also in the big bus. That last one was a surprise.
I think I got lucky with my opponent's super-conservative deployment of his main bus. By the time it came into contention, my chaff was in position and I had already leapt out with the helm bus (just Seredain and Caradath deployed there this time) to destroy the knights of the realm deployed in the centre. Bolt throwers forced panic tests on the coalition of units facing my left, with some success, and my dragon princes – the Bow noble with them on the far left – covered the ground infront. To force the issue there my opponent invited a charge from the dragon princes against his pegasi, and held it – a mistake. Annoyingly the dragon princes (plus noble) absolutely bombed but, even so, my opponent needed a 4 to hold… He got it. Into the flank came the questing knights. Thankfully my noble was able to make way into that flank, sheltering the princes, and dispatch his opposite number in a challenge by popping the potion of strength. By some miracle, I then eventually ground the pegasi down and held the questing knights for the rest of the game.
My magic did little all game but, while this combat on the left was dragging on, my shooting units were doing work, pulling down fast cavalry, small knight units, one of the trebuchets (the other one destroyed itself) and the Beasts mage. That just left the enemy big bus to deal with. Neither my opponent nor I wanted our bus to be charged by the other's, so much of the game was spent with these units dancing around each other. However, elven shooting meant he had no chaff units and I did so, eventually, the charge was mine. A heroic challenge between the Bretonnian lord and the elven prince ended quickly with the human's head rolling the floor and, after that, I had two or three rounds to dispatch more characters to take a big win, having lost only chaff units.
Win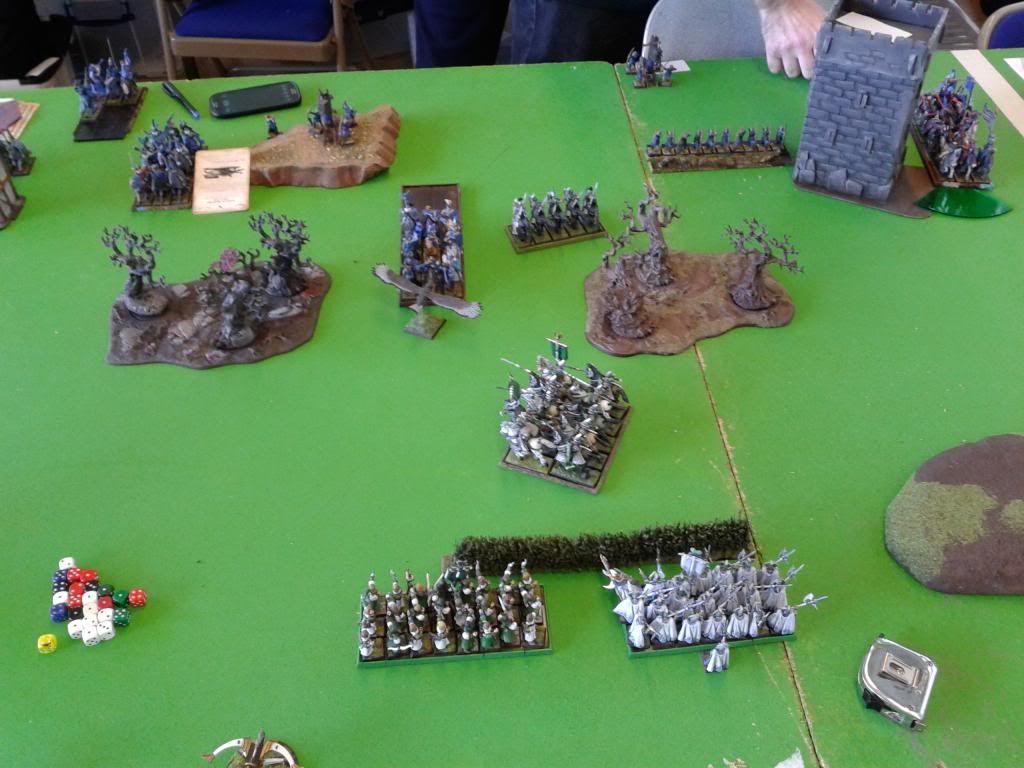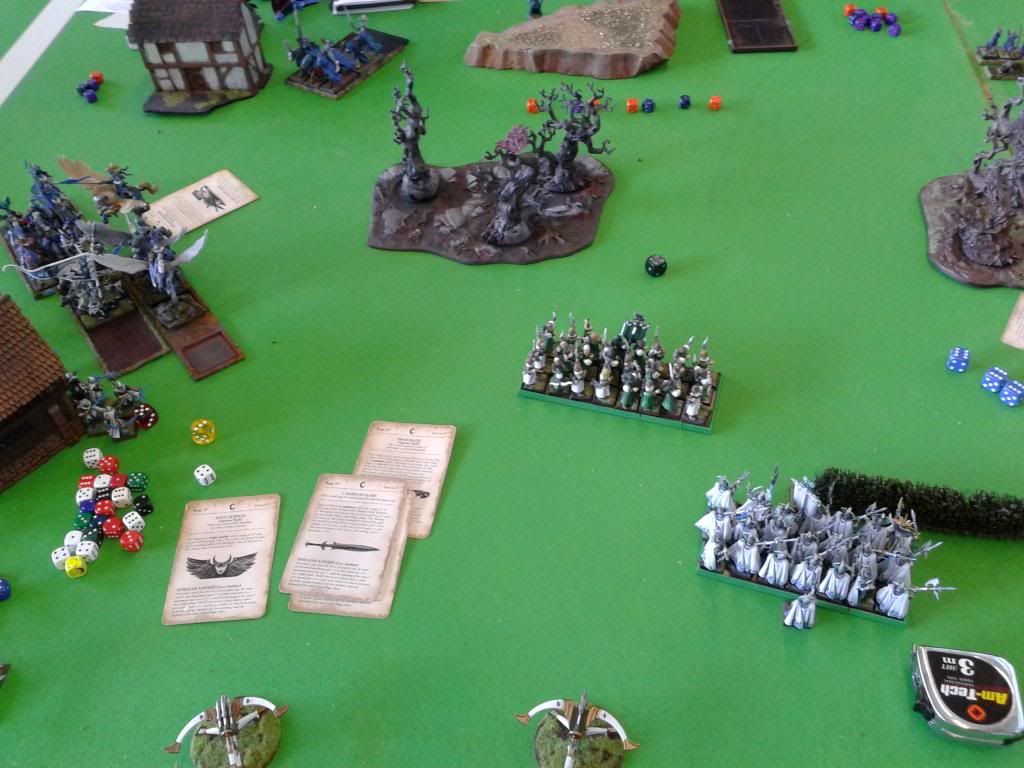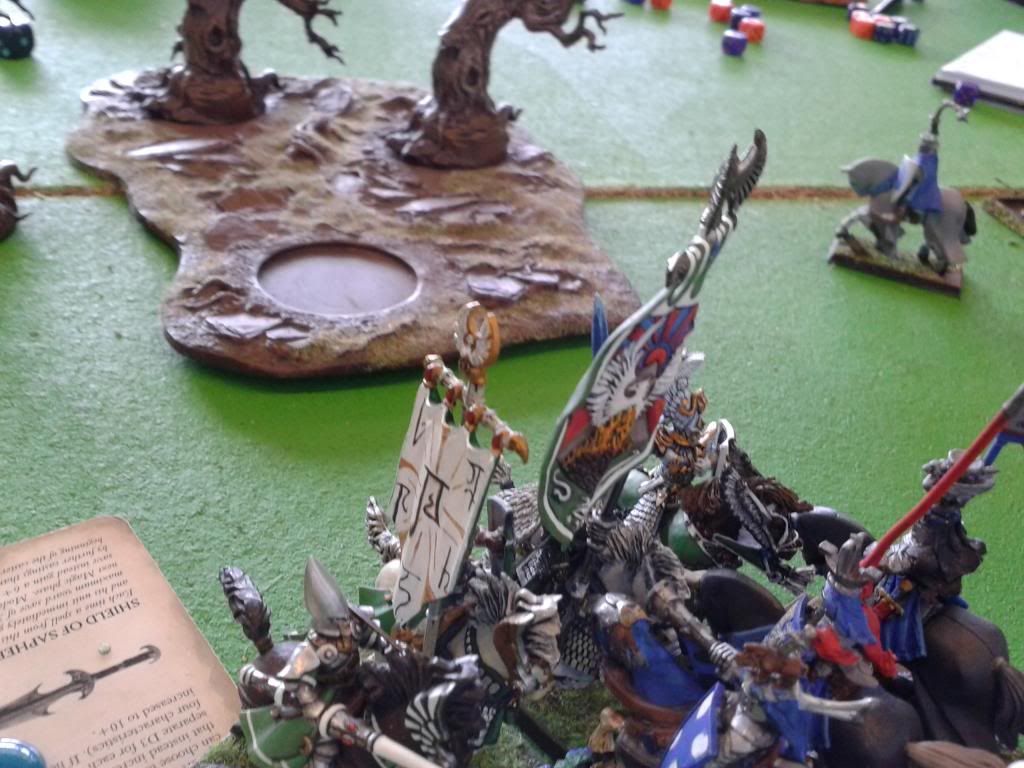 Debrief1 -
Because of my ongoing obsession with super-accurate archery, after a poor spell roll I took Hand of Glory instead of Walk Between Worlds. When playing infantry against a cavalry army, this was a mistake. If I'd had Walk I could've got my phoenix guard into the big bus to finish it off.
2 -
I gave this opponent best sports for this game. Charming chap, and very engaged with the fun of the game and in learning more about how to play his army. All his models had a really cool back-story, and we'll see more such coolness from him in Milton Keynes.
Game 6 – High Elves – Battle for the Pass
Another shooty list with a character Banner bunker and, unfortunately, this time my opponent won the scenario roll to chose BftP.
The heart of the army was (unusually it seemed) a large phoenix guard bunker deployed back and centre with Teclis (all the big spells), BSB and Level 2 light mage (I thought this guy should've been High for the 3++, but whatevs – Net of Amyntok is irritating). In front of the guard was a block of 25 white lions – a tarpit designed to prevent people getting to Teclis. Elsewhere were the 4 repeater bolt throwers, deployed evenly across the enemy deployment zone, two units of reavers with bows, a small unit of archers and a large (21-25 ish) unit of seaguard facing my left flank.
Keeping the priority to focus my shooting as much as possible, my bolt throwers went down together on the far right flank (3 vs 2), with the silver helms inside of them (led by the prince only), and the archers further to the centre deployed with the archmage – the ward save would matter to them if I wanted to win a grinding shooting war and, with such little space for manoeuvre, I didn't fancy throwing the archmage forward with the phoenix guard toting only a 5++ from his talisman - something else to note. The phoenix guard went down front and centre to push on into the white lions and/or take some of the heat off my shooting units. My left flank faced a loose coalition of two bolt throwers and a unit of reavers.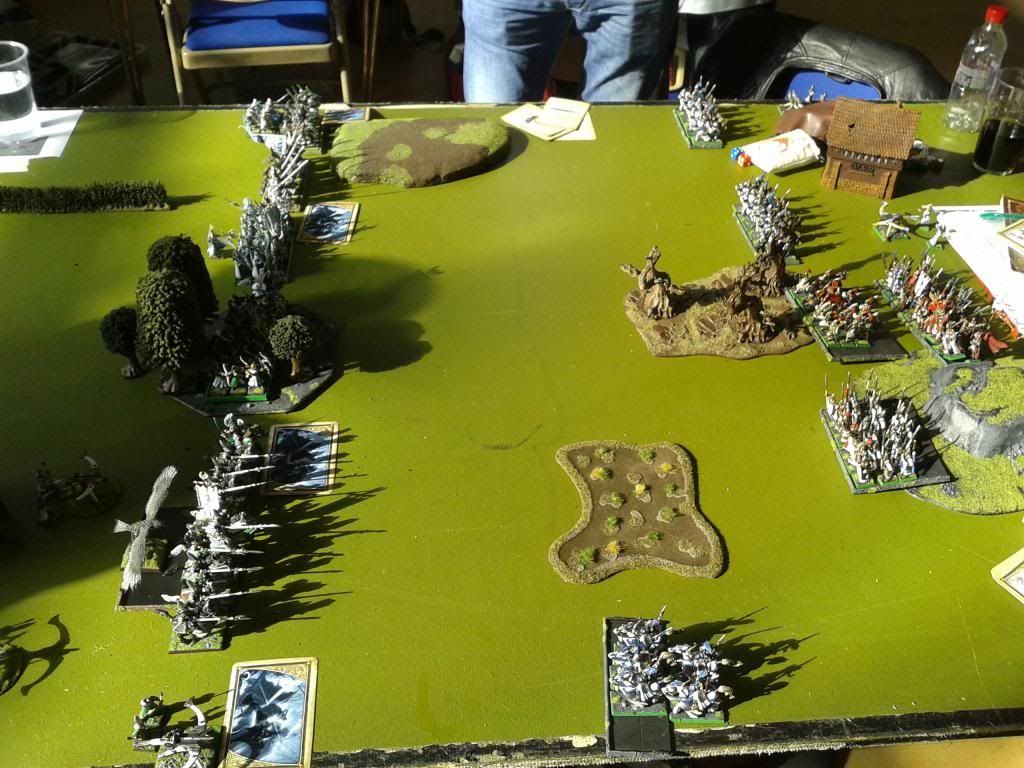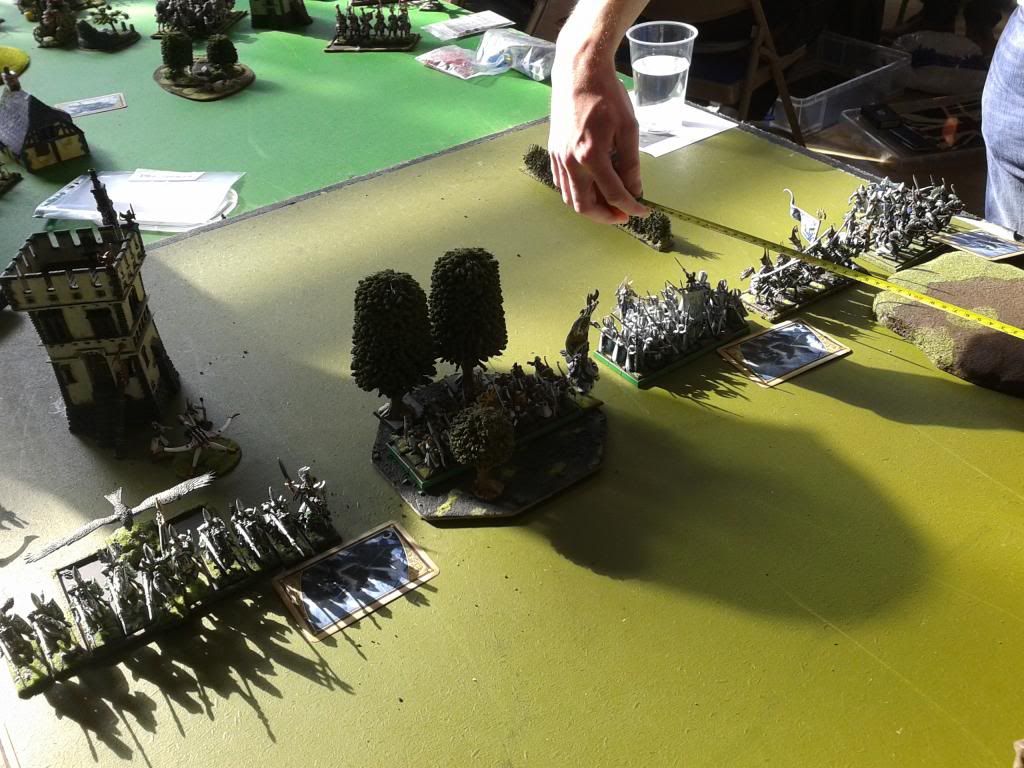 My opponent won the roll for first turn – uhoh – and I was ready to ride into the Valley of Death. Turn 1 saw my silver helms take heavy casualties from only two of the bolt throwers – good accuracy and bad saves leaving me quickly in very real doubt that the unit, and therefore the prince, would survive the game. A third bolt thrower miraculously managed to kill one of mine (damn), and I started to think that Karma wanted to pay me back for the last elf-off I'd played. Luckily the cover provided by the hill on my left flank prevented any such damage in that quarter from the reavers and 4th repeater.
My biggest lesson in all of my recent losses had been that Dithering is Fatal, so I resolved (since turning around and hiding didn't feel like an option) to chuck my army down the enemy's throat and force him to try and swallow it. Lecalion's archers walked between worlds for a 15" toward the seaguard before taking aim at close range. The phoenix guard (with the help of the BSB) shrugged off a Net of Amyntok and then advanced full pace at the white lions. The dragon princes (with bow noble, who drank his potion) moved 9 inches and, next to them, my reavers and sisters came out of hiding from behind the hill and shot down the enemy reavers before them. A loose of missiles rippled along my whole army, albeit with mixed effect: the bow noble destroyed the repeater facing my far left flank, my archers (aided by a Hand of Glory, Soul Quench being dispelled), killed a number of seaguard (who didn't run), and my two remaining bolt throwers… flunked and did nothing.
To remove themselves from the shooting war for a time, the helms took an easy charge off the table through some reavers on that side – surely deliberately placed albeit I was very happy to keep my knights safe and, on my return, would have free reign to move as I wished in the absence of any other harassing units.
What followed was a long, slow slog. Magic increasingly seemed to do little for either side except confirm that the guard-star at the back of my opponent's army was, in this game, surely unkillable given the casualties I was taking. But slowly I inched forward and enemy resistance started to falter. On my left the reavers, sisters and dragon princes, after faltering in the face of enemy missile fire, attacked and destroyed the remaining bolt thrower, after which my own light troops hid, taking pot-shots at the white lions, while the noble-led princes turned inwards for the final battle. On the right, the helms returned only to take a pounding from the two remaining enemy bolt throwers (Ironcurse Icon doing nothing), and were destroyed one turn before I could send the last model safely behind a house. The prince had evacuated by this point and joined the archers who, in the face of determined resistance from the seaguard, continued their advance behind a creeping barrage of missiles (High magic displaying its wonderful utility even in small magic phases). The archers took casualties but slowly ground the seaguard down before Seredain led the charge and finished them off. In the centre the phoenix guard and BSB, with the aid of an eagle harass, charged headlong into the white lions and, in only two rounds of combat, completely destroyed them. The enemy guard-star, with its wide frontage, just stood there completely powerless to intervene. My turn again, and I was able to clear up: the dragon princes, much depleted, turned down a risky assassination mission against Teclis and instead charged across to a bolt thrower (killed) and safety. The archers killed the last machine and it was game to me. A pretty decent win, but marred by the loss of the helms who, again, had proven vulnerable to lists with a combination of decent magic and shooting.
Win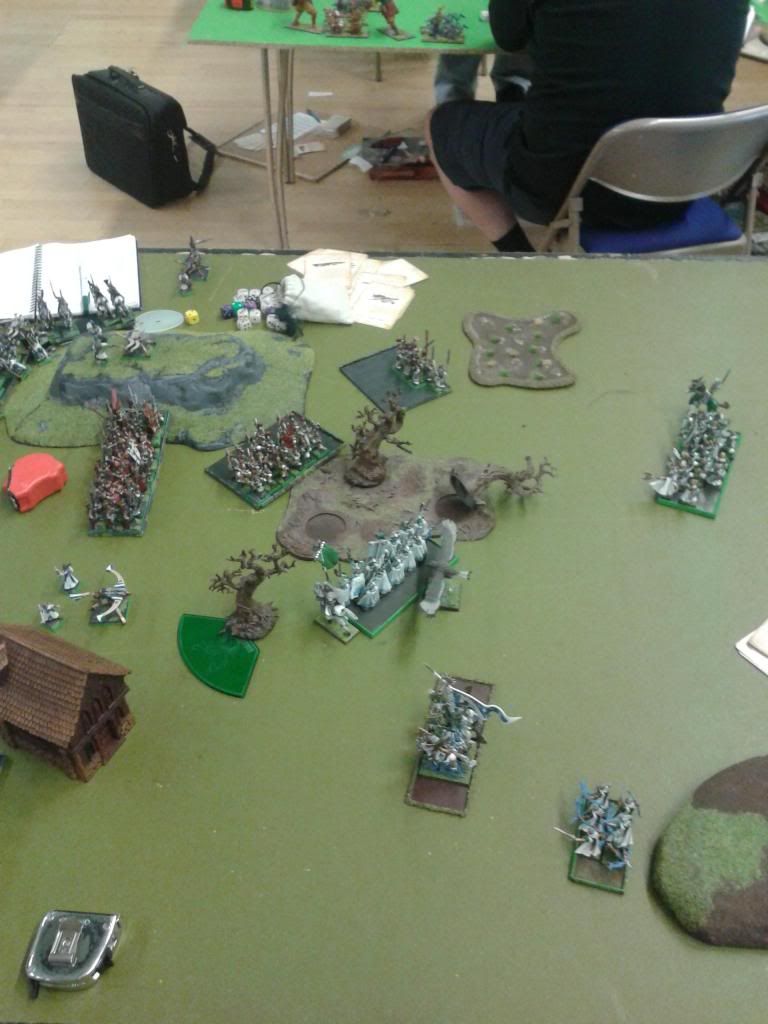 A hard slog eventually brings victory.
Debrief1 -
Phoenix guard absolutely slay white lions.
2 -
My silver helms (albeit not deployed in bus mode) got shot up again – definitely time to adapt.
3 -
The bow noble earns plaudits for helping me win the shooting war.
3 -
Moving archers forward and using them to lay down close-range fire and combat support gets you so much bang for your buck. I'm convinced that the best lists are the ones that make real use of their core, and I think 3 ranks of archers married to High magic is a good example of this principle. Against elves in particular, they're stellar.
Results
With 4 wins and 2 losses, I finished pretty well (edge of top third, I think). You'll probably have noticed that I stopped talking about the secret missions and that's, pretty much, because I forgot about them. Bad tourney-pack preparation from me, there, and I'm sure this cost me a slew of places. Even so, I felt that a bit of growing tourney experience was just starting to come good – albeit there was much work to do. I still had far too little experience of some armies and some lists – people could drop down units without me knowing precisely what they did, and this put me (and to a lesser extent still does) under pressure, and gave my brain more work to do. It seems to me that the finest tournament players know the rules and enemy army books well enough that they
only
need to think about deploying their army and playing the game, secure in relatively good knowledge as to what threats lie within the enemy army. In a closed list environment especially, these collective skills represent a big advantage. I'll need to keep improving on these.
But more on that when we get to Milton Keynes Grand Tournament, which took place about a month ago.