Cold Phoenix, Oreaper, Niall, thanks for the pep! We've got a lot to get through. I'll start at the beginning...
Ch-ch-ch-ch-changes - the build-up to South Coast
By the time I went to South Coast, my army list had undergone a significant shift, the result of game experience and, in particular, attendance at my first ever two-day tournament 5ish weeks ago at Bristol. I had a decent time - 3 wins from 5 games (on 4 hours sleep over two nights - like a boss! - got very ill the week after though..), but against certain kinds of lists, and good players, I ran into a couple of problems, and not for the first time.
The first of these was against full-tilt gunlines with hard-to-kill guns (at Bristol, Chaos Dwarfs). Firstly, the combination of Star Lance BSB and the bodyguard of 9 helms full command (so 8 rank and file), was fragile. The best way round this was to rush into combat. Ostensibly this was easy against gunlines, but in a recent game against a very good Empire player (narrow win - hard fought), I started re-learning something that, at Bristol, really came back to bite. If you are running a cavalry unit that can't afford to take too many rounds of high-strength shooting,
and
can't take charges from powerful units and hold, you have a serious problem. In these circumstances, you play our movement advantage - hover just beneath your average charge range from your chosen target and just above theirs, so you can get the charge and rock all those Str 7 attacks. To do otherwise would be to invite an enemy charge and rely on 4 attacks from the prince to do all the heavy work - not enough against decent opposition. A cautious opponent will not take this charge, however, if he can just pound you with his guns. So, at Bristol, I had deployed well and surrounded my Chaos Dwarf opponent for a charge. But Turn 2 (having moved in cover Turn 1), I hovered at medium range with the helm bus against a unit of 4 bull centaurs with BC hero - against these I figured I needed the Star Lance working, and that 4 attacks from the Giant Blade would not be enough. My opponent backed up to keep my charge distance long - stranding my bus in the open - and let rip with his guns. A direct hit from a hell cannon saw me fail 6 of my 8 4+ armour saves. Two doomrockets later and, with no LOS, my prince lay dead. Sure I got unlucky but, had I felt able to close up to the bull centaurs the previous turn, I would've prevent the BC's escape and forced them to take the charge as the best of bad options, getting my prince safe into combat. Dancing around the edges gave my opponent chances he shouldn't have had.
So, the first thing was to reclaim the old bus's character of mobile heavy infantry - able to take charges as well as make them. So the Star Lance, Ench Shield, OTS on the BSB was out for the Ogre Blade, Ench Shield and Luckstone. I recently wrote that the BSB's primary job was to support the prince against the grandest enemy characters. I was wrong. Primarily, the helm bus needs to be happy getting into combat with most enemy units, taking charges if necessary, and cut them up over sustained rounds of combat. If I can take charges and grind combats, I can get into more combats more quickly, and beat a wider variety of units. The Ogre Blade and Giant Blade combo gives me this - the one hit wonder Star Lance does not. OTS, in the end, was a luxury I could not afford. It is likely I will see myself 6-dicing Arcane Unforging more often to subdue unkillable enemy lords but, since these are rarer than enemy units, so be it.
The second big problem was what, exactly, I should do with my level 2 mage. Since my army was toting two lords and two heroes, and trying to get the most out of Martial Prowess (by toting two good-sized infantry units of 3 ranks), it didn't have that many drops in which to hide a fragile caster. Combat units weren't a good option, of course, and the 6 sisters I field were (and are) too small to be a reliable bodyguard. That left the archers - largely sat at range and with enough bodies to take some damage without exposing the mage. Big problems here. Firstly, the point of fielding the large archer unit
was
, in part, that it could bring me some core-infantry combat/steadfast-breaking duties against horde infantry, or as a source of static res against more elite troops. The first problem with the level 2 was that he precluded these uses, limiting the army's basic flexibility (unless I was happy to throw away an easy 150 points).
The second big problem was a direct result of the first. Being more inclined to keep my archers (and their cargo) well away from the fighting, it became much more likely that they'd be stuck away from my helms' leadership bubble and, too often, apparently safe very close to my backline. A failed panic test - very possible with base leadership 8 - and I could lose not only a large (valuable) unit of elves, but the caster inside. Lists featuring a number of mounted heroes offered me the same problem - when my bolt throwers failed to find their mark (as they sometimes do, dice games being what they are). One failed steadfast break test and I would likely lose close to 400 points of unit in one go. This unit was the worst kind of points sink - expensive and vulnerable - and there was nowhere good for it to sit. Close to combat risked losing 2 magic levels, sitting too far away risked leadership disasters against gunlines or single characters. In order to sow the archers back into the body of the army, where their ranks could serve a useful purpose, I would need to ditch the liability they were carting about (or else split them up into small units devoid of any serious close-combat purpose and far less able to benefit from Hand of Glory). I decided that the Shadow mage had to go.
The replacement needed to fill a few gaps - unit support, a counter to spammable single cavalry-characters (scar-vets, dark elf masters etc), and something to help take out war machines. I chose another hero: a mounted noble with a lance, dragon armour, Charmed Shield and the Reaver Bow / Potion of Strength combo. Less spell support, more tools for actual killing (and an added source of Ld 9 to boot). The archers then became the unit they needed to be to fulfil the role I wanted them for: 24 strong, full command, no expensive baggage.
And so the wheel turned and the whole army with it. The first casualty from the hero-switch was the Book of Hoeth. It is a superb item but, against powerful magic phases with critical spells, Death snipes and Dwellers in particular, you can't rely on beating 6 dice with a couple fewer dice and a re-roll. For my wardless fighters, the scroll felt essential. So I was now down to a single caster with no re-rollable dice per cast. Ward-save generation was no longer something I could do whilst also successfully casting spells I might actually want to get through in a pinch (Arcane Unforging in particular). So
now
I had to overhaul my unit of elite infantry: without the dedicated support of the redundancy-heavy re-rolling High phase, swordmasters could no longer be my elite block of choice in an all-comers context.
The obvious replacement choice was phoenix guard. Base leadership 9, true ASF and their own ward save: they could operate without character support at all. With the archmage, only one spell would see them wield a mighty 3+ ward save, replacing the reliability of the Book of Hoeth from the other end. And a unit with that kind of ward save would have little need of the Banner of the World Dragon: the AP banner stepped in for swordmaster-level armour penetration. Against hordes, elves or massed war machines, I was also now free to deploy the archmage with the archers - spreading good ward saves and high leadership across the army, and getting the choice to switch up my High spell selection from buffs to more damage spells. Alternatively, against heavy elites such as warriors of chaos, the 3++ phoenix guard unit could take on some of the worst units out there. With ranks of liberated archers in support and a new fighting archer-lance-assassin (who could run solo or add extra beef to the dragon princes or helm bus). When the dust settled (and the pain dried), my new army was more muscular in combat, better at shooting and better tied together than before, in exchange for a trimmed magic phase. I had no time at all to test it: after a couple of victorious practice games against monster mash lizzies and shooty infantry dark elves, it was time for SCGT.
The list:
Prince - Giant Blade, Dragon Helm, Dawnstone, Ironcurse Icon, Heavy Armour, Shield, Barded Steed - 276
Level 4 High Archmage - Dispel Scroll, Talisman of Endurance, Ring of Khaine's Fury - 300
BSB - Ogre Blade, Enchanted Shield, Luckstone, Dragon Armour, Barded Steed - 170
Noble - Reaver Bow, Potion of Strength, Charmed Shield, Lance, Dragon Armour, Barded Steed - 151
24 Archers - Full Command - 270
9 Silver Helms - Musician, Standard - 227
5 Reavers - Musician, Spears, Bows - 105
21 Phoenix Guard - Full Command, Razor Standard - 390
5 Dragon Princes - Standard, Banner of Eternal Flame - 165
3 Repeater Bolt Throwers - 210
6 Firebows - 84
1 Eagle - 50
2398 points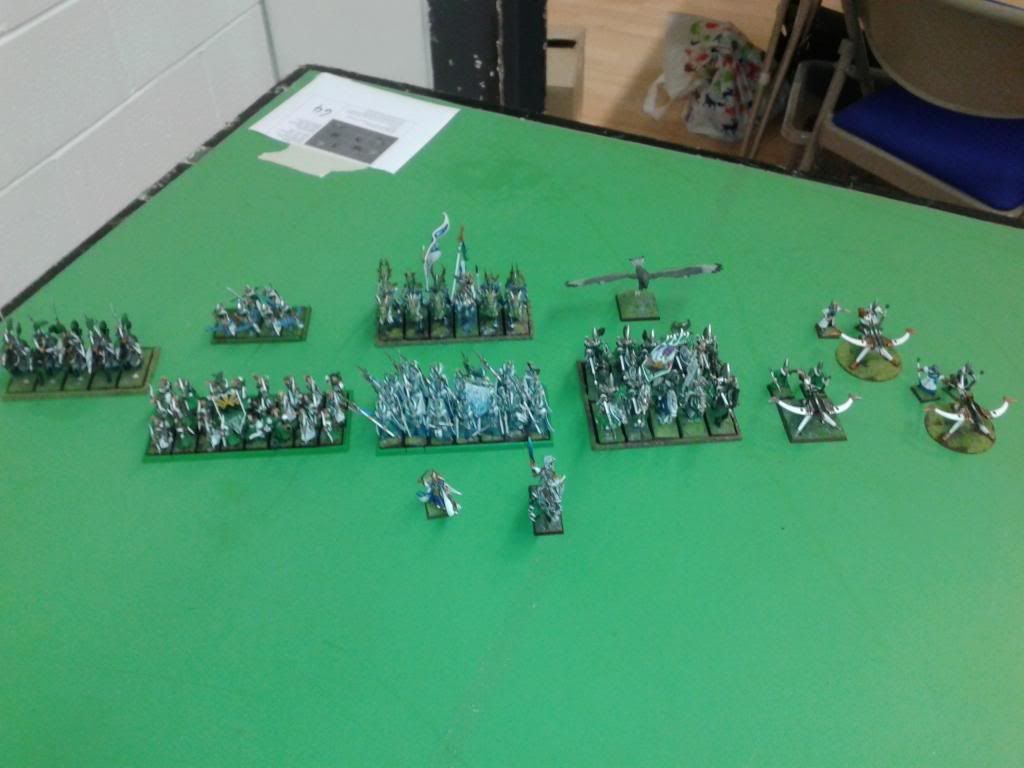 I apologise in advance for a whooole load of blurry pictures taken with my phone. Needs must!