Tzineris,
Thanks, I highlighted each feather individually. Initially I dry-brushed…but didn't like the results.
Shannar & JR
I had (until recently) stopped drybrushing altogether, as I usually ended up with a messy, dusty, smudgy effect. This I now believe was in part because I was using GW's brushes with are very hard and require very pronounced edges on the model to be effective (for which they work very well).
Last week (after I painted the Eagles) I experimented with an Army Painter drybrush, which is a soft brush and did a good job when overbrushing (which seems to support JR's comments). Although I wouldn't use GW drybrushes on the eagle as the raised parts are too low, the AP drybrush or similar may be worth trying.
In an attempt to improve my blending I drybrushed (+ glaze to hide the effects mentioned above,) the lion body, face & legs (still working on the legs) in the pic below.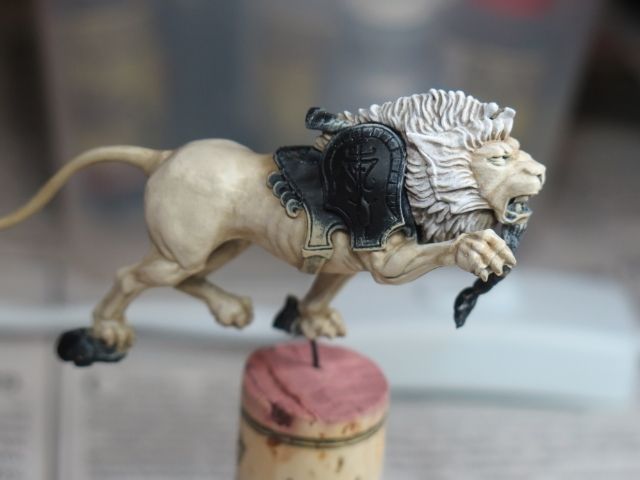 Totally off topic…I thought Shannar may find this interesting (I didn't see it posted elsewhere on Ulthuan).
http://mordheim-cityofthedamned.com/en/
gliterien
Thank you.
Sure, my first stab at painting was back in the late 90's, when in a valiant attempt to keep me out of the local bars my wife brought a few Warhammer models (Elves & Orcs) and suggested I paint them.
Then after a gap of 10+ years, I started painting again at the end of 2013.