It's been a little while since I posted an update, got my Wood Elf book Saturday, and picked up the new special Character while I was there.
He's a cool model, and was pretty easy to put together. I started base coats on him tonight, I don't normally paint on Mondays but it was just base colours.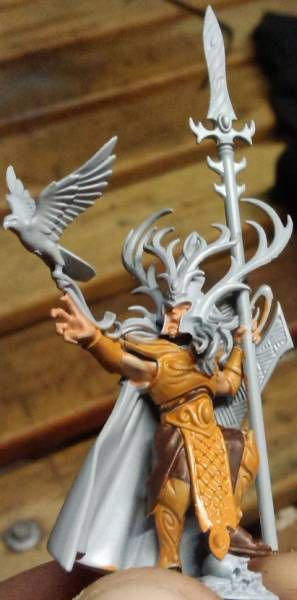 I did something different, I started with the flesh tone. I've been told this can be good, and thought I'd give it a go.
I want brown robes, and the orange is being used as a base for gold/silver. He looked good until I did that bit, but these are base coats so not mean to look pretty.
_________________
Lord Elessehta Silverbough of Ar Yvrellion, Ruler of Athel Anarhain, Prince of the Yvressi.
Beastly

member of The Mage Knight Guild.
Narrin'Tim wrote:
These may be the last days of the Asur, but if we are to leave this world let us do it as the heroes of old, sword raised against evil!