Strife over Tlaxis
"With the space rupture call complete, we should now begin receiving new things to research..."
- Horin Randall, Chief of research
Turn 0
"It would seem our study about the space ruptures was correct. Our space call seems to be working. Already ships of some alien race seem to enter the vicinity of Tlaxis. And here come more from another race. This will be most thrilling I say, receiving more subjects of research and not having to travel anywhere to collect samples! Quite handy indeed!"
"This is great news indeed. Go prepare the monitor, and inform all research stations. We have work to do..."
The usually silent star system of Tlaxis has had it's peace disturbed by multiple sightings of space ships arriving. The first to arrive was the recon fleet of the morningstar union, and right behind them the UAC. These representatives of the two huge interplanetary unions filled with eagerness to explore this system that had mysterically appeared from nowhere.
After them the FIASS and the lanteans arrived. The FIASS also seeking to expand their power, and the lanteans simply looking for a new place to call home, trying surface living for once.
After them, it just kept getting weirder. Some explorers from the aelian race appeared, intent on exploring, habiting and benefit from the rich natural resources and climatic differences of the system.
Not soon after the arrival of the morning star union, another contesting race was noticed, namely the Kale´Dhorrians. These humanoids seemed intent on the same things as everyone else, colonisation and exploring.
Finally, the Cult of cthulhu emerged from its hiding place deep within the Cidrax swamps, where it had been safely harboring its plans of world dominion.
With the arrival of all the races in such a short span of a few days, the leaders of every race start to wonder how this could be a coincidence. A question on which they would get the answer soon enough.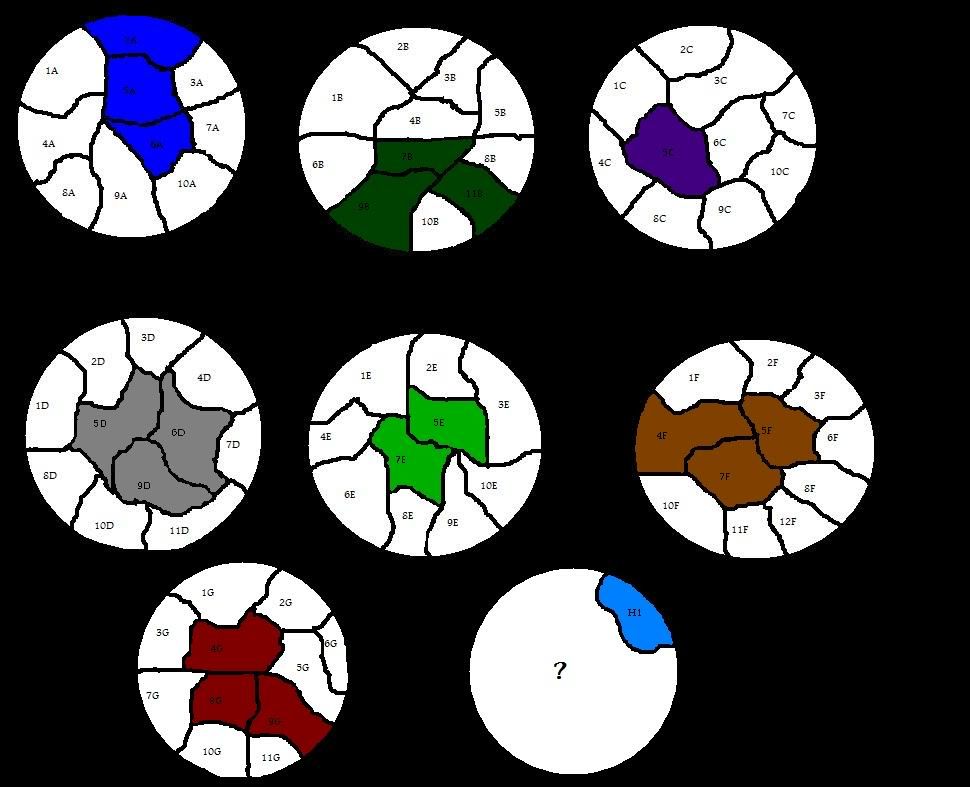 Morning Star Union
Capital: 6A
Color: Blue
The UAC
capital: 7F
Color: Brown
The Starspawn
Capital: 5C
Color: Purple
The FIASS
Capital: 8G
Color: Red
The Lanteans
Capital: 7B
Color: Dark green
The Kale´Dhorr
Capital: 9D
Color: Grey
The Wertia Corp.
Capital: Tlaxis prime
Color: Teal
The Skrath
Capital: 7E
Color: Light green